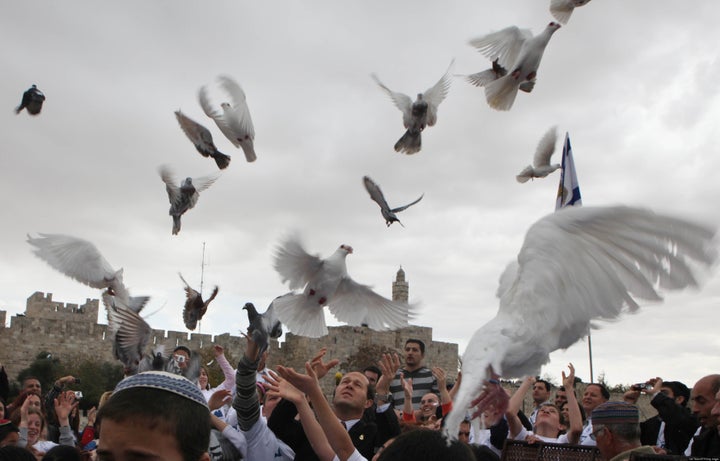 But for one rabbi, it is just another day of work. He has been making peace longer than most diplomats -- and arguably with greater success.
Having arrived in Israel in the euphoric wake of the '67 War, in which Israel assured its own survival and overnight found itself to be one of the region's strongest military powers, he has seen the hope for an enduring diplomatic peace evaporate time and time again between Israelis and Palestinians and many of the nationalistic ideals of both peoples undone by war.
As a "Post-Zionist Zionist" who acknowledges many of Israel's national myths but takes great pride in his adopted country nonetheless, Kronish's identity and vocation have been shaped by the idea that there are just two options in the current conflict: You can "be ensconced in despair and stop watching the news" or "avoid 100 years of war and don't let them [Israelis and Palestinians] be enemies" -- at least person-to-person.
It is of little surprise that Kronish has not cultivated a "can do" so much as a "must do" personality. The ICCI was founded in the midst of the Persian Gulf War of 1991, and the two dozen founding members met in one of Jerusalem's seminaries with great gusto and gas masks in hand to formally launch it. Not even the threat of scud missiles from Saddam Hussein could dissuade them.
In many ways, that gathering has been symbolic of ICCI's work and Ron Kronish's outlook as its leader: Peace can only be made through hard-nosed efforts to make it happen on the ground. The time for fluffy dialogue had long passed. The time for a political solution may stretch on into the future. Now is the time for transformational gatherings that produce results for citizens, not just politicians.
One of the ICCI's flagship programs is the "Face to Face/Faith to Faith" initiative, run in partnership with Auburn Theological Seminary for high school students in and around Jerusalem. I had the chance to meet up with the some of its participants just after the 2009 Gaza War. The room, full of about a dozen cheerful Israeli and Palestinian high school students, contrasted with the grim political scene. The group's conversations that day centered on outreach to houses of worship in order to involve them in inter-religious work and volunteer efforts that would assist both Israeli and Palestinian communities.
The underlying determination of the group gradually became apparent as I grew to know its participants. Lighthearted conversations gave way to more serious discussions about how their group managed to stay together in spite of the Gaza War -- and in contrast to nearly every other interfaith group for Israeli and Palestinian youth. "If we were able to get through those times without hating each other, nothing can keep us from being friends," one student told me, with an intense smile on her face. She then went on to tell me how the group had grappled with the toughest, most personal issues of the war.
Several students dropped out of the program; many cried, raised their voices, or had to take a few moments to themselves. A number had friends or relatives in Gaza, while others had loved ones in the Israeli army or the south of Israel, which was impacted by ongoing rocket fire. But the program's organizers refused to ignore the issues and pushed the group to confront them head-on.
By engaging directly with the toughest topics of the time -- life and death, injustice, bad politics, theology, the media's spin -- students managed to dialogue their way through the war and emerge from it ready to lead their communities and work together. They spent the remainder of the year leading volunteer programs and demonstrating that even in the most infuriating moments of diplomacy and war, interfaith engagement and leadership development can endure. They must.
As I reflect on the recent, unsettling news about the Israeli-Palestinian peace negotiations, I look to the example of Ron Kronish. Even when inspired to work for peace by the belief that "we are all part of God's creation," he has shown that it is the tough, up-front, determined dialogue among citizens that sustains the possibility of a lasting political accord. There is no choice but to continue on.
Calling all HuffPost superfans!
Sign up for membership to become a founding member and help shape HuffPost's next chapter