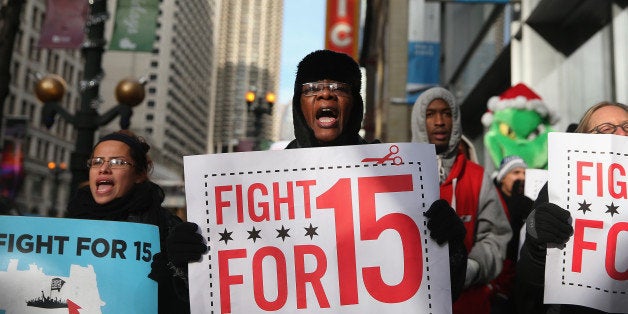 The United States is the richest country in the history of the world -- and as a country we've never been richer. This is largely because American workers have delivered significant productivity increases to their employers. However, workers' wages have been stagnant or even declined for 35 years. It is harder today to get ahead and stay ahead -- to earn a good living that allows families to put enough food on the table, pay the rent or mortgage, get a quality education and even save a little for vacation every once and a while. We must ensure American workers get the long-overdue raise they deserve.
The Labor Center at University of California Berkeley just released a very sobering report this week. Despite working hard every week, nearly 75 percent of low-wage workers are forced to rely on Medicaid, Temporary Assistance for Needy Families, Food Stamps and the Earned-Income Tax Credit. Well, today as we all know is Tax Day. Taxpayers should know it costs them more than $150 billion a year to fund these programs for working Americans because their wages are not nearly enough. These costs wouldn't be necessary if every worker received good pay and good benefits.
Back in my home state of Illinois, I have protested with the workers in the Fight for $15 -- and a union. Food service workers, home care workers, farm workers and other low-wage workers log long hours. They come home tired after providing services and producing goods that make our country stronger. They deserve fair treatment from their employers and they deserve a voice in collective bargaining.
For far too long, virtually every time Americans have been asked to make "tough choices," it has resulted in disproportionate harm for hardworking Americans and retirees. I believe that is about to change. I firmly believe this is a populist moment for our country. But we need everyone here to keep up the fight. We must organize. We must protest. We must cry out in a loud voice that America needs a Raise. We must keep working until workers in this country don't have to struggle to make ends meet.
Calling all HuffPost superfans!
Sign up for membership to become a founding member and help shape HuffPost's next chapter