Ricky Smith went above and beyond when his daughter Nevaeha said the dress she wanted for her eighth-grade dance would cost $200.
Smith, 36, works three jobs ― at McDonald's, Popeyes and a Circle K convenience store outside Pittsburgh in Monongahela, Pennsylvania. When his 14-year-old daughter asked him in June if her dream dress was in their price range, he said he wasn't sure, but would see what he could do, he told ABC News.
Smith was already working at least six days a week. But he extended himself further to purchase the two-piece floral dress, taking on extra shifts and sometimes working seven days a week.
A now-viral video reposted on Facebook by Style Exchange Boutique shows Nevaeha, a recent graduate of Ringgold Middle School, with tears of joy as her dad unzips a garment bag and she looks inside.
The moment was captured on video at the McDonald's where Smith works. Nevaeha's mom, Kelly Anne, suggested Smith surprise their daughter with the dress. She and Nevaeha then went to the restaurant, and the mom captured the touching exchange on video.
Smith at first kidded his daughter, telling her the garment bag held a dress from her grandmother, and wasn't "the dress you wanted, but I hope you like it," according to ABC News.
Then Nevaeha opened the bag, revealing the dress she wanted all along ― and her father's generosity.
Nevaeha told ABC she's "really happy that's he's my father."
Smith said all his extra work was worth it. "To see the look on her face it was priceless," he said. "All I can really do was smile."
Before You Go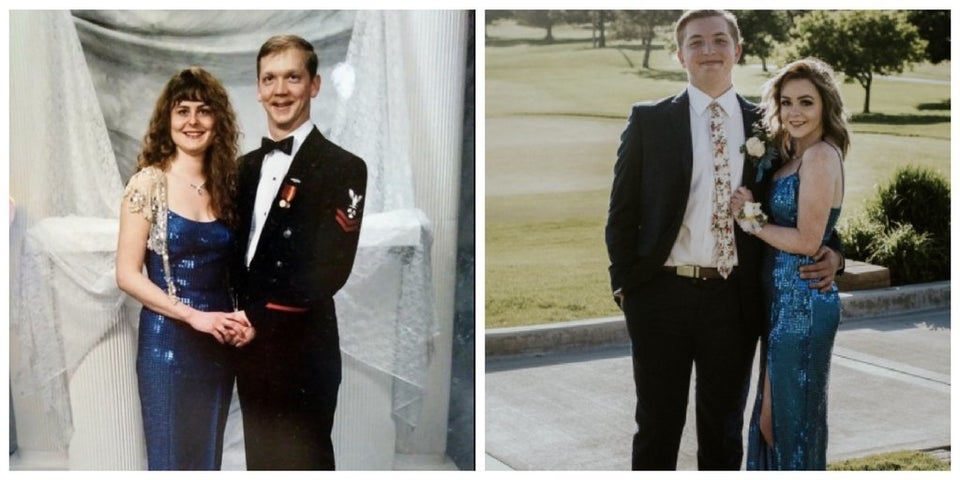 Teens Who Wore Their Moms' Prom Dresses
Popular in the Community