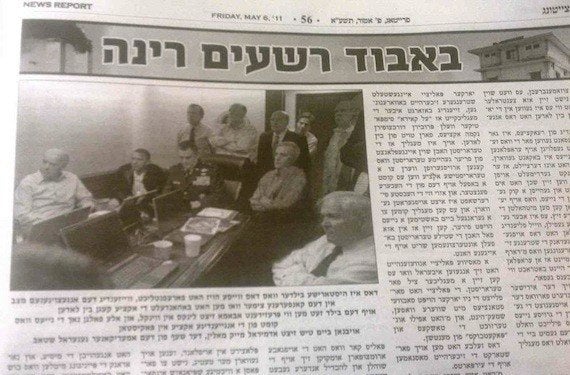 A February 2007 article by Jacob Berkman of the Jewish Telegraphic Agency begins with the odd fact that "Hillary Clinton could be America's next president, but her picture will never appear on the pages of the country's only Jewish daily newspaper."
Hamodia, as a matter of editorial board policy, refuses to publish photographs of women since it considers the female body to be immodest. In that same article, Menachem Lubinsky, the marketing consultant for the newspaper, explained that this modesty policy is in the strictest interpretation of Jewish law. The newspaper's publisher -- a woman -- refused to speak with Berkman for modesty reasons.
Hamodia, which has been publishing papers since 1910, has never published a photo of Israeli Prime Minister Golda Meir or Queen Elizabeth or Madeleine Albright or Hillary Clinton.
Most likely, ultra-Orthodox Jewish newspapers like Hamodia could have continued to follow this policy of refusing to publish photos of women under the radar had one newspaper not made the recent decision to use Photoshop to alter an official photo released by the White House.
Brooklyn's Hasidic Jewish paper Der Zeitung (sometimes spelled Der Tzitung) has the same policy as Hamodia when it comes to publishing photos of women. Der Zeitung could have published a photo that didn't include women in its coverage of last week's capture of Osama bin Laden. Instead it published the iconic photo released by the White House press department of President Obama, Vice President Biden, and members of the National Security team huddled around a monitor receiving a briefing on the raid of bin Laden's Pakistan compound.
The photo contained a strict warning from the White House forbidding the photograph from being manipulated in any way, but the Hasidic paper chose to airbrush Secretary of State Hillary Clinton and Audrey Tomason, the director for counter-terrorism, from the photo. By altering the photo in this manner, the paper may have upheld its self-imposed ban on females in the pages of its publication, but it also manipulated history. For its readership, it wrote two prominent women out of history in a deceitful way. These two women were not dressed immodestly and there was nothing sexually suggestive in the photo. This is just another example of ultra-Orthodox Jews erecting unnecessary "fences" around Jewish law to protect its adherents from falling victim to the moral stumbling blocks of modernity.
This publication has the freedom of the press to determine what to include and exclude from its pages. However, altering photographs in this manner is in violation of Jewish law -- it is a misrepresentation of the truth. No matter what rationale these Haredi publications use to explain their policy of hiding photos of women from their readers, they must own up to this travesty.
See the Photoshopped version: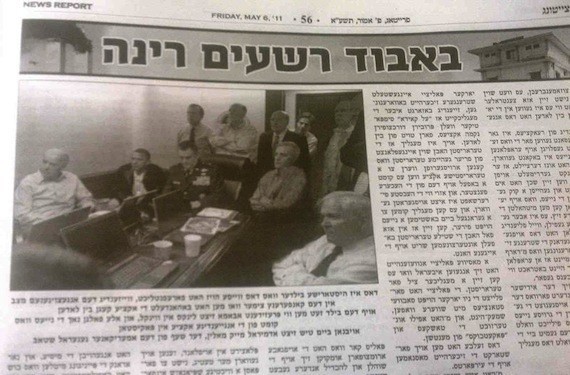 Popular in the Community