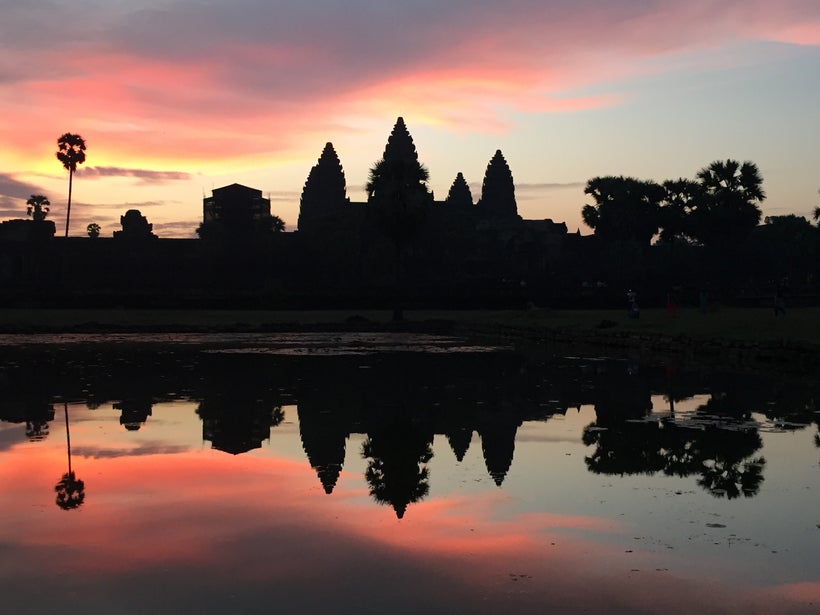 Hariharalaya is a spiritual center near the outskirts of Siem Reap, Cambodia specializing in yoga retreats. It is an oasis in the desert of today's very fast paced, stressed out modern world.
This past March I visited there as part of my post surgery sabbatical in southeast Asia. When I first went to register in advance for the week when I'd be in Siem Reap I was sad to learn that it was sold out! And the following weeks were sold out too. Apparently the word of mouth spreads with people from across the globe coming to spend time in it's beautiful flowering gardens with yoga classes, meditation, chanting, vegan meals, a spa, pool, game room, music room, art room, and much, much more.
Fortune was in my favor however, and when I randomly went to check the website again, due to a last minute cancelation I was able to book a very reasonably priced deluxe private cabin.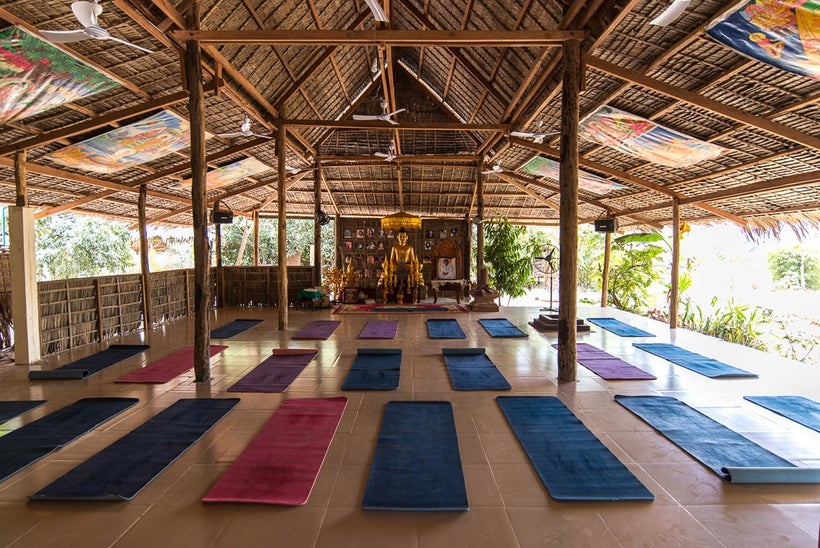 Hariharalaya attracts yoga practitioners of every age, level, and country. People from all walks of life from film directors, publicists, bankers, writers, and nurses, people of every profession seeking an inner soul reconnect. The founder Joel Altman is an American who spent much of his life traveling the world on a spirit quest, meeting holy men and women. The esthetic he brings to his guests at Hariharalaya is refreshingly different from the usual boot camp style yoga week where you feel exhausted and need a vacation afterward from too many hours on the mat. Instead, there is a morning Yoga class, meditation, communal meals, afternoon yoga but in between a lot of free time for guests to just wander the lush gardens, lounge in hammocks reading, take a dip in the pool with a waterfall, share a chat, sip a health shake in the outdoor café, have a massage. In other words, actually having a retreat. To ensure guests indeed disconnect from their usual routines, there is a digital detox where students are encouraged to switch off their phones and just be here now. There is no wifi except a communal computer in case of emergency, and for folks to check future travel arrangements.
I met so many wonderful people. What was magical was the flow of events and constant delightful surprises Mr. Altman built into the curriculum. At each meal we'd gather in a circle to bless the meal. An instructor would read an inspiring Rumi or Hafiz poem. We'd play games where we had to make up names with an associated word that begins with the same letter of our first name, so people could more easily remember the dozens of new names. I was simply "Larry Love."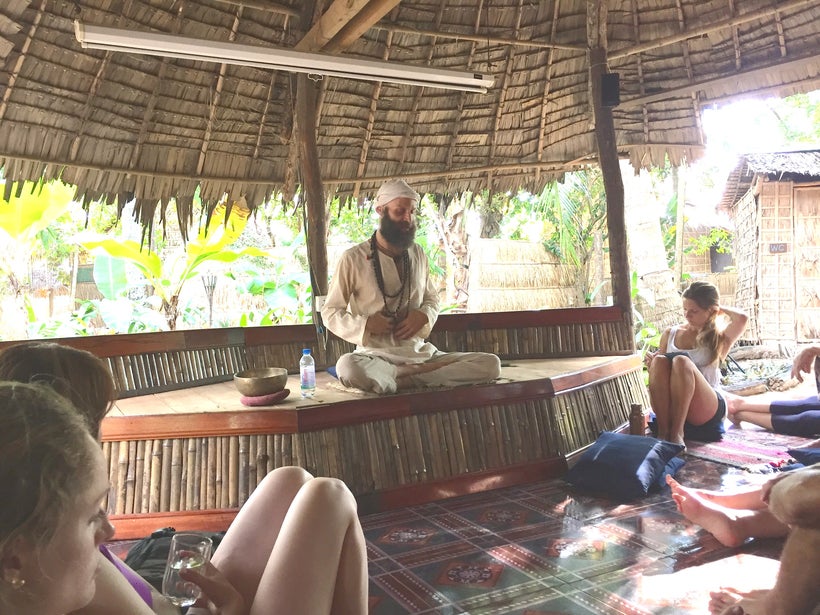 Each day something unique would happen. We'd go visit a nearby temple ruin in the jungle and receive water blessings from the local Buddhist monks, followed by a delicious picnic. Another night would be a movie night, or a jam session in which my New York music a type personality took over and led the guests on a sing along through a catalog of standards from Bob Dylan to The Beatles, to even Carly Rae Jepsen.
I found myself bonding so much with many participants that after the week was complete we would meet up for coffee or drinks back in Siem Reap. It felt like an instant world family. The staff back in March including Ryan, Matt, Martyna and others were really warm and friendly. Siem Reap Cambodia is a world heritage site with the huge 40 kilometer wide ancient temple city of Angkor Wat listed in Wikipedia as the world's largest religious site, and a historic spectacle that rivals Egypt's pyramids, or Machu Picchu. Yet for all it's historical splendor and hustle and bustle I found myself missing the happy safety I felt at Hariharalaya and did something unexpected. I booked a second week! Two weeks of yoga, great vegan food, adventures and new friends in a Garden of Eden setting has transformed me. Given me direction.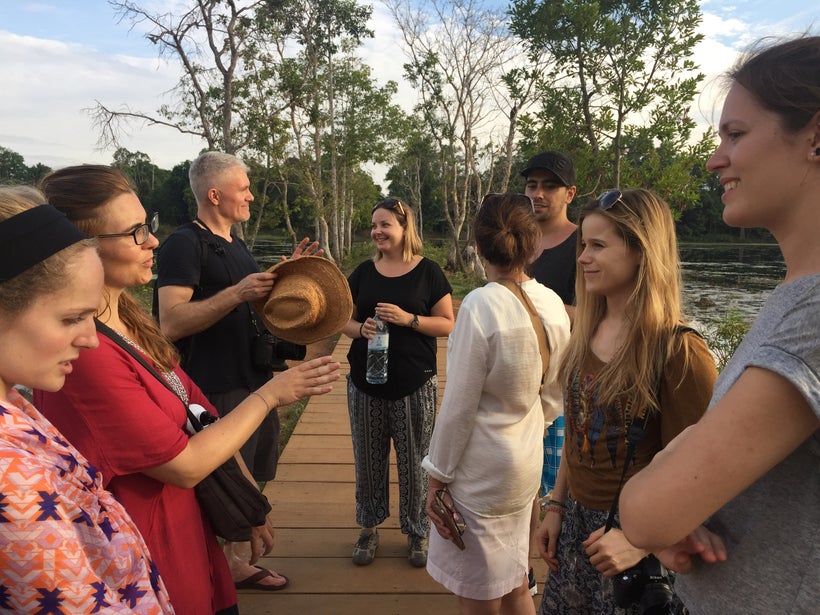 During the second week I was treated to a private ceremony at founder Joel Altman's home nearby. He finally saved up enough money to purchase a cow- a holy being in Cambodian culture. We gathered with Buddhist monks to bless "Kamadhenu" the cow, as a new member of Joel's family. With flowers, incense, fruit offerings and song we blessed the beloved beast. I pulled out my guitar and sang a song I co-wrote with founding member of The Beach Boys Alan Jardine. His cow Jennifer Clover was now deceased, but I used the same words and melody to sing to Joel's new bovine.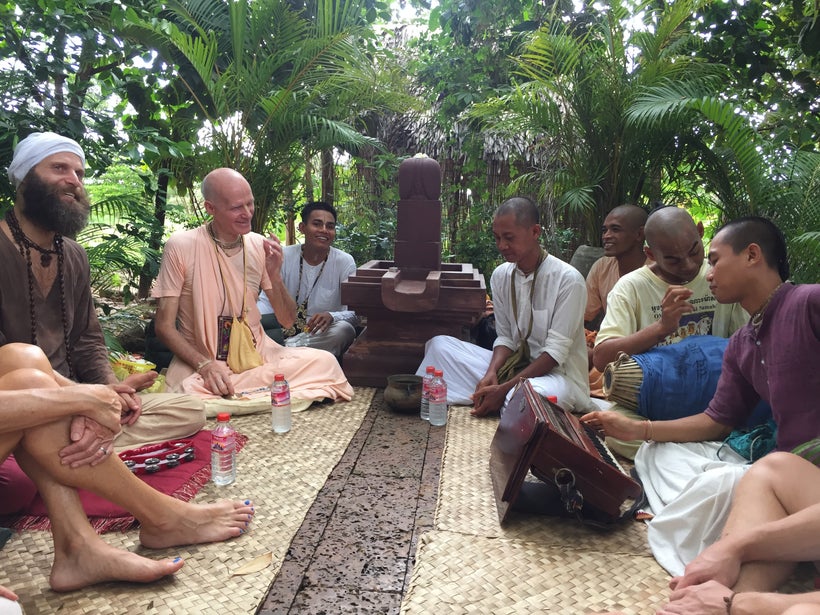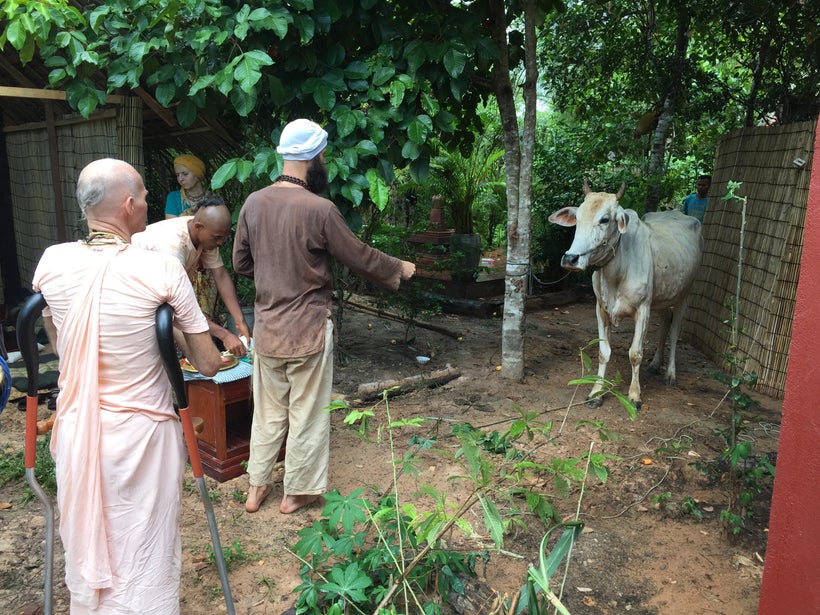 The word itself "Hariharalaya" is an ancient term and means Hari for Vishnu, Hara for Shiva, Alaya for Home or abode. In English this translates to "Heavenly Abode of Divine Duality." The area where the retreat center is located was the original capitol of Cambodia from about 800 -1100 BC. 
There were so many memories, friendships, laughter, and tears. Challenges and breakthroughs that occurred at Hariharalaya which I will always carry in my heart. Like a silent song on the wind as translucent at the hummingbird wing, it is in the quiet that we find the world turns in a new direction for each one of us.
If you are seeking a recharge, a boost, a reboot, or just a fun time in nature to relax, exercise, eat right and get good sleep Hariharalaya is for you.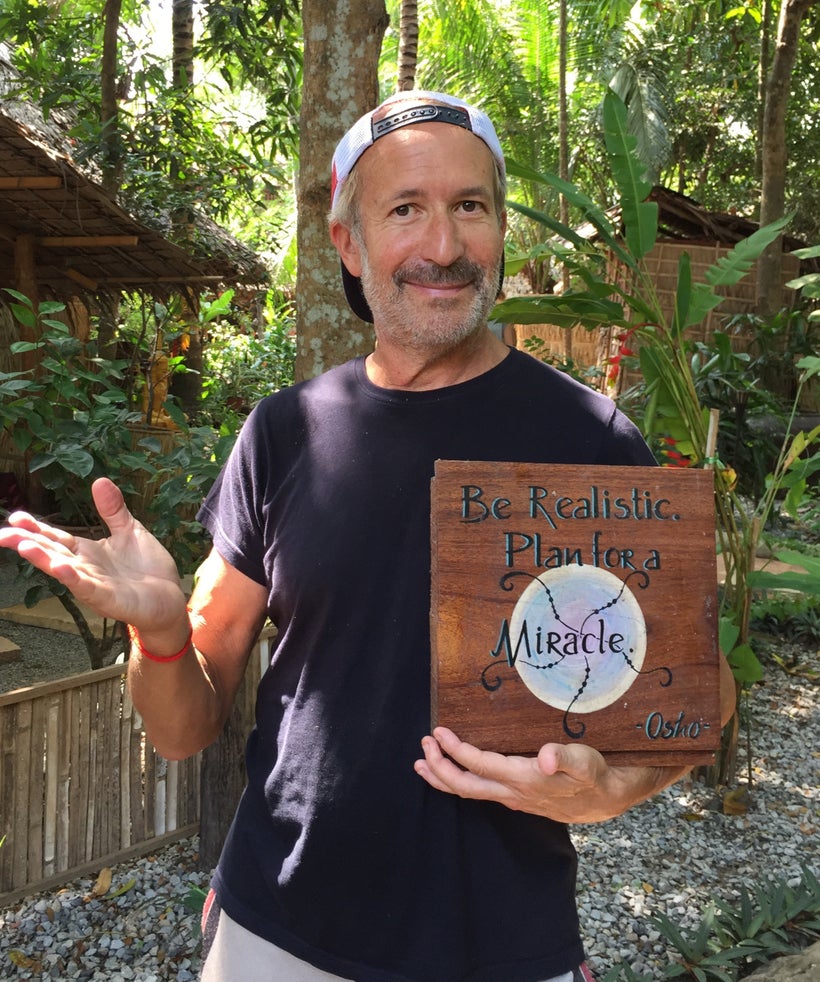 For more information about further retreats, visit:
Calling all HuffPost superfans!
Sign up for membership to become a founding member and help shape HuffPost's next chapter
This post was published on the now-closed HuffPost Contributor platform. Contributors control their own work and posted freely to our site. If you need to flag this entry as abusive,
send us an email
.