Finally, there is the Ligon -- a canvas that reminds one of nothing so much as a monolith tipped on its side, set grayly against a wall that barely abides it. That the 20-foot long painting is the terminus of Harlem: Found Ways, a recent presentation at the Ethelbert Cooper Gallery of African & African American Art at Harvard's Hutchins Center, gives Glenn Ligon's work a precarious claim to the guiding logic of the exhibition and, in more ways than one, the last word, as well.
The space, itself, directs you to it. Conceived by David Adjaye, the architect best known for being the lead designer on the National Museum of African American History and Culture in Washington, D.C., the Cooper Gallery assumed a small storefront site in 2014 that, in less capable hands, would have become the gateway to a cheerless corridor. Instead, Adjaye organized the floorplan into an intimate arcade of blind alcoves, giving the gallery at once a sense of uncertainty and progress.
This makes the space specially suited to a journey, or multiple journeys, as the title of the show suggests. Writing in the catalogue for Harlem: Found Ways, Henry Louis Gates, Jr., the Director of the Hutchins Center, describes two that are at once parallel and entwined. "[W]hat we must remember," he writes, "is that the birth of the Harlem Renaissance -- so called because the area was the site of the flowering of multiple art forms and artists whose very subject was the self-creation and self-fashioning of a people through art -- occurred precisely as Harlem was turning into the great American slum." He continues, "The valorization of black rhythm, spontaneity, laughter, sensuality -- all keywords of depictions of blacks by blacks at the time -- contrasted starkly with the squalor of Harlem's economic and built environments."
Stark contrasts can still be symbiotic, however, and the relationship between a neighborhood of bricks and mortal and that of the imagination is durable in the mythos of Harlem. In "Theme for English B," Langston Hughes memorably describes a young man who closely resembles the undergraduate he once was at Columbia. "I am the only colored student in my class," the young man says, as he sets out to fulfill his assignment:
The steps from the hill lead down into Harlem,
through a park, then I cross St. Nicholas,
Eighth Avenue, Seventh, and I come to the Y,
the Harlem Branch Y, where I take the elevator
up to my room, sit down, and write this page:
It's not easy to know what is true for you or me
at twenty-two, my age. But I guess I'm what
I feel and see and hear, Harlem, I hear you.
hear you, hear me—we two—you, me, talk on this page.
The visitor to the Cooper Gallery is invited -- or, given the structure of the space, obliged really -- to take a similar journey, only in this case, the neighborhood we "feel and see and hear" is mediated by the imagination of the artists on display. It begins largely with the "built environments" Gates describes, a series of recent photographs of Harlem from Dawoud Bey that largely omit souls for structure, some immediate but especially the evidence of those intended: scaffolding, a demo site, an interim walkway, an industrial bin. If the colorful pictures anticipate a new neighborhood, they hardly celebrate the changes. One captures the poster of a construction site along Lennox Street promising, soon enough, an H&M. Over the plexiglass covering the poster, a single, spray-painted word has been added, the letters florid, lipstick red: Lust.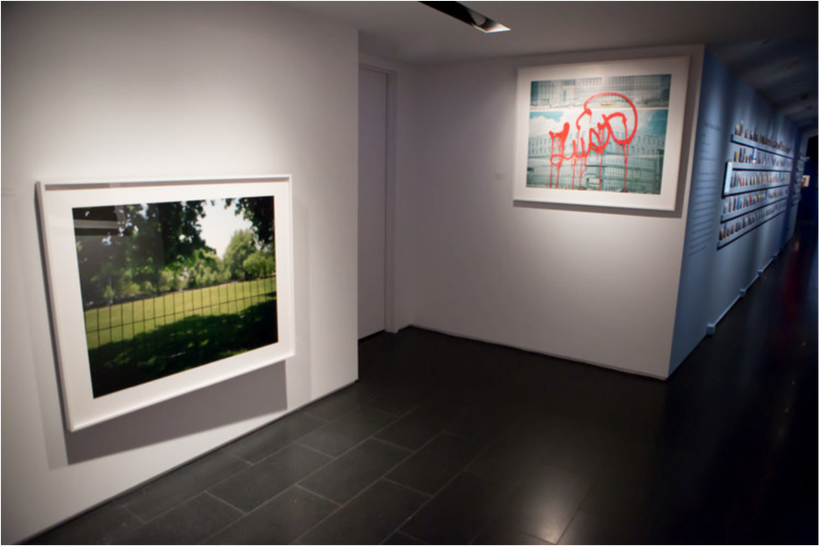 The anxious wages of gentrification is a theme Abigail DeVille takes up in Harlem Stories, a video installation in a small side room separated from Bey's images by entries from the Postcard Project, an ongoing initiative by Harlem's Studio Museum to enlist artists to help document changes to the neighborhood. The hallway of postcards provides a staid, even comforting complement to DeVille's seven-and-a-half minute video. It chronicles the artist's journey through the streets of Harlem prodding a pushcart, top full with garbage bags and colorful bric-a-brac, like some bohemian bag-lady. From time-to-time DeVille stops and places plaster faces in the nooks of newly fashionable spaces, "an exercise in acknowledgement," as she calls it, of Harlem's "forgotten people."
The living are remembered by Nari Ward. In the summer of 2014, the artist set-up a homemade cart in Harlem's Sugar Hill neighborhood fashioned after the higgler-carts favored by Jamaican street-vendors. Ward would solicit passers-by to sample something from a set of tin cans that, by the size of them, looked like they might contain tuna. Finding a taker, he'd open a can, but instead of a morsel, they found sustenance of a different sort, their reflection when they discovered a mirrored, stainless steel disk at the bottom of the can and a reaction anticipated by the yellow label: "Sugar Hills Smiles." Ward would then seal up the can with a hand crank mounted to the cart, saving the smile, with the cans later signed and sold at $10 apiece to support local educational initiatives.
A video installation of Ward's efforts, and a small tower of the mischievous cans, sit in a recessed corner near the end of the Cooper Gallery. The endeavor -- part craft production, part performance art -- has a playful vibe, but it was inspired by an act of cultural expropriation by the brazen Harlem Brewing Company. The company's website claims that its "flagship" refreshments "Sugar Hill Golden Ale and Harlem Renaissance Wit both celebrate the rich history of Harlem," this notwithstanding the fact that they're brewed three hours north of the city in Saratoga Springs.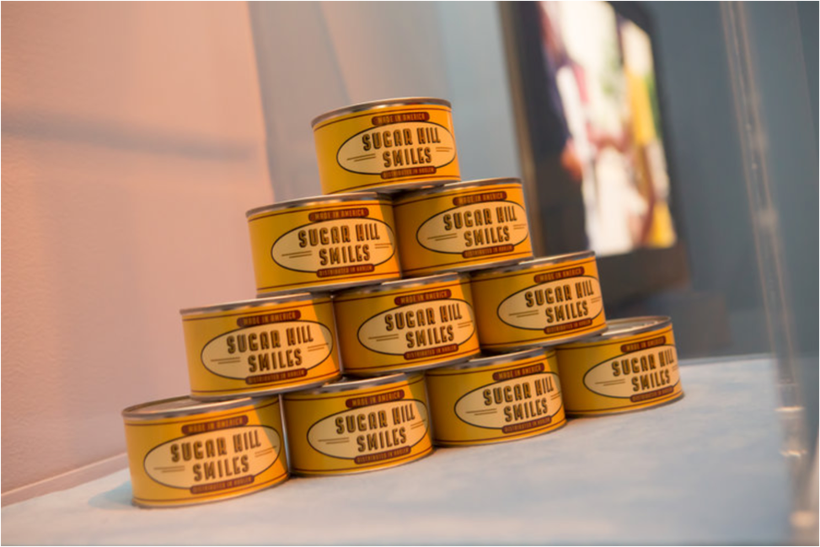 Who may make a rightful claim to Harlem's "rich history" is a matter that goes hand-in-glove with the ongoing battle over its future. In the catalogue for the exhibition, the Cooper Gallery's Director, Vera Grant, ambivalently cites the colorblind cosmopolitanism of Stanley Crouch, who, she notes, at "the edge of Harlem's rampant gentrification in 1995," wrote, "We have been inside each other's bloodstreams, pockets, libraries, kitchens, schools, theaters, sports arenas, dance halls, and national boundaries for so long that our mixed-up and multi-ethnic identity extends from European colonial expansion and builds upon immigration."
Be that as it may, Grant herself continues, "the desire to have and to hold Harlem as a black cultural site brimming with these spoken paradoxical qualities brushes up against a potent social power vacuum for the most destitute of African American residents, old-timers and their kind effectively sidelined as their historic home of Harlem is newly embraced by an African American middle class, vanguards of young white residents, and global cosmopolitans of all stripes."
What is already lost as well as what we further stand to lose are captured in the ultimate alcove at the very end of the arcade. There, along two adjoining walls, are additional pictures of Harlem from Dawoud Bey, two dozen all together, black-and-white, taken in the late-'70s, thirty years before color photos that open the show. They have an unaffected simplicity about them, men and women going about their business: a short-order cook, several barbers, a shoeshine man. They pause to give the young cameraman a look (Bey was in his early '20s) before returning to work, again. Other photos capture kids at play -- two girls pose in front of "Lady D's" luncheonette, one gives a sassy look, the other snickers -- while still others capture old folks -- a veteran cradling his trombone, a couple fronting a bake sale, three women contemplating a parade -- all neatly attired. They are splendid pictures, bittersweet and splendid, and unlike their colorful successors, almost every one of them features a black face, front and center.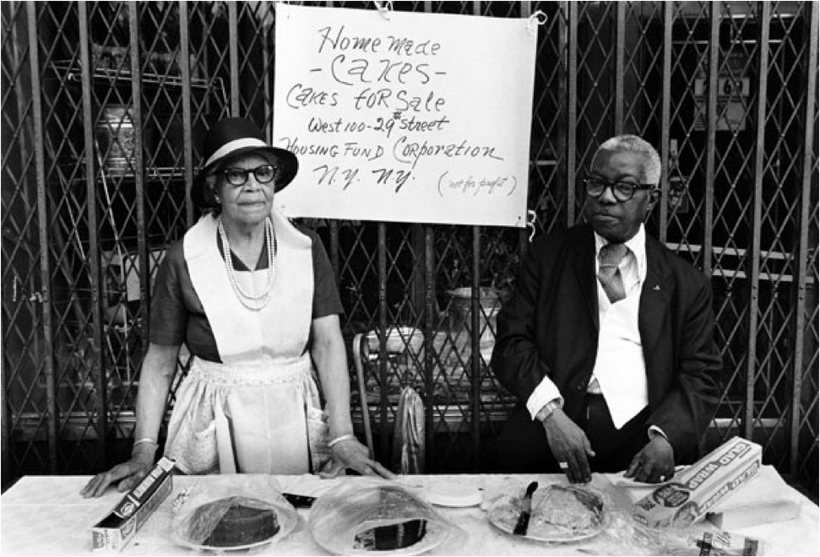 The pictures make for two communities: one the established fact of Harlem 40-years ago, the other an assembly of artistic scruple. Both confront Glenn Ligon's canvas, "Come Out #15." It is the dark star of "Harlem: Found Ways," on loan from Amar Singh, the eponymous founder of London's Amar Gallery. The work is part of a trio of monumental silkscreen paintings Ligon debuted in 2014, each of which recalls the Harlem Six, a group of young black men who became a cause célèbre when they were put on trial for murder in 1965, after being railroaded by police and beaten while they were held in custody. As part of widespread efforts to raise money for their defense, the minimalist American composer, Steven Reich, assembled Come Out, using a recorded statement from one of the youths describing his efforts to convince police that he had been beaten in jail: "I had to, like, open the bruise up, and let some of the bruise blood come out to show them." In the composition, Reich repeats the line several times before truncating it: "come out to show them." The fragment was then recorded on two channels and repeated. The voices begin in unison and then slowly fall out of sync, seeming to reverberate and blur, until they split again and the process repeats, a cycle refreshed several times over 13 minutes, the voices ultimately blending into a tonal rhythm.
Along Ligon's monochromatic canvas, the effect is re-envisioned, with "come out to show them" repeated hundreds of times over, the artist varying the number of silkscreen layers until the individual words seem to shiver with abstraction. Broken into ten sections, the painting reminds one of what the results might have looked like if Jack Nicholson's character in The Shining had inky fingers, a slightly different command, and as many sheets to work with: COME OUT TO SHOW THEM COME OUT TO SHOW THEM COME OUT TO SHOW THEM.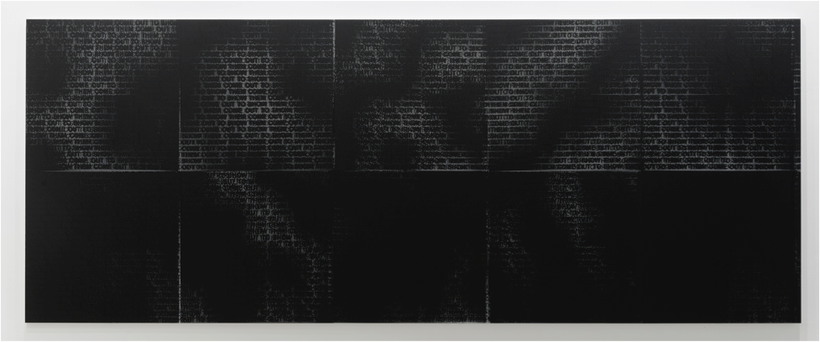 Like the revelation of that movie, this one is also overwhelming if slightly more open to interpretation. As an invocation of a brutal miscarriage of justice -- five of the six young men were exonerated, but only after spending eight years in jail -- the painting inevitably brings to mind the remedial efforts of Black Lives Matter. At the same time, given that the tragic incident is conjured by a gay black conceptual artist citing the work of a Juilliard trained Jewish composer, there is also something of Stanley Crouch's "mixed-up and multi-ethnic identity," a spirit increasingly familiar, with all its ambivalence, to Harlem of the present day.
For my own part, I am left with the ringing: COME OUT TO SHOW THEM COME OUT TO SHOW THEM. That it makes for the final word in Harlem: Found Ways, the invitation seems aimed at the observer as much as to the observed, admirer and artist alike, echoing in a challenge that poignantly defines the present moment.
John Paul Rollert teaches classes in leadership, ethics, and politics at Harvard and the University of Chicago. His writing has been featured in Raritan, Boulevard, Harper's, and the Atlantic.
Calling all HuffPost superfans!
Sign up for membership to become a founding member and help shape HuffPost's next chapter
This post was published on the now-closed HuffPost Contributor platform. Contributors control their own work and posted freely to our site. If you need to flag this entry as abusive,
send us an email
.