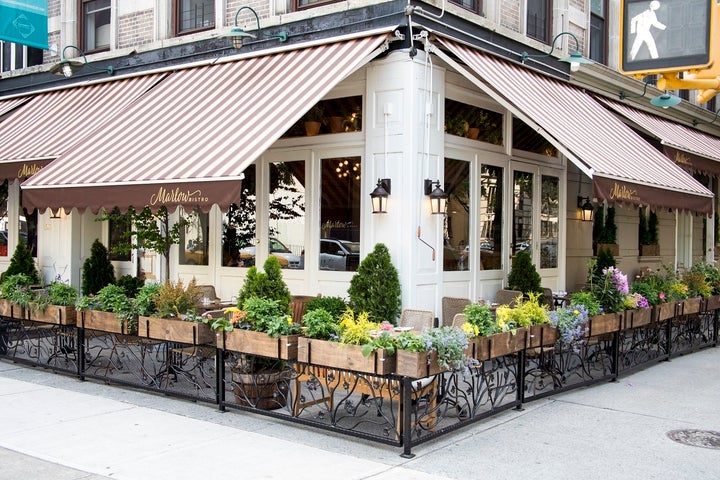 When I was in grad school at Columbia University in Harlem, the only real options for lunch or dinner were a very high-end continental restaurant called The Terrace atop a dormitory and a little Hungarian restaurant that had more charm than good food. Now, with another Harlem Renaissance in full swing, the neighborhood west of Morningside Park has a remarkable array of new restaurants of every stripe, and the eight-month-old Marlow Bistro is one of the best recent arrivals. Owners Marjanne Motamedi and Dragan Ristovski have gotten the mix just right in both menu and décor for this quickly gentrifying area.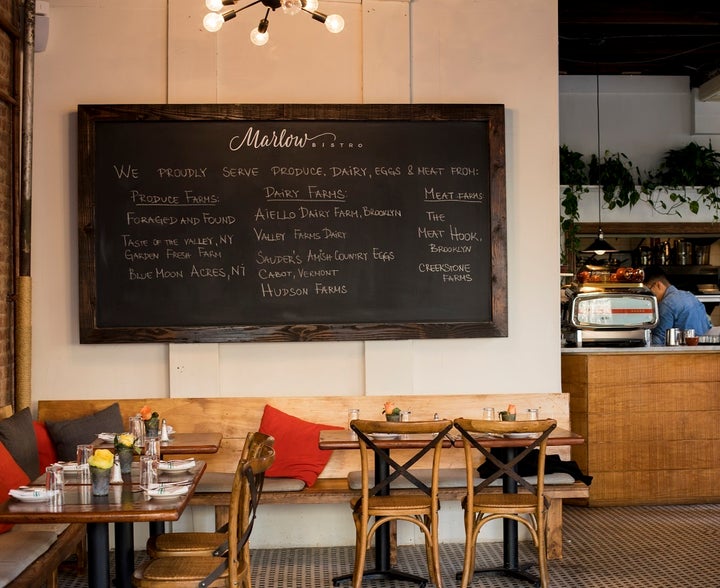 For one thing, with its white façade, wide windows, and tables outside with flower boxes set on broad Amsterdam Avenue in full view of the magnificent Cathedral of St. John the Divine, the restaurant has a capital location. Inside it has a rough-hewn look of brick walls, wood-beamed ceiling, and industrial light fixtures, with a bar to one side. The room could certainly use some sound-proofing, and there's no reason to turn down the lights when the sun goes down. The crowd is largely neighborhood and university people and a cadre of Millenials, so dress is casual, without anyone dressing sloppily, though. Cloth napkins would be nicer than paper. (By the way the attractive young service staff, many from eastern Europe, are as affable as you'd hope, at least until they drift out of the dining room at nine o'clock and need to be flagged down.)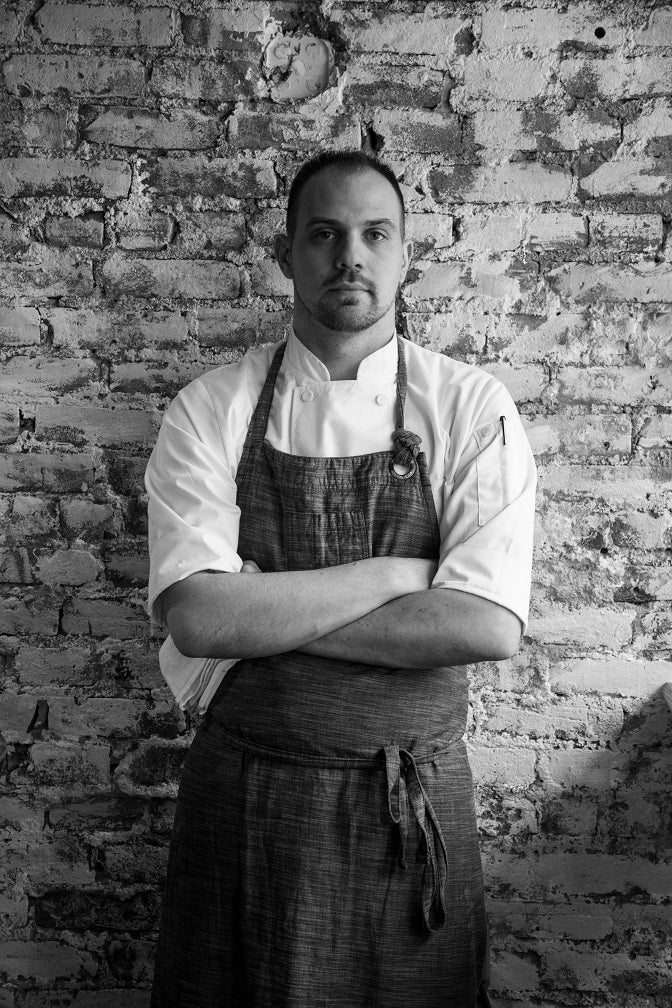 Belgrade-born Executive Chef Zivko Radojcic (above) has worked in fine dining spots like Picholine, the Korean eatery Jungsik, and Alta, from which he's drawn a lot of the Mediterranean flavors for his menu at Marlow. He lists his farm sources on a blackboard—wild mushrooms from Foraged & Found Edibles, seasonal vegetables, fruits and meats from Local Bushel Farm, organic specialty greens from Blue Moon Acres, and organic eggs from Sauder's Amish Country Eggs. Their quality shows in Radojcic's cooking, whose imagination and range is well-suited to the size of his kitchen and 50-seat dining room. The Mediterranean slant is fully realized in a dish of very tender octopus (below) with French beans, cherry tomatoes that add sweetness and acid, olives and a lovely lemon-potato foam ($17). When you have great ingredients no improvement need be made to a dish of summer squash, basil feta cheese and babaganoush ($15).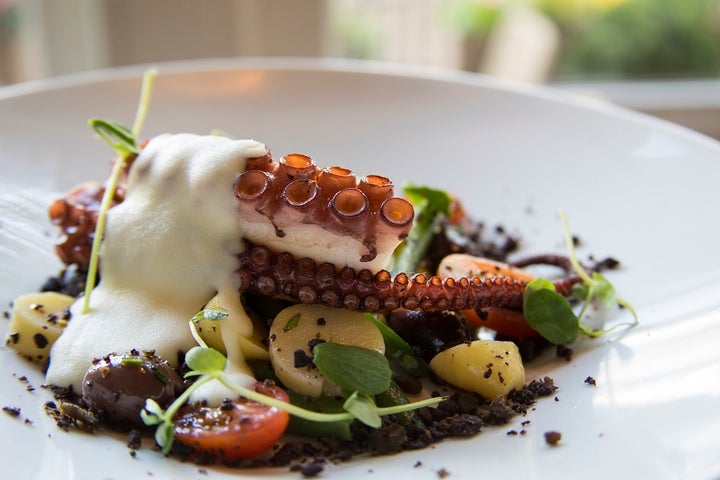 There are five pastas, every one carefully thought through and each out of the ordinary. Ricotta cavatelli (below) comes with asparagus, cherry tomatoes, ramps pesto and pickled rhubarb ($19), while spinach-rich girasoli with sunchoke cream and a mushroom fricassee is a fine, bright idea ($20).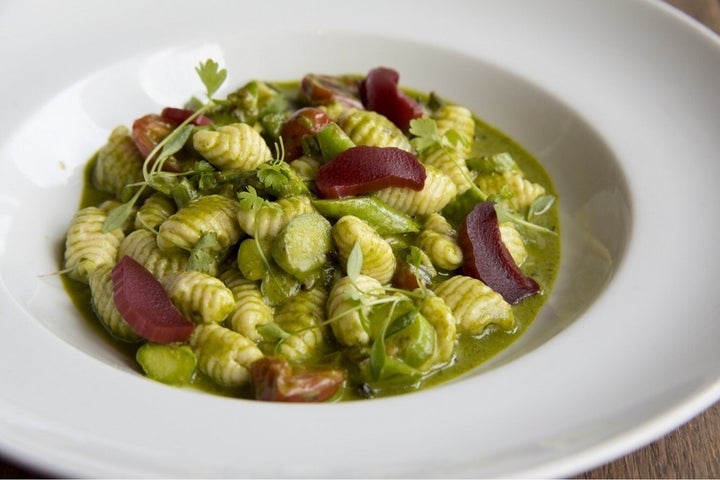 "Chicken duo" sounds pedestrian but is actually a splendid mix of different parts of the bird—breast rolled with a brown butter mousse and legs stuffed with a porcini puree and asparagus, all graced with a glistening creamy parsnip puree, wild mushrooms, brown butter Béarnaise and brown butter crumbs (at a very reasonable $25). You certainly expect a spot like Marlow to have a good burger and the addition of a roasted pepper spread, coleslaw and paprika potato ($18) atop a delicious ground beef blend shows Radojcic's ability to make a burger his own. Foie gras "rocher" ($15) needs re-thinking: cherry puree, cocoa granola and white chocolate powder is a modernist turn I've seen before—the first time at London's Fat Duck, where I was served near-raw squab with a melted Cadbury chocolate bar on top. Not a great idea. And I don't know why, in a town where everybody does it, a restaurant called Marlow Bistro is serving flaccid, flavorless pizza. It is a sign of our times that small restaurants transcend the obvious when it comes to dessert, so Marlow's crème fraîche pannacotta with strawberries, aged balsamic, and Brown butter ($9) and something called volcano Edna with mascarpone moose, coffee granola and chocolate lava ($9), which taste like one of the best tiramisùs in New York, are good choices, as is a chocolate hazelnut parfait with passion fruit diplomat bread, and white chocolate snow ($10). Here the kitchen's fancy shows well. I wish I'd had a place like Marlow set just where it is in this neighborhood when I was a student. Back then, it would have been a place well worth saving up for to take a girl out for a good meal.
Marlow Bistro is open for lunch Mon.-Fri. and dinner nightly; Brunch Sat. & Sun.
MARLOW BISTRO 1018 Amsterdam Avenue (near 109th Street) 212-662-9020
Popular in the Community