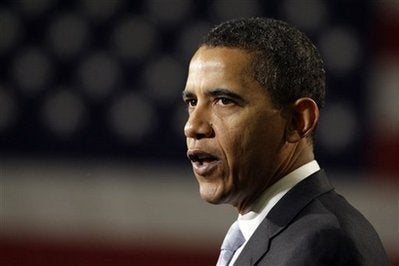 When Harlem Village Academies was founded six years ago, we spent many evenings listening to families who had been told to be "realistic" about their expectations. As one mother said plainly to me, "I was told that my child will not make it, that she was not a good learner." Nonsense! All children are capable of learning at the highest levels. At Harlem Village Academies, we are relentless about the pursuit of excellence in academics and character, and we hold ourselves accountable for the achievement and well-being of all students entrusted to our care. Harlem's children -- and all children in our nation -- deserve equal access to a world class education.
Today President Obama said, "There is nothing so satisfying to the spirit, so defining of our character, than giving our all to a difficult task." There is, perhaps, no task more difficult than teaching, and none more important. Our teachers give their all every day, working with a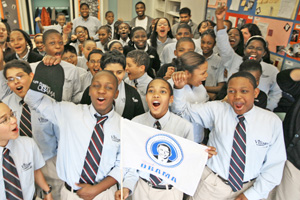 sense of urgency, nurturing our students and pushing them to do their best thinking every day. And our students give their all, working hard to overcome enormous challenges and to meet the high expectations we set for them. Today we were all inspired to work even harder.
Please enjoy our students' blog posts as we all share together in this sacred moment in our nation's history.
Dejanae Ware:
I'm thinking right now that if America can change, so can I. I can change my behavior, my attitude. I can make so many improvements. Like Barack, I am going to be somebody. I, too, will help America. I, too, will mold America into the shape of justice and peace. If Barack can win, then I can go to an Ivy League college.
Makaela Simmons:
The change is finally here. This is what we have been waiting for. Obama was looking like the star he is. He had on a crisp, white shirt, the color of the clouds in the sky, but that is not what matters. What matters is who he is. We have a president who will show leadership and courage. Barack stated one line that really moved me. He said, "We understand that greatness is never a given." I can apply this to my life because at my school, we work so hard to achieve greatness.
Adonis Pizarro:
When you listen to this man speak, it is like food. You eat it and you love it. As I heard Barack's speech, I found myself nodding to everything he said, and deep down inside I feel that he can change this country. I believe that he can do it. Yes, he will save the economy. Yes, he will lead this country down the right path. Yes, he will make the United States united. Yes, he will lead our country to the promised land. Yes, he will be a role model. Yes, he will bring our troops home. Yes, he can make this country better. And I can say: yes, I am proud to be a part of the United States. Yes, I can one day be President of the United States of America like Barack Obama.


Cariahnna Cintron:
Spoken like a poet, Obama's words touched me. Obama said, "Time and time again, these men and women struggled and sacrificed and worked until their hands were raw, so that we might live a better life." My grandmother cooks and cleans so that her kids and grandkids come home to a safe, healthy home. She works and works, and she never gives up. She doesn't know how to read or write, but she's the smartest person I know. She learns from her experiences and from the experiences of others. She works to make everyone that crosses her path happy. She works to make America a better country. This has been her job for sixty-nine years, and it will be her job until the day she dies.
Justice Ousley:
January 20, 2009 is the day where dream reaches reality. It is the day where hope takes charge and gives everyone a chance. "We must pick ourselves up, dust ourselves off, and begin the remaking of America." Those words make me wonder what I can do to make this country a better place. The little things really matter now in helping the country. Americans need to change in some way to lead this country to its promise. I won't litter anymore. I will help to make the earth greener. Maybe cleaning the streets is a start.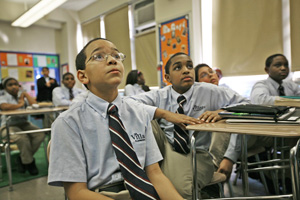 Lilibeth Perez:
Right now, things are difficult in our country. Many people have made mistakes that I hope they regret by now. As I sit on this chair, writing upon this desk, these problems are getting better, bit by bit. Right now, a great and powerful man is preparing to lead us through the tunnel of dark times to the light of victory.
Marietou Camara:
I can't believe this. I am alive right now and I am blessed and so honored to be able to witness the inauguration of the first black president of the United States, Barack Obama. He showed everyone out there that everyone has a chance to go somewhere. He put a tremendous amount of hope in our nation's heart. No one has an excuse to not try hard. He showed that hard work will pay off in the long run. He showed me that if I try hard enough, (Yes, me!) a thirteen year old African-American girl could one day could become president.
Aazja Lindsay:
I picture my great, great grandma picking cotton out of the cotton field thinking about what the future is going to be like. All our great, great grandparents are watching in heaven looking down on how much we have changed. I feel kind of emotional now because when Barack finishes his terms and makes a lot of changes, I hope this encourages other African Americans to run for office. Seeing Barack Obama become president is giving me hope that maybe one day I can be something big.
Isaiah Vincent:
I am happy that Obama became president. Not only because he is the first African-American president, but because he has made an amazing commitment to change America. We are like a soldier wounded in battle. Obama is the medic who will mend our wounds. I know he will work as hard as he can to help the people. In order for him to help us, we need to help him.
Alexis Sumpter:
Standing there. Words of wisdom coming out his mouth. I can't express in words how happy I am. I am staring at the first African American president. My eyes are in a blur and want to release what they have been holding back. I love when he recited the words, "Starting today, we must pick ourselves up, dust ourselves off, and begin the work of remaking America." It made me reflect because I am still in the process of trying to pick myself back up. I felt a force of energy rush out of my body. I felt as if I could be anything and anyone. I was feeding upon every word he said because it was true. I can heal without focusing on the negative, but by focusing on the positive.
Mamadou Doumbouya:
This man is an inspiration. I just wish I could talk like him. I admired how he said, "If you are willing to unclench your fist, America has an extended hand for you." I admired this particularly because I am Muslim. He compared some Muslim souls to clenched fists. Thanks Barack Hussein Obama for giving me more spirit and guiding me to set my goals higher.