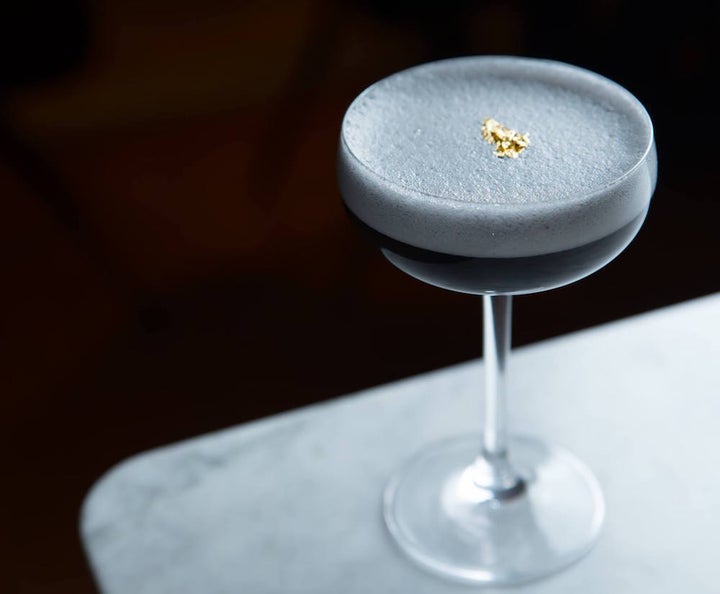 Not so long ago, there was a corner club in Harlem whose owner Hank Perkins was known as the unofficial mayor of the neighborhood and whose jazz lounge known as Perk's attracted a savory salmagundi of locals and luminaries. Something of a well-known secret, not unlike Rao's in East Harlem, Perk's had its finger on the pulse of the neighborhood—and in the mid-nineties, you might find Robert De Niro seated alongside Chazz Palminteri, enjoying Harlem's uptown funky vibe.
No one likes to lose a neighborhood favorite, the place where you feel immediately at home—unless, of course, its replacement honors its forebears in hospitality. As soon as you enter the recently-opened Clay restaurant now housed in the historic space where Perk's reigned on the corner of Manhattan Avenue and 123rd Street, as soon you part the gray velvet curtains into the vestibule, you slip into an atmosphere redolent with the buzz of another Harlem Renaissance.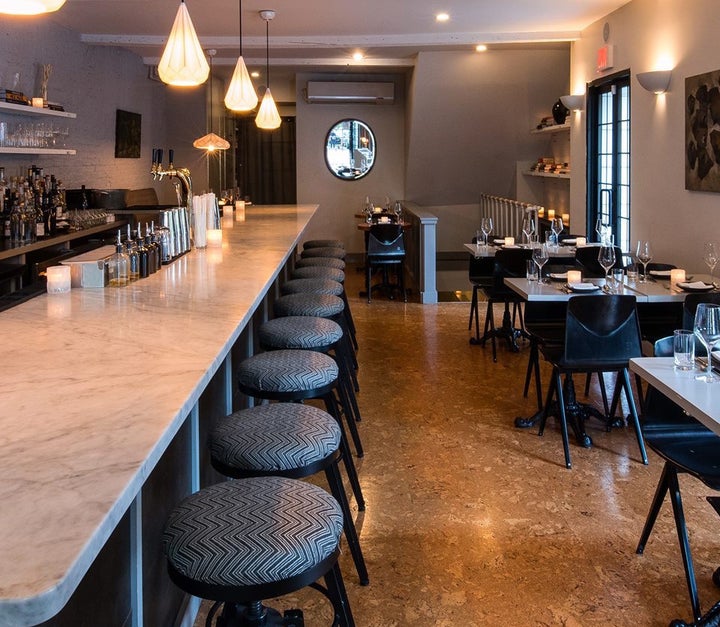 Opened in early 2017, Clay is the vision of long-time Harlem residents, a team of hospitality professionals whose culinary credentials read like an all-star roster of restaurants: Agern, Wallsé, Boqueria, DBGB, Lupa, Locanda Verde and L'Apicio. Perhaps equally important, Bar Director Andrea Needell Matteliano who has lived in Harlem for nearly 20 years served at Perk's during its Harlem heyday and her cocktail menu is an homage to jazz standards, bearing names such as Traveling Light and Good Morning Heartache.
Served with a rarely-seen fresh bay leaf clipped to the glass by a miniature clothespin, the cocktail Nine Below Zero honors the Sonny Boy Williamson track from 1962—and yet its aquavit kick underscored by birch, maple, and the Swedish-based bitter Malört reveals a Scandinavian palate.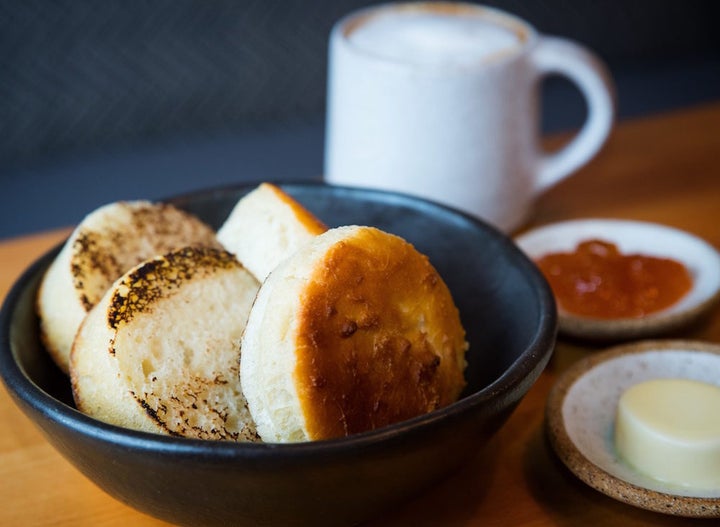 In recent years, avatars of neo-Nordic cuisine have altered the shape of fine dining with a more relaxed environment complemented by professionalism and locavore pride. The Danish word hygge, a word that connotes convivial pleasures (and which borders on overuse now, especially in non-Scandinavian countries), comes to mind—and particularly while seated in the cozy confines of the candlelit Clay.
With an uptempo aural soundtrack curated by Javier Peral Music, Clay's main dining room radiates the sleek and sociable style often associated with a certain type of Scandinavian restaurant, many of which sport their Michelin stars with a modest shrug. Hailing from Colombia, Executive Chef Gustavo Lopez pays respect to both his heritage and his Harlem home with a menu carefully sourced from dairy farms, creameries, and family farms in New York and Pennsylvania.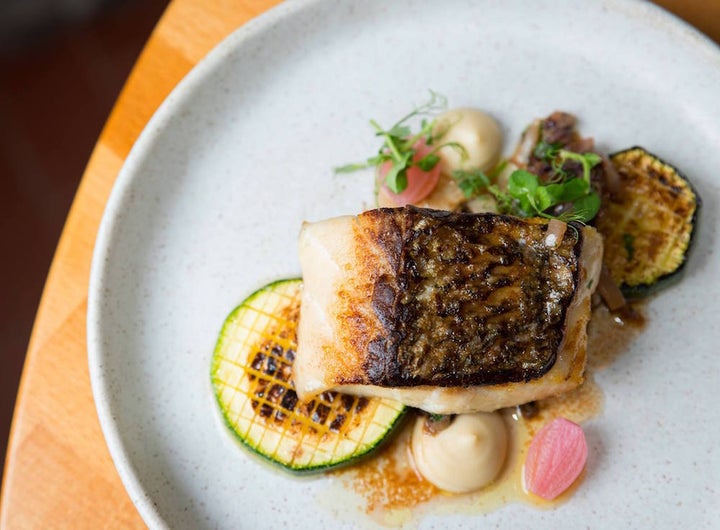 An amuse-gueule of homemade sourdough is served with a dollop of fresh ricotta drizzled with fermented raw, organic honey from the Finger Lakes. Roasted red and golden beets are unearthed beneath leaves of red oak lettuce and accompanied by hon shimeji mushrooms, candied pistachios, and tiny tender pea shoots, all dusted with powdered beet. A glass of Bodegas Albamar (2015) provides a mouthful of minerality with a splash of salinity and serves as a fitting complement to the sea bass in brown butter with grilled zucchini and endive. Equally seductive is a tangle of bucatini swirled around chunks of lobster flecked with Calabrian chile and finished with grated bottarga and breadcrumbs.
Wine Director Gabriela Davogustto offers a deep and thoughtful wine list based on natural wines with labels from the Canary Islands to Oregon, many of which might be unknown to even the most ardent oenophile.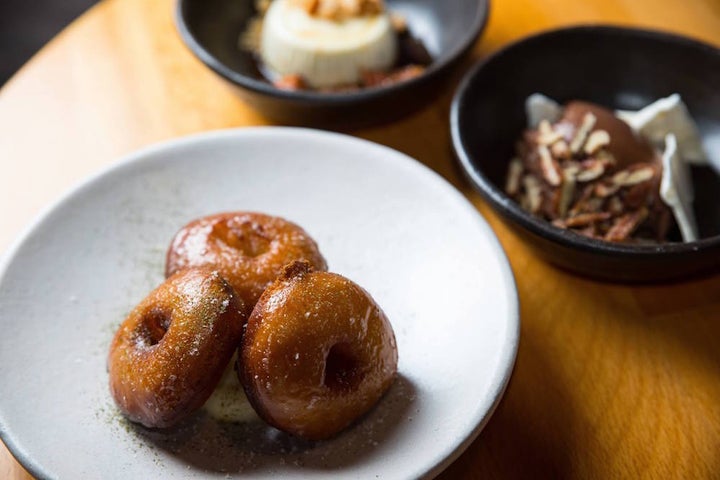 Throughout the evening, patrons come and go through the gray velvet curtain, lingering at the white marble bar—Columbia faculty, Harlem denizens, a couple murmuring in French—all contributing to the mélange that makes this restaurant so reflective of New York today. A plate of mini doughnuts, served with a creamy coulis of lovage and lemon verbena, is as sweet as the ambiance.
As for the restaurant's name, Clay symbolizes the earth and the focus on farm to table cuisine—although it's also evocative of the terra cotta floor on the downstairs dining room and the restaurant's sleekly elegant plates and bowls, handmade in Brooklyn at Noble Plateware. Bookshelves are artfully arranged with cookbooks from restaurants such as Zuni Café and Bar Tartine, as well as tomes on the Nordic kitchen, all of which tip a hat to those culinary endeavors worthy of Clay's emulation. It's easy enough to imagine another addition to the shelf: one based on Clay and its Harlem aesthetic.
During the Jazz Age, as the center of a cultural explosion that lasted through the 1930s, Harlem was the destination—and everyone who was anyone took the A train to partake in the flamboyant brilliance of a scene centered around jazz speakeasies and supper clubs, ballrooms and boîtes. In 2018, Harlem might well be defined by the cool urban vibe exemplified by Clay.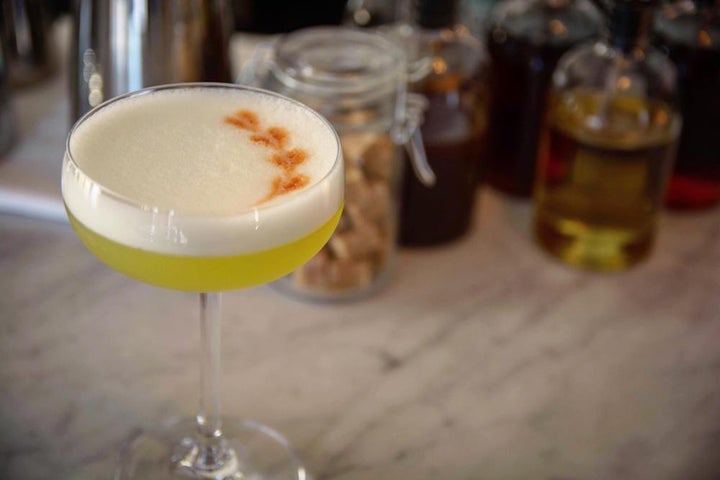 Related
Popular in the Community