Have you ever had the feeling of overwhelming joy in one little cup? This is what I experienced after my first sips of Serengeti's Moroccan Mint tea. Serengeti Teas is a quaint little tea and spice shop in the very eclectic upper Manhattan neighborhood -- Harlem. Move over Starbucks, a new experience has come to town. As I continued to sample a variety of tasteful blends, I could easily imagine a land of adventure and splendor, as the rich aromas and flavors mixed together so wonderfully. Everyone should experience a walk through the Serengeti -- all wrapped up in a little china cup brimming with tea.
Liberian-born Doughba Caranda-Martin has called the United States his home for twenty-one years, but this rising entrepreneur still brings his African roots to life every day through his international tea and spice shop, Serengeti Teas. After fleeing his war-torn country, Caranda-Martin has worked tirelessly to highlight the rich abundance of agriculture and incredible variety of flavors that bloom in the African soil. His Harlem-based retail store opened in the Fall of 2013 and he already has his sight set on expanding to other major metropolitan cities. With Doughba's expert knowledge and his passion for offering the highest quality product available, Serengeti Teas is primed to be a huge success with their signature teas and specialty blended products.
Nova Lorraine: How did you get involved in the tea business?
Caranda-Martin: My family has always been involved in agriculture. I'm the only one left in the business. My grandmother has been the genesis: she was a botanist and my family has been doing this for 5 generations, working with our own farms and other farmers of spices, cocoa, and tea.
Nova Lorraine: What is Africa's influence on the hot beverage market?
Caranda-Martin: The global marketplace does not realize the amount of tea that Africa produces. Africa is actually the birthplace of coffee -- the original coffee came from Ethiopia. Colonization spurred the planting of coffee in South America; however, the original bean came from Ethiopia.
Often the stigma around Africa keeps people from promoting its agricultural goodness -- tea, cocoa, coffee -- everything we do here at Serengeti is based on these principals and honoring the farmers that produce it. We also provide the education that most of the products we use are from African farmers.
Liberia, Ghana and the Ivory Coast all produce grade 1 cocoa and most producers buy from these places due to the quality of the cocoa. The sub-Saharan continent is a major player of these food categories: for example, 90 percent of hot cocoa has African cocoa in it.
Nova Lorraine: What is the mission behind Serengeti Teas?
Caranda-Martin: For me, it's simply about not trying to be mainstream. I focus on celebrating Africa and its goodness. I especially like to empower and promote female farmers. We are very involved in social responsibility and balance from whom we purchase from on the ground in Africa. Sixty percent of the farmers we purchase from are women: they seem to be more efficient. We are very interested in the hands on relationships with the farmers: we need to know who made the cocoa and where it's coming from. This same principle applies to the teas and coffees.
Nova Lorraine: How do you stand out as a small business in a big business industry?
Caranda-Martin: We do all the packaging ourselves. We do not cut any corners. We are a boutique company that focuses on the process of handcrafting, from selecting the beans to the blending of our teas and coffees. Some of our specific teas are very rare and are aged for two to three years. A lot of this comes from my grandmother, LuLu.
Nova Lorraine: What words of wisdom would you offer to aspiring entrepreneurs?
Caranda-Martin: Don't cut corners. It's ok to fail: regroup and keep your focus.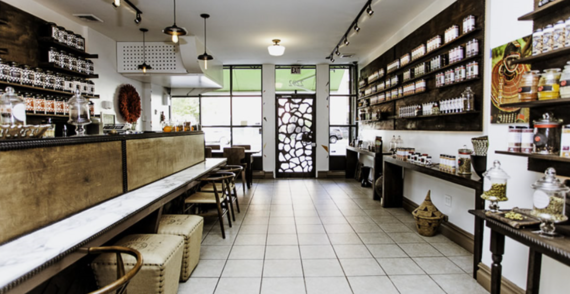 Photos provided by Serengeti Teas
Nova Lorraine is the Editor in Chief and Founder of Raine Magazine. Nova also offers consulting in creative direction and brand development to fashion and lifestyle brands. www.rainemagazine.com
Popular in the Community