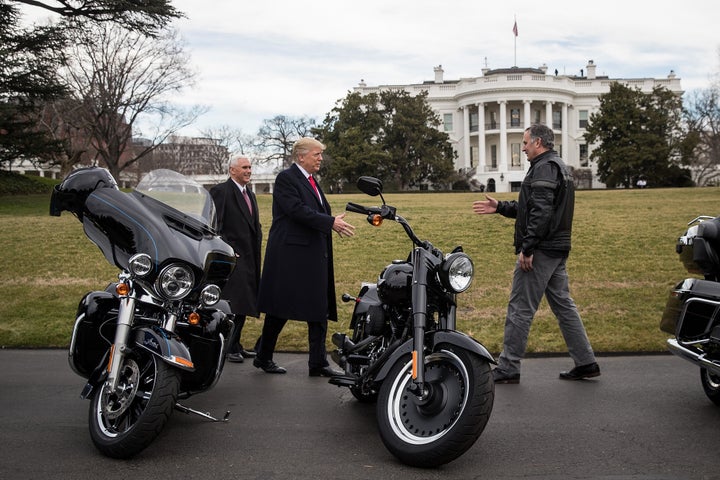 Harley-Davidson Inc. announced it is shifting production of some of its motorcycles out of the U.S. because of President Donald Trump's escalating trade war, which critics warn could hamstring the humming U.S. economy and cost jobs.
Trump hosted executives from the Milwaukee-based company and the union officials representing its workers last year at the White House. The president hailed the company as a model of American manufacturing, an industry he promised to restore. He further praised the executives "for building things in America" and predicted the company would expand its operations during his administration.
Things aren't looking so great for the iconic motorcycle producer this year, however. The company said in a regulatory filing on Monday that retaliatory tariffs imposed on American exports by the European Union rose between 6 percent and 31 percent this year, resulting in a jump in $2,200 per average motorcycle exported to the EU.
But rather than hike prices in the U.S., the company said it would absorb the cost in the short term ― projected to be some $30 million to $45 million through this year― and shift some production to international factories in coming months.
"Increasing international production to alleviate the EU tariff burden is not the company's preference, but represents the only sustainable option to make its motorcycles accessible to customers in the EU and maintain a viable business in Europe. Europe is a critical market for Harley-Davidson," the company said in a statement.
The move follows a round of layoffs at the company's manufacturing plants in Milwaukee and Kansas City, Missouri, last year, costing 180 manufacturing jobs.
Trump tweeted Monday that he was "surprised" by Harley-Davidson's decision to move some production overseas, urging the company to be "patient."
Republican leaders in Congress have so far resisted challenging Trump on trade, worrying that an intraparty clash could harm the party in November's midterm elections. But there are signs that some members of the president's party ― which historically has favored free trade ― may finally be reaching a breaking point.
Sen. Jeff Flake (R-Ariz.), for example, warned over the weekend that he's prepared to oppose Trump's judicial nominees unless the Senate votes on legislation curtailing the president's power to unilaterally impose tariffs on other countries.
"I think myself and a number of senators, at least a few of us, will stand up and say, 'Let's not move any more judges until we get a vote, for example, on tariffs,'" Flake, who is retiring this year, said on ABC's "This Week."
This story has been updated with Trump's Monday tweet.
CORRECTION: A previous version of this story said Harley-Davidson was moving production to Europe. It is moving some production out of the U.S. and to its international facilities, but none of its current international facilities are in Europe.
Popular in the Community