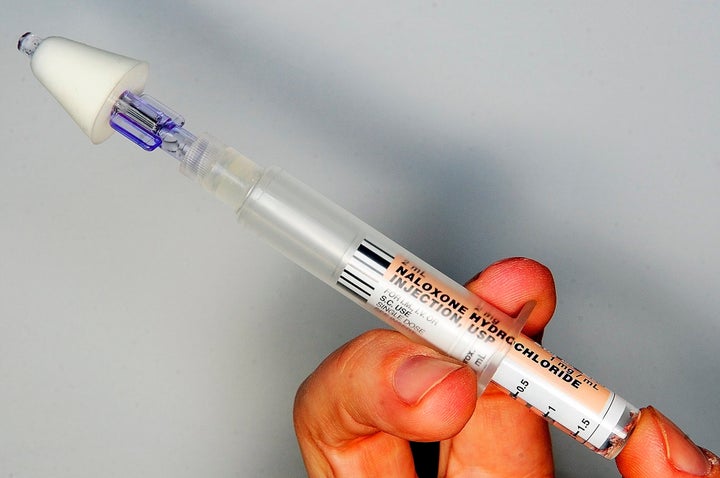 Drug policy groups at a major gathering in Vienna last week were alarmed when a report emerged that a top U.S. drug official had derided harm reduction strategies as a coded way to describe drug legalization. 
Harm reduction policies aim to curb the harmful consequences associated with illicit drug use, while recognizing that totally eradicating drugs is unrealistic. Vice News reported that William Brownfield, the assistant secretary of state in charge of international narcotics and law enforcement affairs, "startled activists when he said harm reduction had become a 'backhanded way to describe legalization'" at the U.N. Commission on Narcotic Drugs session that concluded in Vienna on Thursday.
It would have been a disheartening remark for drug reformers who will be pushing for the U.S. and other member nations to move away from draconian prohibitionist policies at next month's U.N. special session on drugs. And, indeed, The Huffington Post spoke with multiple advocates who attended the conference and were alarmed at the Vice report.
A closer look at the context, though, suggests that Brownfield was describing the misconceptions of others.
In recent years, Brownfield has been a proponent of drug policy reform, and just this week, he said that American officials were looking with other U.N. member states to "find areas of pragmatic reform" to drug policy. He has also called for "flexible" interpretations of the three-decades-old U.N. drug control treaties that critics say have restricted movement toward more progressive drug laws in the United States.
Brownfield's full statement, provided to HuffPost by Open Society Foundations, shows he actually didn't disparage harm reduction programs at all. Rather, he suggested that other people in the United States consider "harm reduction" to be a code for "legalization," and so he tries to avoid using the term and advocates replacing it with a new one. (There are certainly some organizations that view harm reduction in a negative light because they believe the approach does not discourage drug use.).
Brownfield's full quote appears below:
But in many ways for the United States government, the discussions over harm reduction are a labeling issue. In the United States, and I acknowledge, I am offering a national position, not a global position, over last 10 or 15 years, in common public usage, the term harm reduction has come increasingly to be interpreted as a backhanded way to describe legalization. What we have asked, respectfully, modestly, and humbly, in these discussions, is to find a new description or a new label. We are, as Mr. Botticelli has just indicated, in fact, not only comfortable with, but believe we play a leadership role in much of the rest of the world in terms of much of the substantive matter that the international community means when they say harm reduction, and in order to avoid the confusion that would ensue in our own country, our request is a very simple one of finding a new subject heading. If we mean reducing social damage caused by drugs, perhaps we can say, 'reducing social damage caused by drugs,' and in that way not contribute to confusion and passionate debate in at least one country in the UN system.
Still, Vice said many drug reformers saw this argument as a straw man, wanting Brownfield himself to make a push for "harm reduction." When pressed for clarification on his remarks, Brownfield explained to HuffPost that his office regrets that "some organizations and individuals have come to associate the term 'harm reduction' with policies and programs consistent with legalization of dangerous and harmful drugs."
While the U.S. government does not support drug legalization as a national or global policy, Brownfield said that it does support strategies that address "health concerns and the social damage caused by harmful drugs." Such strategies, he said, include "stronger public health focus in global drug policy, improved education, treatment and recovery support efforts, alternatives to incarceration and expanded use of the overdose reversal drug naloxone." Much of this falls in line with typical harm reduction strategies.
Michael Botticelli -- the director of the Office of National Drug Control Policy, who has moved the agency away from its "tough-on-crime" roots -- echoed Brownfield's position in his full remarks in Vienna this week, emphasizing the importance of a public health approach to drug policy.
"We must make sure that our citizens have access to essential medicines for the relief of pain and suffering and to improve health and wellbeing," Botticelli said. "Measures to prevent diversion are important, since prescription drug misuse can be a serious problem, but such efforts should not prevent fair access to those in need."
Much of the art of diplomacy is about the nuance of language. It may seem strange that the U.S. is willing to embrace the goal of harm reduction while blanching at the actual phrase "harm reduction." And while slightly different language -- like "reducing the harms associated with drug use" -- may be more palatable, the grammatical distinction between the two phrases is likely lost once they're translated into dozens of other languages at the U.N.
Advocates for harm reduction say it's a common-sense approach meant to reduce some of the negative consequences illicit drug users face.
Harm reduction strategies can certainly include policies that limit, or altogether remove, criminal consequences for drug use and possession. But there's also a set of public health efforts that fall under the rubric of "harm reduction": providing access to clean kits, like needles or syringes, in order prevent the spread of diseases like HIV, or providing effective antidotes, like naloxone, to reverse the effects of an opioid overdose.
Rethinking the failed policies of the war on drugs comes at an especially critical time in the nation's history, as America grapples with a heroin crisis that has already reached epidemic levels. Opioid abuse has been a growing problem among younger Americans in recent years, with many high school students starting to abuse prescription pills before transitioning to heroin. Opioid-related deaths have been surging.
Almost 20 years ago, during the last U.N. special session on drugs, then-President Bill Clinton hyped the war on drugs, calling on partner nations to rely on law enforcement to crush the illicit drug trade. It didn't work, and Clinton has since apologized for his role in escalating the global drug war. At home, he's admitted that his signature crime bill that imposed mandatory minimum sentences for low-level drug crimes only "made the problem worse."
Drug reformers have been hoping that President Barack Obama will attend the special session this year at U.N. headquarters in New York City -- and that he'll deliver a different message than Clinton, touching on the points he made last year at a town hall meeting in Kingston, Jamaica.
At that meeting, the president strongly denounced the war on drugs, calling it "very unproductive" for its emphasis on incarceration. Instead, he called for a public health perspective that would focus on "trying to get [people] into treatment," combined with "economic development and alternative opportunities for youth."
But according to Obama's travel schedule, he isn't planning to be in New York at the time of the U.N. meeting next month.
This article has been updated with additional context and a response from Vice.
Calling all HuffPost superfans!
Sign up for membership to become a founding member and help shape HuffPost's next chapter
BEFORE YOU GO
PHOTO GALLERY
27 Reasons Why U.S. Shouldn't Lead War On Drugs