Getting the mail at Christmas time is gladiator sport for our family. Ok, that may be a tad dramatic. The kids do argue (passionately) about who gets to check the mail each day, even though the walk to our neighborhood mailbox involves the relentless Oregon rain and stopping every three feet to allow our pudgy dog, Honeybadger, to festively mark the holiday season along the way. We truly do love hearing from friends and relatives across the country, especially since we moved away from sunny Tucson five years ago.
Life in a blended family of eight, all under one roof, was no joke. Having said that, I firmly believe that the #1 ingredient to a happy home is humor. Being able to laugh at ourselves (ok, and at each other... mercilessly) was and is our secret sauce. Humor is what got us through all of the trials of raising six kids: stomach bugs, broken appliances, last-minute science fair projects, loud and crowded road trips, juvenile diabetes, that time Noah almost burned the house down making a cheese toastie, the circus that is having a boxer puppy, fierce arguments over the hall bathroom, and now the logistical challenges of coordinating the holidays across the miles. Though we're down to just three kids left in the house full time, we still relish hearty laughter, and we still genuinely like each other.
Finding Christmas cards to represent the harmonized chaos that is our family was difficult. After all, for our loved ones who aren't on social media, Christmas cards are an important annual touch-base greeting from the entire family. It's serious business! How can a red card that says JOY really encapsulate a year's worth of family greetings? That's where my husband Scott, an artist, found an ingenious solution. Each year, he draws our cards with a little bit of colored pencil and a whole lot of creativity. The cards represent all that is jolly (and challenging) in our home— from the occasional anarchy, to the geographical distance between us now, to the love and warmth and yes— the humor.
Here's the first one, when our house was dominated by a ferocious chihuahua named Gordon the Express Engine. It was also the year we began emphatically replying, "The Brady Bunch lied," to all of the gleeful people who innocently exclaimed, "You guys are the real Brady Bunch!!!" Our one-and-only daughter grimaced at her portrayal with a cell phone in hand— resulting in a Christmas card tradition that still haunts her to this day.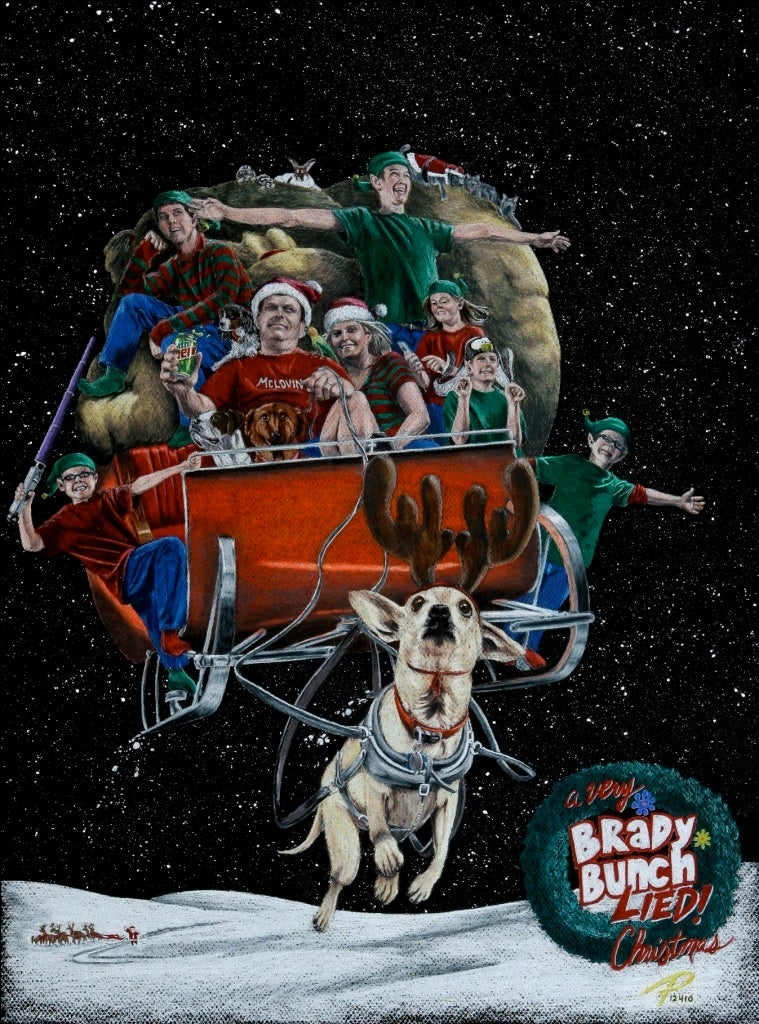 Here's the second, when we realized we had been perhaps a little too ambitious with animal rescues.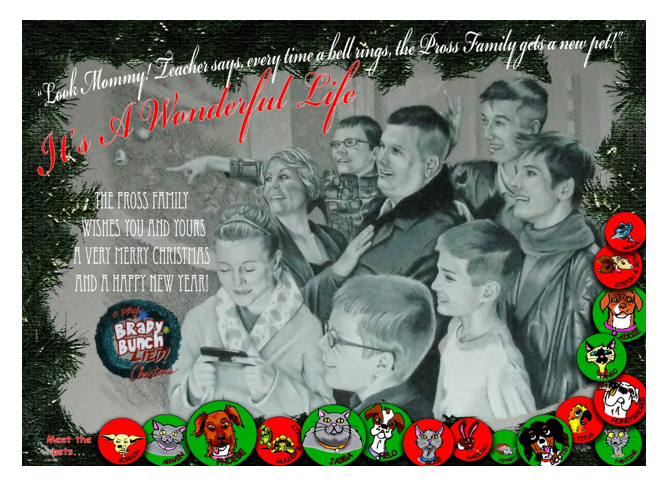 The next two years' cards captured our feeble first attempt at being "real" Oregonians. We had set out to simply rescue two alpacas, but we ended up with a guard llama named Rick, goats, and chickens. One hen had an uncanny knack for photo-bombing.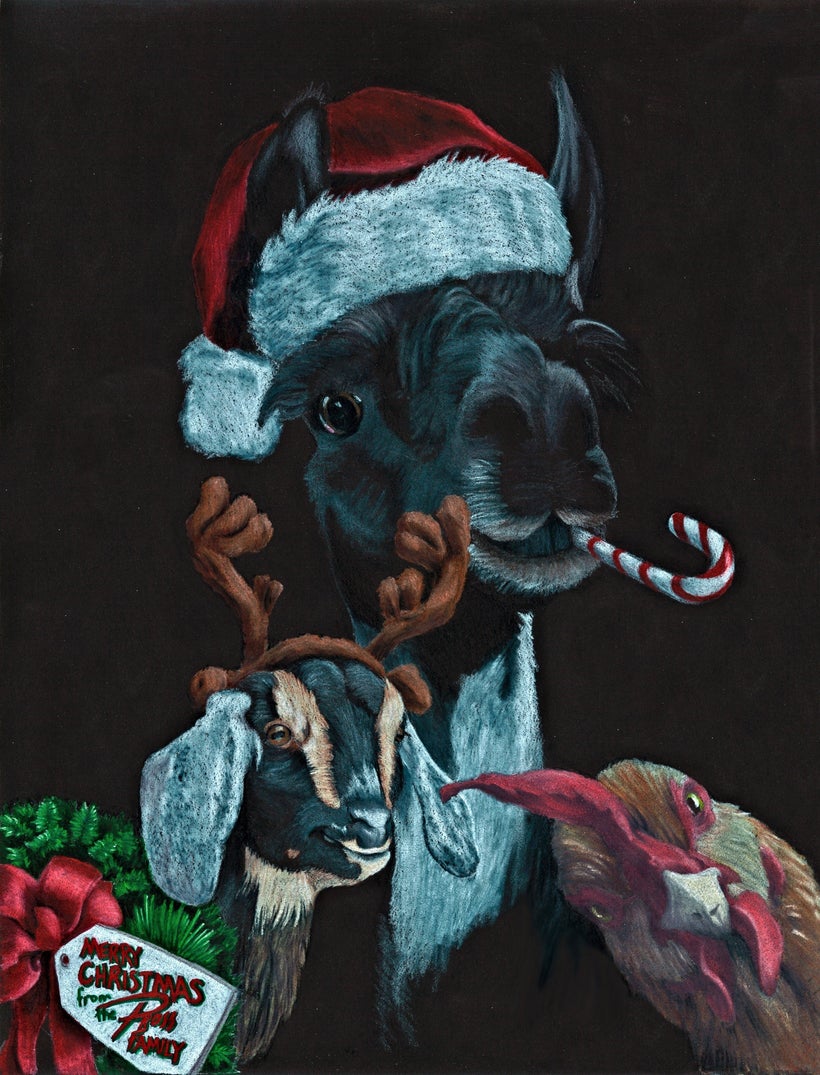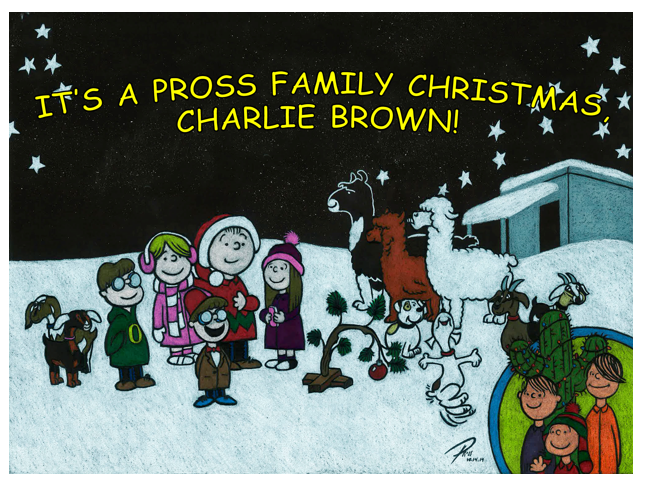 Last year, Scott decided to pay homage to a classic from our childhoods: Oregon Trail.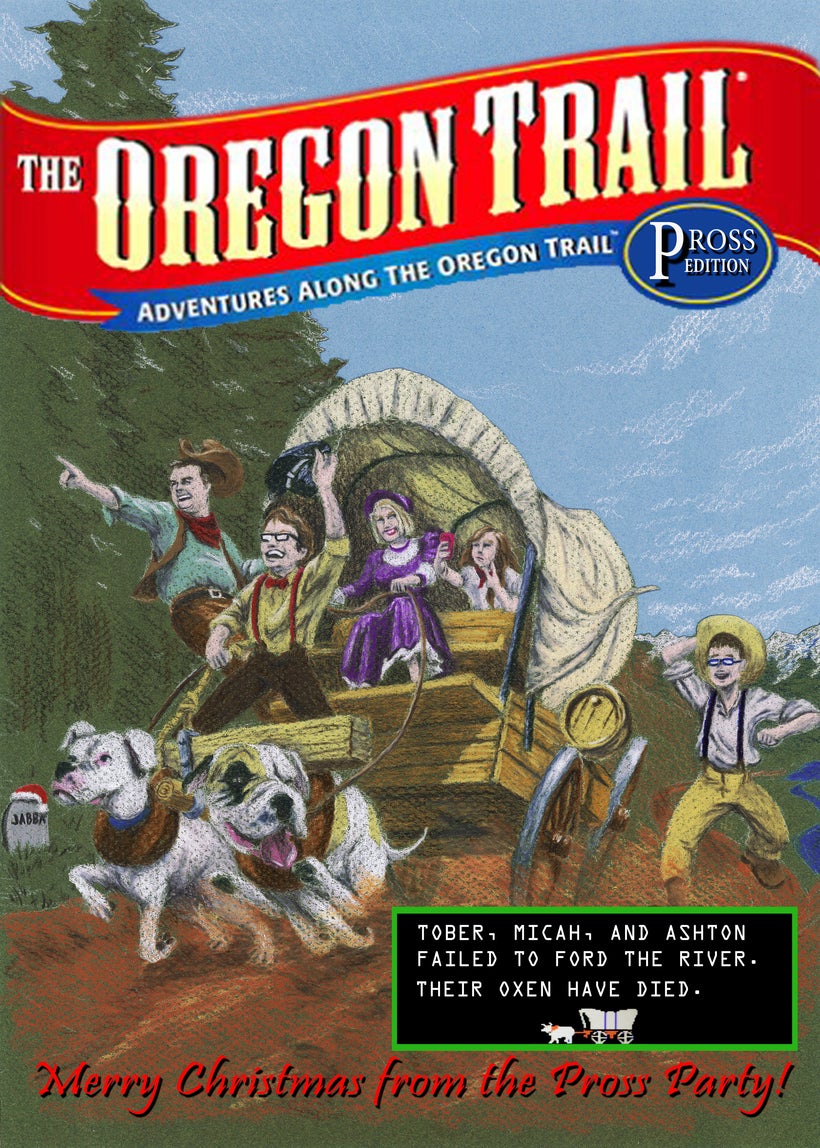 It's Christmas 2016 now, and the oldest of our kids is now 23 and a father himself. This year's card might be my favorite of all, because it captures both the humor and the milestones that have passed as part of this wonderful, funny, chaotic blended family of ours. When I really think about it, if a year comes that Scott can't find the time to draw up a card, a plain one saying JOY would be just fine.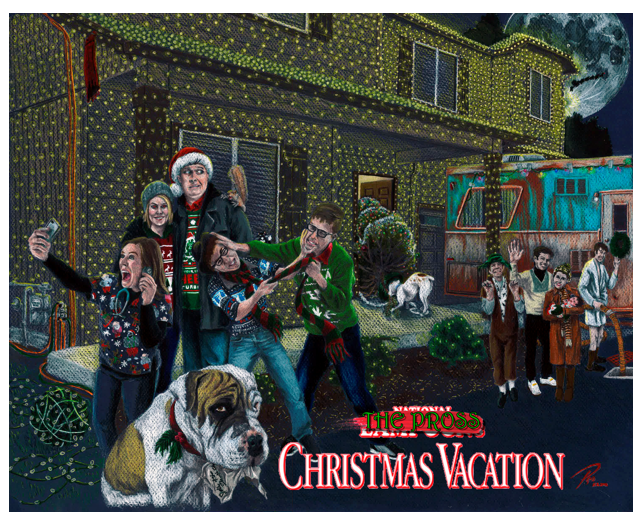 REAL LIFE. REAL NEWS. REAL VOICES.
Help us tell more of the stories that matter from voices that too often remain unheard.
This post was published on the now-closed HuffPost Contributor platform. Contributors control their own work and posted freely to our site. If you need to flag this entry as abusive,
send us an email
.