When I first met Nela Hasic - Regional Director of the Women's Health Empowerment Program (WHEP) in Bosnia and Herzegovina - it was immediately clear that I'd met someone special.
In 1992, in the aftermath of the collapse of Yugoslavia, Bosnia's capital of Sarajevo - Nela's home - came under siege. She received a call from the American Jewish Joint Distribution Committee (JDC). "JDC is airlifting members of the Bosnian community to safety," she was told. "You have to be at the airport in half an hour."
Nela recounted that she was reluctant to leave, believing that war would soon pass over the city, but her father (a Holocaust survivor) told her, "Once in my life, I lived through a similar situation. We thought everything would be okay, that nothing would happen - and then I ended up alone in the world."
So she grabbed her two young children (then 5 and 3), two sets of pajamas, a coat and her purse, and left. After six months in Belgrade and Budapest, living as a refugee with her kids, Nela reconnected with her husband (who was rescued by JDC's other convoys), and shortly thereafter, they left for Israel and "made Aliyah." After a decade building a new life in Israel, Nela and her family decided to return to her home of Bosnia. But in the wake of so much tragedy, it was hardly the home she remembered.
Their future in their "new" home was uncertain... until Nela was asked by the JDC to lead the WHEP - a program that encourages the early detection of breast cancer, creates support groups and hotlines, and facilitates partnerships in the community. The WHEP was originally established by the JDC in 1995, and Susan G. Komen became a partner of this groundbreaking work in 2005.
Nela's personal journey of pain, promise and hope has made her an effective leader for women's health throughout the country. Her passion and determination were clear when I had the opportunity to see this work firsthand during my very first visit to Bosnia last month.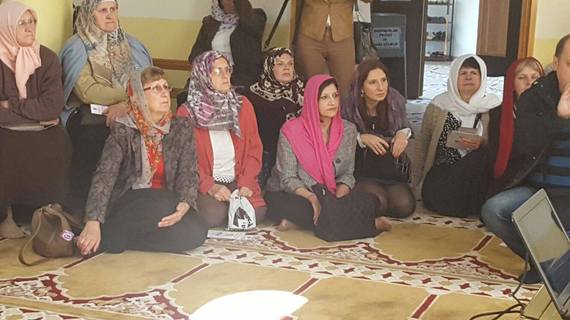 I was familiar with the country's heartbreaking history, which still leaves portions of the population divided - some by chance, others by choice.
But more familiar were the obstacles they had to overcome as they worked to combat breast cancer. JDC leaders I met with recounted that when the WHEP was created in 1995, there was no awareness of breast cancer in Bosnia. In fact, the way people perceived this disease was similar to the reality we faced in the United States when our organization was founded in 1982 - a shroud of shame, stigma and misinformation.
And just as we had to change the conversation in the U.S., change was needed in Bosnia. Fortunately, we have a courageous, persuasive and determined woman at the helm.
Nela and our partners through the WHEP and JDC worked from the ground up to build a country-wide organization that served all women and overcame barriers. She started with one other advocate, and is now joined by women from 23 organizations from across the region. "We don't give the floor to religion or other differences," she told the Times of Israel. "Women's health is our agenda."
Viewing footage from the first Bosnia Race for the Cure in 2008, and comparing it to last year's Race demonstrates the transformation Nela and the JDC have driven better than words can (trust me, you don't need to speak Bosnian, Serbian or Croatian to witness the power of this work). In the course of just 7 years, our Race participants more than doubled, growing from 2,400 to more than 7,000 participants.
Throughout my visit, I often found myself in awe of the friendship and harmony that Nela and the WHEP were able to foster among women of all faiths and backgrounds. I was only there for (a hectic) 40 hours, but I felt as though I'd made friends for life.
I had the opportunity to visit a local village where a group of women gathered at the mosque to hear from a female physician about what a mammogram is. We later gathered at a health clinic, where the WHEP brought OB/GYNs and a mobile mammography unit to offer health services to the women. The technicians planned to screen 50 women, but was able to screen 60 (for 90 percent of these women, it was their very first mammogram)!
I visited with a group of survivors, who regularly meet in Sarajevo to create heart pillows for women currently in breast cancer treatment - a gift truly from the heart of women who sought only to support one another.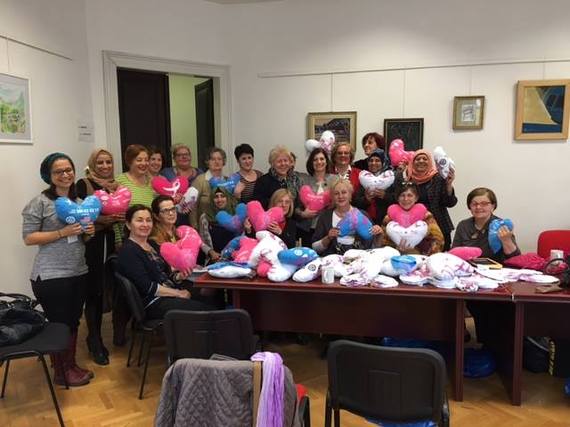 Thanks to the way this partnership has transformed women's health through Bosnia, others are seeking to learn from Nela and WHEP. During my time in Bosnia, we were accompanied by the most unlikely of partners - Israeli and Palestinian women - who jointly approached the WHEP for guidance on how to support women facing breast cancer in their own communities.
That is the power of partnership - of goals and determination.
Nela would be the first to tell you, though, that it's no easy task. There is no shortcut from A to Z. Instead it is a journey... from A to B to C and so on.
The key is bringing women together to empower one another.
Popular in the Community