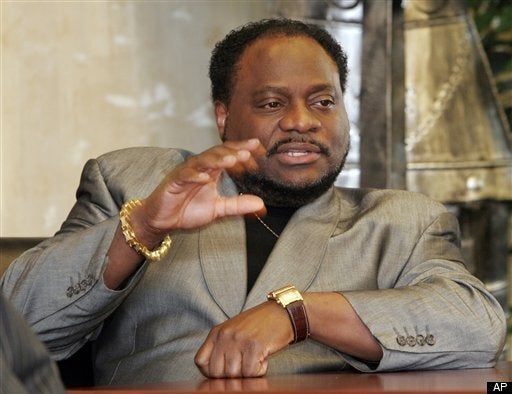 There's a problem with the media's coverage of Georgia-based megachurch Bishop Eddie Long. The problem comes from the fact that reporters are only paying attention to his history of anti-gay rhetoric now, and will likely stop once the scandal is over.
Nearly every major media outlet from print, to radio, to television, has picked up the story of the four young men accusing Long of sexual misconduct. Unfortunately, most in the media have failed to ask the more critical question at hand: Who speaks for the thousands of youth who are subjected to verbal assault, Sunday-after-Sunday in Long's church and others, just for being who they are?
During its coverage of the scandal, the media has thankfully turned its critical eye on the homophobia being taught by some leaders in the black church. But it's sad and disheartening that it took allegations of sexual misconduct to get us to the point where the media is finally listening to the voices of the people who are harmed by this rhetoric.
"I don't care what scientists say. You can be converted. You were not born that way."
"Homosexuality and lesbianism are spiritual abortions."
"God says you deserve death!"
Those are actual quotes from Eddie Long. These are the messages that have been passed down directly to countless LGBT youth and their families. Even if those four young men had never brought forth these sexual coercion charges, would that make those statements any less dangerous? Would they no longer deserve our attention?
Bishop Long has made this type of speech a cornerstone of his megachurch empire. He says gay people deserve death and has condemned them to hell. He was called "one of the most virulently homophobic black leaders in the religiously based anti-gay movement" by the Southern Poverty Law Center. He has marched against marriage equality, rallied against equal workplace protections, and perpetuated the myth that gay individuals can be "cured" through the power of prayer (a falsehood that has been debunked by the nation's leading medical and mental health authorities). And yet, the media did not look critically at his history of anti-gay messages until the sexual misconduct allegations recently surfaced. Again we have to ask, why does intolerance barely get a mention, until it becomes potentially hypocritical intolerance?
Bishop Long's alleged hypocrisy is far from the only thing wrong with his history of harmful rhetoric. His entire community has been victimized by the messages he has sent throughout his career. Research has proven that anti-gay messages coming from the pulpit continue to echo long after service is over. In April of last year, 11-year-old Jaheem Herrera, who grew up a stone's throw from Bishop Long's Lithonia-based church, took his own life rather than deal with the constant anti-gay bullying he was subjected to at school -- all because Jaheem was perceived to be gay.
And in just the last month several more teens across the country have taken their own lives after facing relentless anti-gay bullying. Bishop Long and others like him share the responsibility for these incidents. It is their message of intolerance and phobia that these young bullies take with them into schools and playgrounds all over the country. It is this message, that fuels a climate of stigma and shame, hurts young people and puts them in harm's way.
By telling families that "Homosexuality is a manifestation of the fallen man," Bishop Long is implying that they have no choice but to reject their children who identify as LGBT. According to the group Advocates for Youth, studies have shown that gay African American youth are more likely to have low self-esteem and experience suicidal thoughts than their counterparts of other ethnicities. The nation's leading LGBT suicide prevention organization, the Trevor Project, says gay youth who come from families that reject them are over 8 times more likely to have attempted suicide than their peers who reported low levels of family rejection or none at all.
If the sexual misconduct allegations against him are true, then Long himself has been a victim of an atmosphere of intolerance which taught him early on that his community would not accept him if he were true to who he is. But despite the possibility that he himself was victimized by this attitude -- there's no doubt he's spent his career fueling it.
Bishop Long has made himself a very good living preaching a message that has been proven to cause harm to young people in his community. Whether he practices what he preaches is for a court to decide. But the verdict won't make his message any less dangerous. And the absence of scandalous allegations shouldn't make it any less newsworthy.
The media now has a responsibility to keep a critical eye on the harmful environment being perpetuated by Bishop Long and others like him -- and to shine a spotlight on the reach of Bishop Long's words and the many victims of his message.
Popular in the Community