When bridal blogger Kat Williams saw photos of Harnaam Kaur, she knew she had to feature them on her site.
"I stopped self harming and I have now fallen in love with the elements on my body that people may call 'flaws,'" she said. "I love my beard, my stretch marks and my scars. These elements make me who I am, they make me whole, they make me complete. My beard has 100% become a part of my body. It is the source of my strength and confidence. People just see the beard as hair, but my beard for me is much more than that. I keep my hair to show the world a different, confident, diverse and strong image of a woman... I love my lady beard and I will forever cherish it."
Kaur recently posed for Urban Bridesmaid Photography, a studio based in south London, for a series of bridal-themed shots (just for fun -- Kaur isn't actually getting married). Photographer Louisa Coulthurst pitched Kaur the idea when she first saw Kaur's portrait in the Beard Exhibition held at Somerset House in March.
"I had always been intrigued by the thought of floral beards and a thought came to me of wouldn't it be cool to have a floral beard on a woman,"Coulthurst told Rock 'N Roll Bride. "I emailed Harnaam and she was excited and wanted to get involved."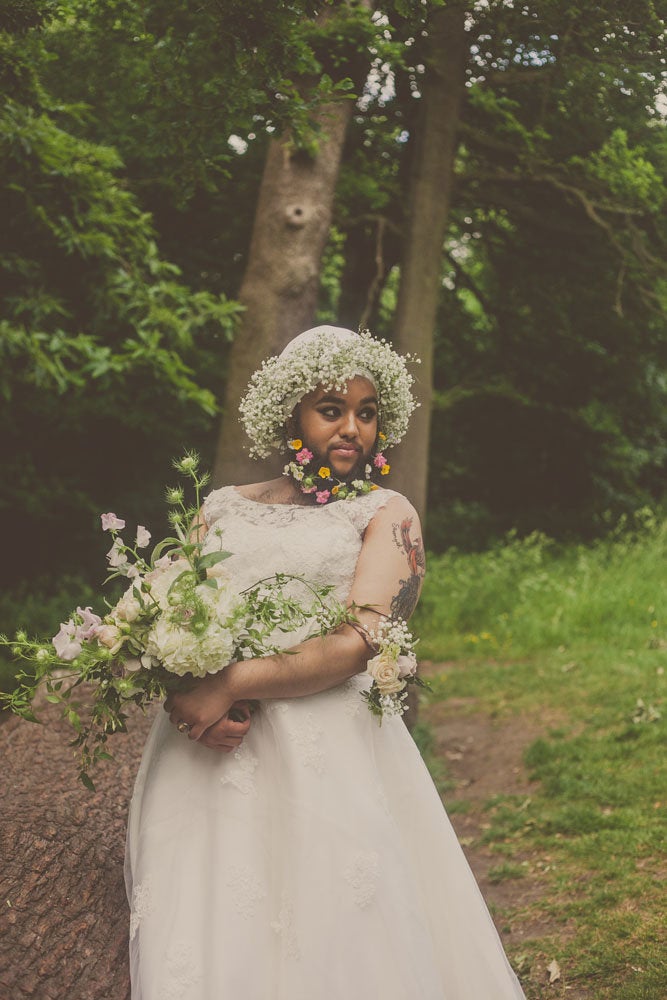 Williams decided to share Kaur's story on her site alongside the photos because the young woman's message is one of body acceptance.
"Through my blog and magazine I showcase unique and alternative weddings but fundamentally I want to help my readers realize that it is in being themselves and embracing their own wonderful uniqueness that they will make their wedding, and more importantly their marriage, truly great," Williams told The Huffington Post in an email Wednesday.
"Society and the media put so much pressure on women to conform to a specific template of perfection," she said. "We're bombarded with images of thin, beautiful models and celebrities on a daily basis. However, I feel strongly that being 'picture perfect' has absolutely nothing to do with how you look on the outside but everything to do with the joy that radiates from the inside. Shape, size, sexuality, race... beards, these things have nothing to do with perfection."
Women are put under a lot of pressure to look great everyday. Brides are put under pressure to be hairless and look the part on their wedding day.

I wanted to portray and show the world a diverse image of what a woman is. I wanted to show that you can just be you and still look beautiful ... To appear in the photo shoot meant that I could delve into another concept of photography and modeling. It meant that I could appeal to brides and show them that regardless of what you look like, you will be perfectly beautiful on your wedding day. I absolutely loved doing the photo shoot. I do not know if I will ever get married myself, but this photo shoot did make me smile, and modeling in a white wedding dress was amazing.
Related
Popular in the Community