Last week's Global Entrepreneurship Summit at Stanford University brought 700 entrepreneurs representing 170 countries into the heart of the Silicon Valley to talk about how to use innovation to solve the world's problems. As President Obama said of entrepreneurship in his speech to summit delegates: "It ...empowers people to come together and tackle our most pressing global problems, from climate change to poverty." Social entrepreneurs, who specialize in taking the best practices from the business world, the nonprofit sector and government to devise powerful solutions to seemingly intractable social problems, represent a growing force of entrepreneurial actors working towards a more peaceful and prosperous future that provides opportunity for everybody.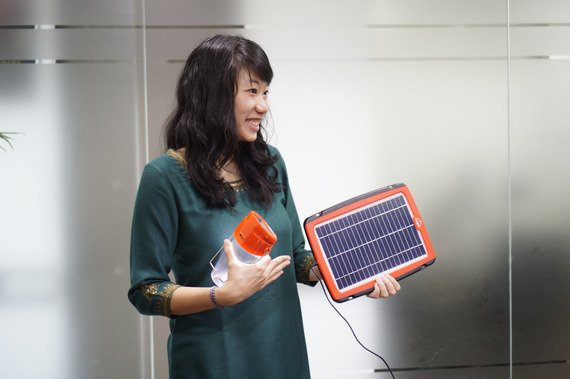 The millennial generation has embraced social entrepreneurship and this call to transform the world. University programs such as the Stanford University Program on Social Entrepreneurship that prepare students to be change agents are booming. Organizations such as Echoing Green that offer funding, support and access to networks are seeing a marshalling of top talent and flourishing of potentially transformative ideas for addressing ills from income inequality to shortfalls in quality health care and in education, and much more. But these creative and driven next generation leaders need more financial support to get their ideas off the ground. The good they could do is immeasurable.
Consider the vital work being done by One Degree, a Yelp-like online platform that helps poor people in the San Francisco Bay Area find social services they need. One Degree was founded by Rey Faustino, who as the son of Filipino immigrants was intimately aware of how hard it is for many underprivileged families to search for housing, and to get support in buying food and obtaining medical care. As of this writing, 120,000 people -- or one in four people in need in San Francisco and Alameda counties -- have found critical services through the tech platform.
Observe the cutting-edge movement building efforts of Gina Clayton, founder of the Oakland-based Essie Justice Group, named after her great grandmother, Essie Baily, and leveraging Gina's training and experience as an NAACP youth organizer and civil rights attorney. Seeing up close and personal the impact of incarceration on women both in her personal and professional life, Essie Justice Group is harnessing the collective power of women with incarcerated loved ones to empower women and end mass incarceration.
This month, Echoing Green, which provides funding and support to such aspiring innovators to be social change leaders for life and in launching impact-first organizations through our best-in-class global Fellowship program, announced our list of 33 new Fellows, twenty percent of whom are based in the Bay Area.
Eighty-six percent of these leaders are people of color and twenty-four percent are also indigenous leaders who see value and possibility where so many others see only problems. They embody the promise of inclusive entrepreneurship-that is opportunities for all entrepreneurs, no matter who they are, where they're from, or what they look like-the term President Obama used when, last year, he announced Silicon Valley as the host of the 2016 summit.
Yet there is much work to do to fully unleash these driven, high-potential, inclusive entrepreneurs with such deep understanding of the problems confronting those in their communities, as they often come from families and communities who cannot afford to provide them with the early-stage financial capital and access to support and networks they need to get started. For example, of Echoing Green's global applicant pool of more than 2,000 would-be social entrepreneurs, African-American founders one to two years into operations raised fifty-six percent less than their white counterparts. (The disparity is similar for women applicants versus men.)
Given that talent is evenly distributed across society while opportunity is not, the goals of the summit, including providing the entrepreneurs assembled with access to capital, mentors, and networks are laudatory and should be emulated. Social entrepreneurs like Echoing Green Fellow, Steph Speirs, raised by a single immigrant mother who earned a wage below the poverty line, and co-founder of Solstice, a community solar business committed to ensuring energy equity in low- to moderate-income communities across America, show what inclusive entrepreneurs can do when given the chance. She won $50,000 in a pitch competition sponsored by Twitter co-founder Evan Williams' venture capital firm Obvious Ventures and gives true color to summit speaker Mark Zuckerberg's words that "to me, entrepreneurship is about creating change, not just creating companies."
Imagine if the arbiters of entrepreneurial ecosystems from investors and philanthropists to enabling organizations made equity a priority and focused like lasers on the pipeline of social entrepreneurs passionately pursuing the public good? Social enterprises like One Degree, Essie Justice Group, and Solstice would have a fair shot at delivering financial and social and environmental returns that indeed create change.
Related
Popular in the Community