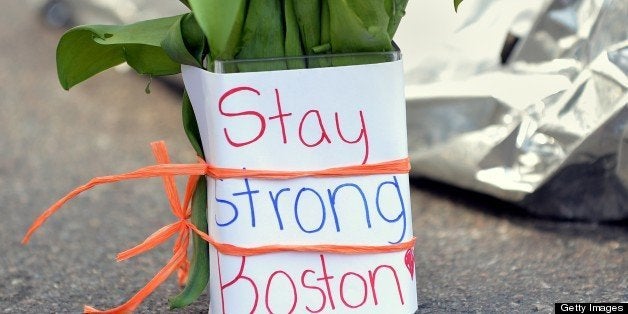 The shocking and horrific event waged yesterday at the Boston Marathon is one of too many American tragedies we've suffered recently -- Sandy Hook, Aurora, Tucson, numerous college campus and high school shootings, and in the last two decades, Columbine, the Oklahoma City Bombing, the Unabomber. These events are different in our minds from known terrorist's assaults, such as the World Trade Center. Until we know more, we won't have a place to "put" this tragedy in our minds in either "homegrown" or "foreign extremist." Somehow, however awful homegrown is, it seems less scary than the ineffable force of "foreign extremist."
In trying to honor the three who died yesterday, their grieving families, and the many people who were hurt in this and other recent tragedies, some may find wisdom and direction from the ancient Korean Martial Arts doctrine that I learned years ago in Tae Kwon Do. The fifth tenet is: indomitable spirit. It is defined as:
The word indomitable means "unconquerable," or impossible to defeat or frighten. The "spirit" is the person's core being, their willpower, cheerful & positive attitude, and desire to succeed. Having an "indomitable spirit" means that your fortitude, enthusiasm, and moral character are never diminished regardless of the hardships and adversities you face. Your determination to prevail is never vanquished, even in the face of what appears to be insurmountable odds, or seemingly overwhelming opponents. This concept is reflected in the following popular saying: "It is not so much the size of the dog in the fight, as the size of the fight in the dog."
One of many examples of Americans who exhibit this is our brave veterans of many foreign wars. Their leadership, ability to cope, and transform their difficulty can be a beacon for all of us, especially now. Efforts yesterday of thousands of citizens and health professionals who have been working around the clock on complicated surgeries and triage show us the strength within our country and ourselves. They remind of the many courageous people who got us through the World Trade Center and other tragedies.
There are three other people whose stories may give you strength today. One is Ricardo Harris, whose son was killed by a gang member in Wichita, Kansas. Instead of turning his loss and sadness to rage, Ricardo softened. He decided that he would best pay tribute to his deceased son by transforming his grief into a positive way to help young people growing up in crime to become the leaders that his son never had the chance to be as an adult. He has written a book about his journey and now speaks around the country. He is a healing role model.
Tererai Trent was married to an abusive husband with whom she had five children before she was 25. She knew that a strong education was her only way out of poverty in Zimbabwe. After learning skills through Heifer International, she immigrated to America, staying true to her dream of becoming educated while raising her children as a single parent. She not only earned her bachelor's degree from Oklahoma State University, she went on to earn her PhD. Her courage is similar to many others around the world who leave the poverty and often genocide of their home country to make our country -- the land built by immigrants -- a better place.
Mark Brennaman was a victim of knife attack at the throat that left several scars on his neck and almost killed him had his landlord not arrived on the scene. Mark survived and later learned the attacker was a paranoid schizophrenic who had stopped taking his meds about three months prior. Mark has experienced years of PTSD since the 1999 attack; however, he has used this life event to share the beginnings of healing with his journalism students, criminal justice students, and others. He says he has an increased risk of stroke the rest of his life. "But what a magnificent life it has become." His perspective and grace is awe-inspiring.
There are thousands if not millions of people with the courage of Ricardo, Tererai and Mark. To heal our emotional wounds wrought be recent events, American citizens as role models for our young, and our young people themselves, can benefit from the other four tenets of Tae Kwon Do which promote the development, health, and leadership of the whole individual so that they can be a positive force for themselves and the world:
•Courtesy- Ye UI
•Integrity- Yom Chi
•Perseverance- In Nae
•Self-Control- Guk-Gi
Perhaps when we start to pay more attention to these personal qualities, rather than some of the self-absorbed, isolated or sometimes fruitless ways we spend our time, we will equip ourselves and the next generation with the fortitude and wherewithal of our forefathers -- the founders of our great country, those who have fought to preserve our liberty, the many courageous immigrants who have made our country what it is and those who risked for the rights of all people from women's suffrage to civil rights to gay rights. If we can create within ourselves and our society these qualities, then we can truly pay tribute to those who died in these senseless acts. We owe this to these fallen heroes, to ourselves, to our national and global community, and, most of all, to our descendants. If there is a person who inspires you and helps you to be your best, share it here. Writing and sharing is a way of healing. Take this opportunity to turn this tragedy into something that can improve us all. Thank you for making a commitment to turn tragedy into transformation.
Related
Popular in the Community