The sun blazes above Bahawalpur, an area of Pakistan known for fertile fields and feudalism. It's afternoon and the temperature has already exceeded 120 degrees Fahrenheit as I sit talking to a small group of women in a courtyard. They listen politely, exchanging stories about their lives and why I am there.
These are hardscrabble women, trying to scratch out a living as weavers and sharecroppers on an acre or so of land, supplementing their family's income by selling crafts. Their homes have no toilets, no electricity, no clean water. Their children's futures limited by poor quality schools. This is what poverty looks like.
Yet they are aspirational. They proudly tell me their husbands all own cellphones, which have become essential to farming, even for the poorest.
As the sun beats down upon our backs, I am reminded to mention Acumen's new investment in a solar company, d.light, which has a $7 torch on the market. I tell them it's a big seller in India and Kenya and customers swear by them. The women listen, nodding their heads. I ask whether they would be interested in buying such a product to bring light into their homes after the sun goes down and Bahawalpur becomes cloaked in darkness.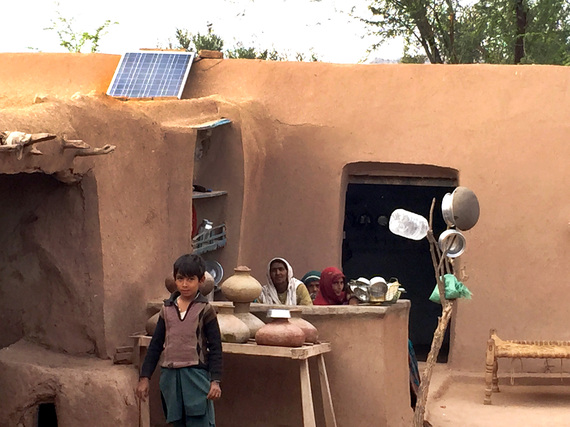 A broad-eyed woman with a rust-colored scarf hanging loosely on her head, her face drenched in sweat, leans forward on thick haunches. She looks directly at me, her gaze betraying a mix of bemusement and exhaustion.
"We don't want a light," she says flatly.
"We're hot. Bring us a fan."
"A fan?" I ask, stumbling over my own words. "But a light would help you save the money you pay for kerosene. There is no smoke. You could work later at night and your children could study."
I try to make my case for the solar lantern, but my attempts are futile. The woman gives me that look again: "We work enough. Forget the light. We need a fan."
I don't have a fan to sell nor the power to make it run.
That evening, I return to my guesthouse, exhausted by the heat and more grateful than ever for the fan above my bed. For many of us, it's hard to imagine a life without power when electricity is the undercurrent of nearly every aspect of our lives.
It's been eight years since we made our first investment in d.light and I learned a valuable lesson about energy and the poor. The world has changed and so has Acumen. The cost of solar has plummeted from $4 to $1 per watt. The proliferation of mobile technologies makes payments for new innovations more possible, so poor families don't have to pay cash upfront. Awareness of solar's benefits have increased, and we are seeing its potential to transform lives.
Importantly, we've also come to understand the Energy Ladder: like cellphones, consumption of energy creates demand for more consumption. It may take time -- and marketing dollars -- before people will convert to solar but, once they do, they quickly want to get to that next rung of the ladder and purchase not only light but energy to power their cellphones, radios, televisions and more. Indeed, consumers will push the edge of their purchasing power to change their lives through access to energy.
Fast forward to today. I return to Pakistan to visit a new investment in a company providing off-grid household solar products to the rural poor. We drive five hours outside of Lahore, at least two of those hours on dirt roads. Finally, we arrive at a cluster of mud houses. Men, most sporting turbans, some with rifles slung across their back, stand to greet us. Veiled women huddle near one of the houses, hiding their faces from us as they prepare the evening meal.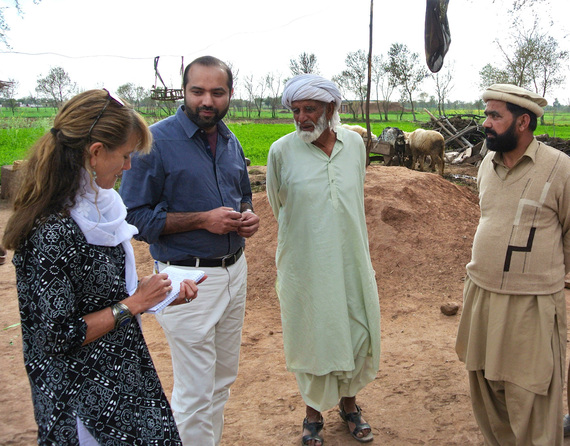 Life on the surface feels like I imagine it has felt for many generations. Families rise with the sun and work outside until the sun goes down. And then it is quiet.
But things are changing. A few weeks prior, the compound residents, all members of an extended family, purchased a 50-watt solar home system for $280, mostly on credit. The bright yellow unit includes a solar panel to power six lights, a cellphone charger, a radio -- and a fan. It also includes USB capabilities so the families can load up a flash drive with music, which usually costs them 20 cents at the local mobile phone outlet.
The men beam with pride as they gush about their new lives. I ask what they value about the system. A mustachioed elder doffing a cap that accentuates dark, sparkling eyes, bushy eyebrows and a sort of elfish, mischievous personality speaks for everyone. "We like the light for security," he says, explaining that they installed a light outside the houses to know whether nightly visitors are friends or bandits.
The second priority? The charger. Previously, one man would drive two hours into town and wait to charge all of the residents' phones before returning. The men would regularly lose five or so hours of phone access in addition to the charging and travel expenses.
Third, the fan. "It cools and keeps insects away at night. Our children can sleep and do better in school," he continues. Another interjects, "And we want fans like the rich people have."
I think about what this means. On Monday, this family was living as they did in the 19th century. On Tuesday, they can stay up late, talking and working under the glow of light. They can listen to their favorite music, check the news on their phones and connect with their loved ones. And they can finally sleep under the breeze of a fan.
We drive away as the sun begins to set.
I can see the revolution now -- 1.2 billion people who have been left literally in the dark can now access quality, affordable energy. The markets are still broken, but now the world has a path forward to make it happen.
What's more: by harnessing the power of solar, we no longer have to choose between serving people and serving the planet. Off-grid solar solutions can help pave the way to a more sustainable life for all of us.
For eight years, Acumen invested patient capital in intrepid entrepreneurs who dared to focus on solving one of the biggest problems of our time. It's helped them to build products, create awareness and drive down costs to bring energy to the poor. We've learned about customers' evolving needs as the products and delivery systems have changed. There is clearly still a long way to go to get the products right, the financing right, and the distribution of solar products and systems right.
But the world is on its way. Now, we need to move with urgency to build on lessons learned to bring energy to all. The woman in Bahawalpur was right. People are hot. Yes, they want light. But they ultimately want access to power so that they can be productive, comfortable and connected to the greater world. They want a fan.
The revolution has begun. It is up to all of us to make it real for both people and the planet.
Calling all HuffPost superfans!
Sign up for membership to become a founding member and help shape HuffPost's next chapter