 By Lashon Amado, 2009 YouthBuild Brockton Graduate, Student VOICES Coordinator, YouthBuild USA
Growing up in a single-parent home was challenging enough, but coming from a family that had never pursued higher education left me without role models or advisors to promote the benefits of a college education.
From the outside looking in, I had assumed that since no one in my family had a degree and yet was able to make ends meet, I could do the same. In elementary school I was a good student, but by middle school I had adopted an apathetic attitude toward education. After barely making it through middle school, I was kicked out of three public high schools and eventually gave up. I was a dropout for nearly three years. The traditional path to obtaining a degree did not work for me.
During the time I was not in school, I fell into the subculture of the streets. A product of my environment, I felt alienated from, had no sense of responsibility for, and did not care about the deteriorating conditions of my community. While running the streets, I realized that I was trapped in a vicious cycle that I knew had to be broken. I became involved with the courts and I was also a victim of violence.
I realized that I needed serious change in my life. I attempted to take the conventional route and gain worthwhile employment, but the odds were against me. The labor force was already competitive and not having a high school diploma made finding a good job even harder.
A cousin of mine referred me to YouthBuild, recommending it as a good program that could meet my needs. The promise of receiving an education and vocational training while also receiving a stipend made the decision of signing up a no-brainer for me. I had sought out many GED programs before, but did not have the resources to pay the enrollment fees or the transportation costs that it would take to be successful. Attending YouthBuild Brockton would not cost me anything and would even help me gain income through their bi-weekly stipends.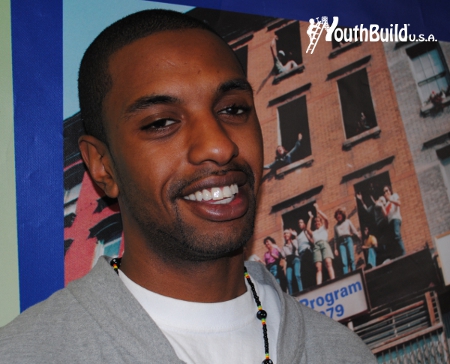 So I made the phone call to YouthBuild Brockton (Massachusetts) -- my local YouthBuild program -- and went in the same day for an interview and placement test. I was then invited to attend "Mental Toughness," the orientation period of a YouthBuild program during which students demonstrate their determination and motivation to transform their lives. As soon as I was announced as one of the finalists, I knew that I was on the right path and was chosen for a reason.
My initial goals for myself in the program were to gain my GED and then seek a trade that would allow me to financially support myself. The staff at YouthBuild Brockton was exceptionally supportive and saw potential and intelligence in me that I had been ignoring for most of my life. When I explained my post-YouthBuild plans, the staff were certain that I was limiting myself, and that I had the talent that could take me beyond those plans. They helped me understand the value of higher education and how this route could help me more in the long run. As an AmeriCorps member, in return for my community service, I could earn an AmeriCorps education award that I could use to help pay for my college expenses.
Throughout the program, I gained a discipline that would be crucial to my transition into higher education and getting a job that paid a decent wage. I learned how to wake up early in the morning -- as opposed to waking up in the afternoon as I did before YouthBuild -- and how to stay committed to a task. I also developed professional skills, learned about networking, attended workshops on public speaking and leadership development, and sat in a lecture at a local community college, which was my first exposure to the college experience.
After graduating from YouthBuild Brockton in 2009, I jumped right into college. In my first semester at Massasoit Community College, also in Brockton, I earned a GPA of 3.9. This accomplishment motivated me to continue with my studies. After receiving my associate degree in criminal justice, I immediately enrolled in the University of Massachusetts-Boston to obtain my bachelor's degree. Some of my accomplishments include being on the Dean's list and induction into three national honor societies.
Although I have been successful in my postsecondary education, I have faced many obstacles. YouthBuild has been my lifeline even after I graduated from the program. The YouthBuild staff has provided me many supports and incentives to help resolve some of the struggles I had to overcome.
YouthBuild was there for me at the most challenging time in my life. Shortly before I transferred to UMass Boston, my father was murdered. At that moment I thought of giving up everything I had going. The staff at YouthBuild served as my counselors and even came to my home unannounced to make sure I was feeling OK. Without such love and support, I don't know if I would have continued on with my education or my career.
YouthBuild has empowered me to transform my life. I have now charged myself with the task of supporting that transformation in the next young person's life. As a YouthBuild graduate, I have stayed connected with YouthBuild Brockton and YouthBuild USA, and have assumed the supportive role that was so invaluable to me. I have served on the VOICES (Views on Improving Credentials and Education Success) Student Advisory Council, spreading awareness of and advocating for smooth and successful transitions from secondary education to higher education. I also served as an intern with YouthBuild USA's SMART (Start Making A Real Transformation) Initiative, working with court-involved youth as a co-facilitator for the SMART START Student Advisory Council.
I now work part-time for YouthBuild USA as the Student VOICES Coordinator, while attending UMass Boston. In 2014, I will earn my bachelor's degree in criminal justice and my master's degree in sociology to honor my father. In many ways, it will also represent his graduation too.
Join me in working to transform the lives of young people by visiting our Crowdrise page today.