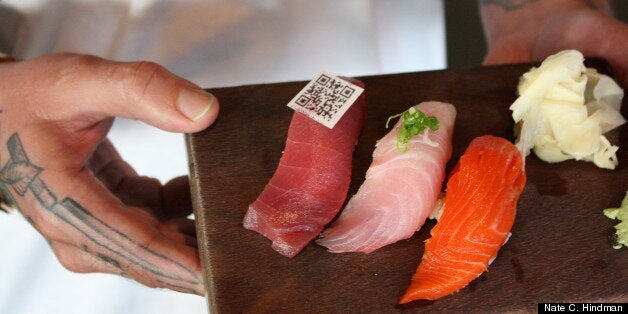 Beneath the deep purple cuts of healthy tuna and the smell of fresh wasabi, there lies a sushi underbelly in America that will make your stomach turn.
Fish gassed with carbon monoxide to keep it pulsing bright red long after expiration. A dysentery-causing mackerel species -- long banned in Japan -- criminally plated as "white tuna." Cauldrons of fish scraps plucked off processing plant floors, boiled into unholy stews of aquatic sinew, and served as upscale maki. Trash, at $15 a roll.
Rob Ruiz, executive chef at San Diego's Harney Sushi, has seen it all. Before helming the hottest sushi spot in the city, Ruiz was exposed to "atrocious" practices while working his way up the ranks at beachside parlors and conveyor-belt hole in the walls. But this month he's unveiling an invention that could change it all: edible QR codes.
The codes are printed on rice paper with water-based ink and stuck to Harney's sushi. Diners who use their smartphones to scan them will soon be able to see the state of a species' global stock, where their fish was hooked, and even the actual faces of the fishermen behind the catch.
Harney is launching its QR codes in an area of the country that's particularly plagued by fish fraud. A recent report found that 52 percent of seafood in Southern California was mislabeled, the highest rate of mislabeling in the U.S. Nationally, the study showed that one-third of sushi was not what restaurants said it was. "Some of the fish substitutions we found are just disturbing," one of the report's authors wrote.
As word of seafood mislabeling has spread through the sushi industry, and consumers have caught on, Harney and its brand of sustainable fish has taken off. In April, the restaurant released its first edible QR code, which sent users to the National Oceanic and Atmospheric Administration (NOAA) FishWatch website. Since then, sales of sashimi have nearly doubled.
"People are ordering more straight fish because we've given them more confidence," says Ruiz, holding a sashimi tray, his hands covered in tattoos of sushi knives. "If they were scared about trying some of the specialty fish, now they can scan the code and know everything we have is traceable."
The restaurant is now selling more than 1,000 pounds of sashimi-grade fish each week, all prepared by Ruiz and his team of chefs who spend their off-days surfing.
Harney's new code -- it's first species-specific scan -- sits atop slices of the restaurant's albacore tuna, a sustainable substitute for the overfished ahi. It redirects customers to a Youtube video on the Washington-based fishermen who hook the tuna. Next month, the restaurant will introduce scans for its urchins. "By the end of next year, each fish on Harney's menu will come with its own species-specific QR code," says Ruiz, adding that several local restaurant owners have inquired about creating codes of their own.
Such a sustainability effort begins with picking the right fish. Just up the road in La Jolla is a NOAA facility where Ruiz spends a good chunk of his time picking the brains of the world's top marine scientists to figure out which fish populations are healthy enough to throw on next month's menu. Soon, he'll have even more experts to tap as the NOAA branch moves into a new $76 million dollar home next month.
"I walk around in there," he explains excitedly, "and I've got Susan, who's been studying only albacore for fifty years. Then just down the hall I can find Martha, who's done just eels for half a century."
If Ruiz sounds like a chef trying to play scientist, remember that he's working with a food firmly rooted in the strictest of traditions, where simplicity and painstaking attention to detail are valued over innovation. A culinary art so decidedly old-school that during his apprenticeship under a Japanese master, Ruiz was frequently hit and publicly humiliated.
This culinary curiosity in oceanographic data, and this model of the Chef Scientist, may very well be key to sustainable sushi's future. Better that sushi chefs pick at scraps of academic research than sushi eaters pick at actual scraps.
Related