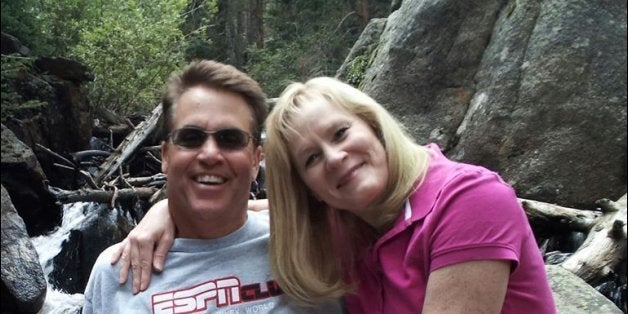 A Colorado man who was the only witness to his wife's death during a hike in the Rocky Mountains two years ago was arrested Thursday on charges that he killed her.
The investigation that led to the federal indictment of Harold Henthorn on Wednesday pushed authorities to re-examine the premature death of his first wife in 1995. In that case, Henthorn was also the sole witness to her death, which occurred on a rural road late at night.
While authorities review Henthorn's first wife's death, prosecutors in Denver contend that Henthorn, 58, "willfully, deliberately, maliciously, and with premeditation and malice aforethought did unlawfully kill his wife, Toni Henthorn" in Rocky Mountain National Park in 2012, according to the indictment.
(Read the full indictment below)
The couple was hiking to celebrate their 12th anniversary. Henthorn has said that his 50-year-old wife fell 50 feet while trying to take a picture. But a coroner could not rule out foul play, prompting the FBI, the National Park Service and Douglas County Sheriff's Office to probe more deeply.
If convicted of first-degree murder, Henthorn faces life imprisonment without the chance of parole, Reuters reported.
"I'm sure when all the facts are known in this difficult and complex case, justice will be done," Henthorn's attorney, Craig Truman, told reporters on Thursday.
Authorities in Douglas County are also investigating the death of Henthorn's first wife, Sandra Henthorn, according to 7 News Denver.
Sandra Henthorn died in 1995, allegedly when the jack propping up the couple's Jeep Cherokee failed and dropped the car on her, the Denver Post reported. Authorities ruled it an accident at the time, but are taking another look following Toni Henthorn's death.
REAL LIFE. REAL NEWS. REAL VOICES.
Help us tell more of the stories that matter from voices that too often remain unheard.