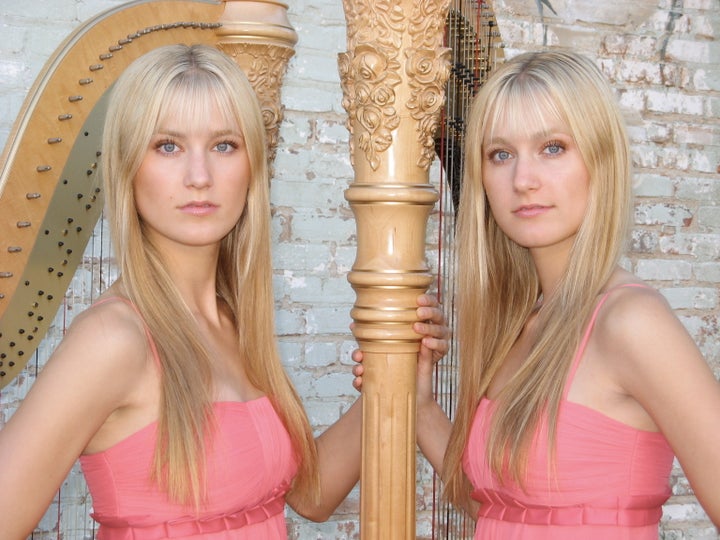 Their music has been featured in movie soundtracks, at big-ticket political events and commercials internationally -- plus the duo dabbles in acting on the side. We caught up with The Harp Twins themselves to find out what led them down this unique career path.
The Huffington Post: How did you end up as the "Harp Twins?" What's your musical background like?
Camille Kitt: We started playing the piano when we were children and began playing harp in junior high.
Kennerly Kitt: Most people assume we have been playing harp a lot longer, but we had to convince our mom that we were serious about learning harp. She worried it might just be an overly-expensive whim.

CK: Our first harp was a shared pre-owned lever harp. We lobbied for a second pre-­‐owned harp so that we could play duets. Later we took on multiple jobs to demonstrate our sincerity and help earn the cost of our larger Concert Grand harps: dog-­‐walking, babysitting, office work, et cetera.
As far as becoming the "Harp Twins", we were trained classically and have degrees from a Conservatory of Music in harp performance. However, we wanted to play contemporary music and couldn't find what we wanted to play for one harp, let alone two harps. So, we started arranging our own music. Our first attempt was "Hey Ya!" by OutKast, which we uploaded to YouTube.
(Scroll down to see more Harp Twin covers.)
KK: The actual name "Harp Twins" wasn't something we came up with, people started calling us "The Harp Twins" online, so we just went with it because it made sense.
HP: Did you always know you wanted to perform as a duo?
KK: Immediately after starting harp lessons, we knew we wanted to play duets.
CK: Our connection to each other also seems to translate to playing music as a duo. Being twins gives us a unique tie. We would far prefer to play music together than solo.
KK: Definitely! Playing harp and performing together just seemed like an organic progression in our lives. We love music, we love harp, and we love creating music together.
HP: You've been playing for audiences since middle school; what are some of your career highlights? Have you had any famous audience members?
CK: We've had the opportunity to play for celebrities and government leaders, like President Obama, former First Lady Laura Bush and fashion designer Jean Paul Gaultier. We've traveled all over the United States, and even outside the U.S. for harp performances.
KK: We also love acting, and have had the opportunity to be in films and commercials. Our music has also been used in feature films. But the biggest highlight and blessing is being able to make music and work with our best friend.
HP: What inspired you to cover the "Game of Thrones" theme? Are you fans of the show?
KK: We absolutely love the score from "Game of Thrones"! The music is so inspiring and epic.
CK: We are big fans of soundtrack and video game music. It is definitely challenging to arrange an orchestral piece for only two harps, without a backtrack to fill in around us, but we love challenges.
HP: What's your day-to-day life like? Does your harp-playing pay the bills?
CK: We are blessed that we're able to perform for a living. We are most often busy traveling for performances and media work, and right now we have a couple feature film projects in development.
KK: Our day-to-day life is so hectic. If we aren't traveling, performing, or acting, we are rehearsing, arranging, making music videos, taking care of the business side of our career, and keeping in touch with our amazing fans and supporters.
HP: You have a lot of really varied covers posted on your site. What kind of music do you listen to? How do you decide what to cover?
KK: Our taste in music is as varied as our covers.
CK: Probably even more so! We listen to everything from rock, to jazz, pop, metal, alternative, and soundtrack music.
KK: Our covers are often specific requests for performances, but we also make time to cover songs that we love. Sometimes we can fulfill some fan requests, too.
What's on the horizon for Camille, Kennerly and the Harp Twins?
KK: We would love to continue to perform and act together. We would also love to perform someday with a rock band or pop artist. That would be an incredible experience!
CK: Bringing harp more into the mainstream, challenging ourselves, and breaking new ground is our focus. We think our current success could be just the tip of the iceberg. We would love to share our music with as much of the world as possible.
BEFORE YOU GO