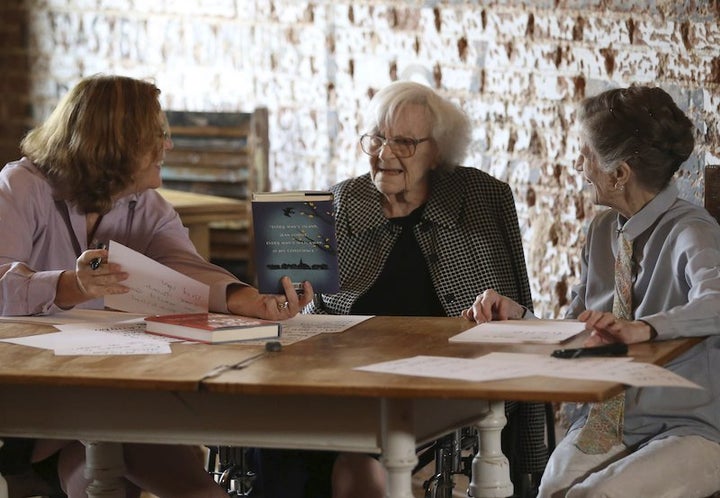 (RNS) Harper Lee's "new" book "Go Set a Watchman" is infused with religious life and Christian moral argument, from its title to its final words.
It's also a book with splashes of humor, enough Victorian poetry references to send readers scrambling for a Norton Anthology, and Bible allusions as the narrator of both novels, Jean Louise "Scout" Finch, grows up to own her own life.
Examples (spoiler alert!) range from small moments to an epic showdown over race, justice and sin in which Scout's father, the saintly Atticus Finch of Lee's "To Kill a Mockingbird," is revealed, as David Gushee writes, as a "polite racist."
The book starts out lightly. When Jean Louise's longtime suitor proposes, there's the lingo of Genesis. "I, like Israel of Old, have labored seven years in the vineyards of the University and the pastures of your father's office for you," says Henry "Hank" Clinton.
Unlike Jacob (Israel), however, Hank doesn't get the wrong bride (Leah) or labor seven years more for his true love (Rachel). Jean Louise was counseled by her aunt, who thinks Hank came from poor white trash, to marry her own "kind." In this book, "kind" isn't just about class or race.
The ritual of baptism comes to life in a childhood flashback, as Jean Louise recalls the re-enactment of a tent revival played out with her brother, Jem, and sidekick, Dill.
In "Watchman," Jem is an unseen memory. (He died in his 20s.)
In the just-released book, young Jem delivers a sermon on the devil in the Maycomb, Ala., setting for the novel. The kids have a fine time until Scout and Dill fall to battling between a Methodist "sprinkle" and a Baptist "immersion" in a murky pond. Who is truly living a Christian life, a moral life, is the question just under the surface.
Anyone who has endured a fracas over music at worship will appreciate the Methodist church scene of outrage in the pews when the congregation's music director, fresh from summer music camp, tries to "pep up" the organ music and abandon familiar "Southern hymns."
Only later does the fear of losing the Southern way — rigid segregation —  become clear as the crisis point of the novel, the reason that Atticus and Hank tolerate the Ku Klux Klan and participate in the white "Citizens' Council."
In "Mockingbird," the childlike, reclusive but harmless neighbor Boo Radley is allowed to return to his "place" after his timely rescue of little Scout and her brother. In "Watchman," there's a cruel flip side to this seemingly Christian kindness. Atticus wants all people he sees as "childlike" — including all black people — overseen by the paternal wisdom of white society.
Jean Louise, who believes herself colorblind, is shocked to the core, certain she has been betrayed by the father she once idolized. The book's final chapters are a dense legal, moral and psychological showdown as the young adult Jean Louise fights with her father over truth and equality.
In "Mockingbird" he's the voice of racial justice, battling for an innocent black man accused of rape — the central conflict of the novel and the film, in which he's portrayed by Gregory Peck. In "Watchman" Atticus is still interested in justice, but views black people as inferior and unfit to govern their own lives.
"(H)ave you ever considered that you can't have a set of backward people living among people advanced in one kind of civilization and have a social Arcadia?" he asks.
She battles back, aligning herself with religious truth:
"You are telling them that Jesus loves them, but not much. You are using frightful means to justify ends that you think are for the good of most people. … You just try to kill their souls instead of their bodies. You just try to tell 'em, 'Look, be good. Behave yourselves. If you are good and mind us, you can get a lot out of life, but if you don't mind us, we'll give you nothing and take away what we've already given you.'"
Lee chose her title from Isaiah 21:6: "For thus hath the Lord said unto me, Go, set a watchman, let him declare what he seeth."
Atticus' brother, Uncle Jack, brings it home: "Every man's island, Jean Louise, every man's watchman, is his conscience."
If Atticus was the moral spine of "Mockingbird," in "Watchman" that spine is Jean Louise, stepping out of the murky pond of childhood to claim her own, Bible-steeped moral identity.
PHOTO GALLERY
The World's 50 Most Unusual Churches
Calling all HuffPost superfans!
Sign up for membership to become a founding member and help shape HuffPost's next chapter