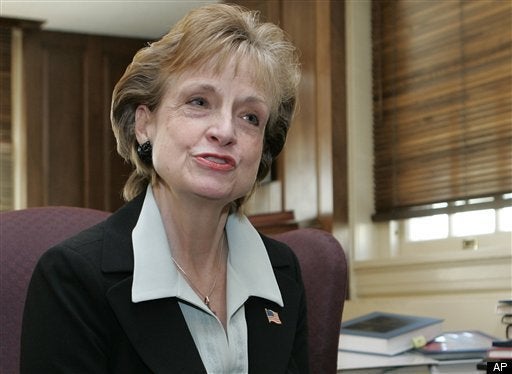 Congressional Republican leadership opened up a new line of attack on Supreme Court nominee Elena Kagan Wednesday. But once again, the ghost of Harriet Miers, President Bush's SCOTUS nominee, haunted their efforts.
On the day that he sat down with Obama's pick for the Court, Senate Minority Leader Mitch McConnell (R-Ky.) went to the Senate floor to express concerns about the Solicitor General's independence from the president(s) she served.
"She's never had to develop the judicial habit of saying no to an administration, and we can't simply assume that she would," McConnell said.
Taken alone, the attack on Kagan for having held largely political posts ignores the fact that those posts were hardly the only jobs she's held. As Solicitor General for Obama and deputy chief of staff at the Domestic Policy Council for Bill Clinton, Kagan was tasked -- first and foremost -- with carrying out the legal objectives of the administration. But she's held positions outside of politics that certainly allowed her to "say no" to a White House: whether as a clerk to Justice Thurgood Marshall, her time in private practice, or as dean of Harvard Law School.
But where McConnell falls short is with consistency. If dependence on a president was a disqualifier for a Supreme Court nominee, then the Kentucky Republican would have had major objections to Bush's choice of Harriet Miers -- the White House counsel whose career was essentially tied to Bush, a man she called the "best governor ever," "cool," and "the greatest!"
When Miers was nominated, however, McConnell was effusive with praise.
"Ms. Miers has an exemplary record of service to our country," he said after her nomination. "She will bring to the Court a lifetime of experience in various levels of government, and at the highest levels of the legal profession. She is a woman of tremendous ability and very sound judgment. ...She is well qualified to join the nation's highest court. ... She will make a fine addition to the Supreme Court, and I look forward to her confirmation."
Miers, in the end, was opposed by Republicans not because of she was perceived to be a "rubber stamp" for Bush (that's what concerned Democrats). Rather they were compelled to object after conservative activists raised concerns about her sparse resume or written record.
On this front, too, her nomination still haunts the Republican Party. As several major GOP figures have gone after Kagan for not having the requisite judicial experience for the court, even middle-of-the-road news outlets have been compelled to point to statements they made in support of Miers. On Wednesday, the Associated Press put out a piece titled "SPIN METER: GOP senators' shifting standards."
So, Senator, how much does judicial experience matter when considering a Supreme Court nominee?

It depends on when you're asking.

Republicans now criticizing President Barack Obama's nominee, Solicitor General Elena Kagan, for her lack of judicial experience welcomed that same lack of credentials a few years ago, when a president of their own party nominated a non-judge for the high court.

In 2005, when then-President George W. Bush nominated Harriet Miers to the Supreme Court, plenty of Republicans said they found it refreshing that Miers' experience amounted primarily to her time as a corporate lawyer and Bush aide.