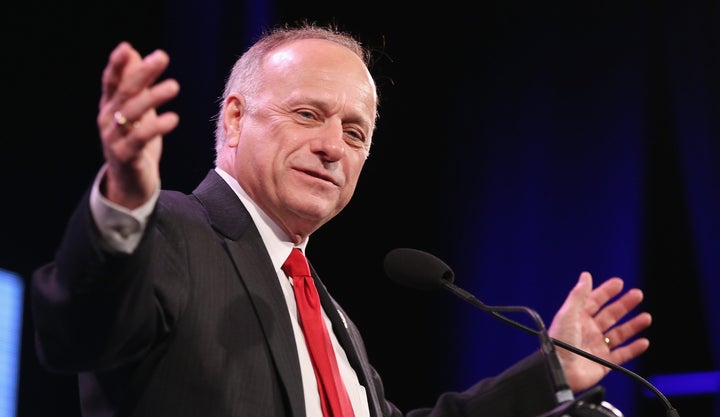 WASHINGTON -- Rep. Steve King (R-Iowa) has filed legislation that would block the U.S. Treasury Department from putting Harriet Tubman on the $20 bill.
King is perhaps best-known in the nation's capital for his anti-immigration rhetoric and his hostility to undocumented immigrants. But this takes his mean-spirited forays into racial politics in a new direction.
The congressman introduced an amendment that would bar the Treasury Department from spending any funds to redesign paper money or coin currency. If approved, the language would nullify Treasury's plans to replace the current image of President Andrew Jackson on the $20 bill with a portrait of Tubman -- a black woman after generations of white men on the money.
King hopes his language will be attached to a broader bill authorizing the Treasury's overall funding.
Harriet Tubman was a dedicated abolitionist and women's suffrage advocate. She aided John Brown as he prepared his 1859 anti-slavery raid on Harper's Ferry and was one of the most prominent participants in the Underground Railroad, a network of abolitionists who helped guide escaped slaves to freedom.
Treasury announced its plan to swap Jackson for Tubman two months ago. The department had been considering a redesign of the $10 bill, which features the nation's first Treasury secretary, Alexander Hamilton. Popular enthusiasm for the musical "Hamilton" derailed that project in favor of a redesign of the $20 bill.
Several historians have objected to the musical's benevolent depiction of Hamilton, arguing that it erases his authoritarian attitudes and overstates his commitment to racial justice. Jackson's presidential legacy, meanwhile, includes the Indian Removal Act, a key tool in the U.S. government's onetime policy of Native American genocide. Harriet Tubman, who was born before Jackson assumed the presidency and died in the early days of the Woodrow Wilson administration, carries none of this baggage.
In the months since Treasury announced the switch, presumptive GOP presidential nominee Donald Trump has defended Old Hickory's place on the $20 and former Sen. Jim Webb (D-Va.) has argued there was more to Jackson's legacy than killing.
King's office did not immediately respond to a request for comment.
Popular in the Community