Americans want Harriet Tubman on the $20 bill.
Tubman was the winner of a 10-week poll conducted by the nonprofit group Women On 20s, which wants to replace President Andrew Jackson with a woman on a $20 bill.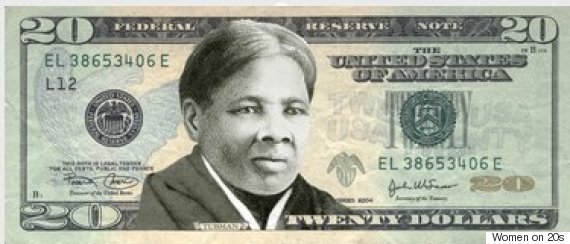 Tubman, who helped hundreds of slaves escape to freedom on the Underground Railroad, received 33.6 percent of the 352,431 votes cast in the final round of the poll. Eleanor Roosevelt came in second, followed by Rosa Parks and Cherokee Nation Principal Chief Wilma Mankiller. Over 600,000 people submitted votes in the contest overall.
"Our paper bills are like pocket monuments to great figures in our history," Women On 20s Executive Director Susan Ades Stone said in a statement. "Our work won't be done until we're holding a Harriet $20 bill in our hands in time for the centennial of women's suffrage in 2020."
Women on 20s also announced on Tuesday that they were launching an online campaign to urge the White House to adopt the changes. Obama has said that he thought putting a woman on the $20 bill is a "pretty good idea."
Stone said that the White House could easily instruct Treasury Secretary Jack Lew to redesign the $20 bill.
"I think it's really a very easy thing for the White House to do if they decide that they want to do it," Stone told The Huffington Post.
Sen. Jeanne Shaheen (D-N.H.) and Rep. Luis Gutierrez (D-Ill.) introduced legislation in their respective chambers of Congress last month to put a woman on the bill. Stone said that the legislation had given momentum to her group's campaign by showing that there was support for the idea in Congress.
Putting a woman on a $20 bill is a "no brainer," Stone said, and is simply a matter of recognizing the contributions that women have made to the United States.
"Men and women really built this country and it's just that the women have been in the background," Stone said. "This is a chance to bring women into the foreground and recognize them for what they've accomplished and to show young people that if you make sacrifices and dedicate yourself to something, you will be recognized for it the same that a man would be."
Correction: An earlier version of this article incorrectly stated the runner-up in the poll. It was Eleanor Roosevelt.
Calling all HuffPost superfans!
Sign up for membership to become a founding member and help shape HuffPost's next chapter
BEFORE YOU GO
PHOTO GALLERY
Which Women Might Run In 2016?