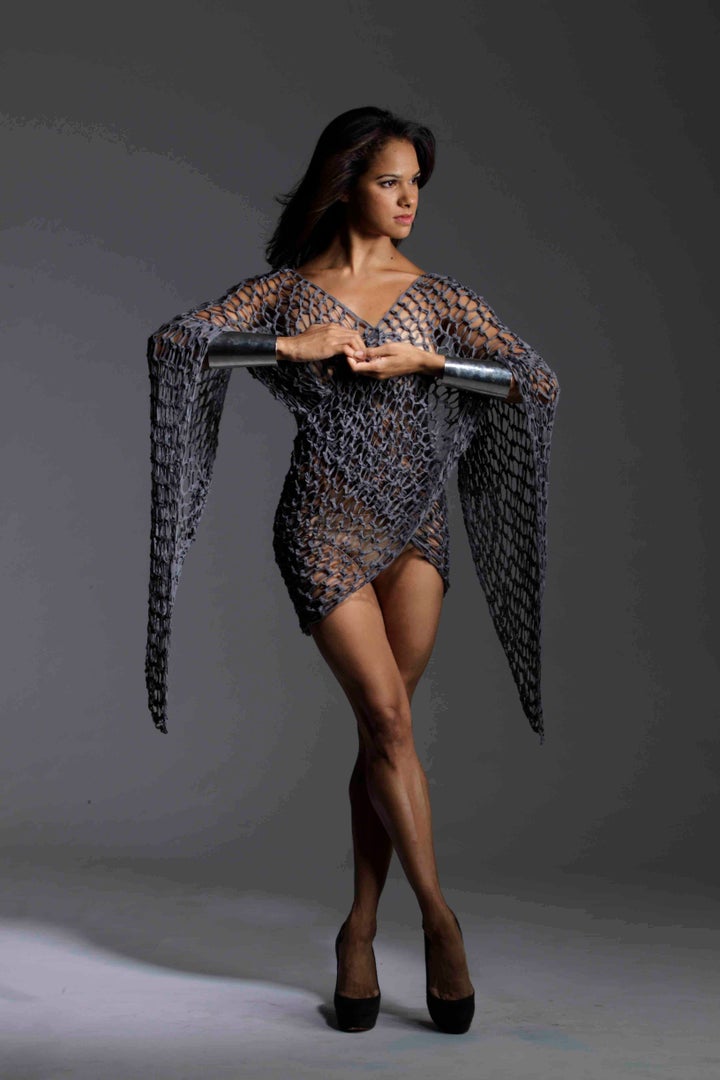 With Fashion's Night Out a little over 24 hours away, we've been busy finalizing our plan of attack. One of the top stops on our list is the launch of media maven Harriette Cole's new luxury crochet collection "108 Stitches."
After working in publishing for over 20 years with positions at the top of Ebony and Essence mastheads, while also serving as a lifestyle expert for The Today Show, Access Hollywood and BET, Cole is reinventing herself has a bona fide designer. And what better way to launch her line of sumptuous wraps, shawls, ponchos, and even necklaces than during fashion's biggest party?
These aren't your average grandmother-made crocheted scarves that conveniently get lost in the back of the closet. Cole's sharp eye for fashion and skillful maneuvering of the crochet hooks give her pieces a fresh and modern spin. And speaking of spin -- American Ballet Theatre soloist Misty Copeland has been tapped as the face (and body) of the collection. Misty's natural beauty and stunning physique serve as the perfect complement to Cole's sophisticated designs.
Check out our Q&A with Cole and have a look at the collection's amazing campaign in the slideshow below.
After conquering the world of media, what made you pick up the crochet hooks?
A year ago on Memorial Day weekend, I was out in the Hamptons with my family preparing to go to the beach, but it was too cold. I had to figure out something fun to do with my daughter, who was then 7, and I had an inspiration. I asked if she would like to learn how to crochet. She said, "Yes, Mommy," adding, "What's crochet?" I explained what it was and told her that when I was a child I used to crochet. At first, I thought we would just make some holiday gifts. After a few months, I realized that I was on to something much more than that. And so a line was born.
Has your daughter continued to crochet?
Carrie has definitely been crocheting, but not as intensely as me. She says she may have a piece or two to add to the collection. More, though, she has inspired me to create a children's line. Everything I make she wants me to downscale to her size. I made an infinity circle for her, and one day when we were hanging out with a group of children, I realized that she was the only child whose scarf didn't fall off, because it was a circle. So, now I have scarves for kids.
How, where and when did you learn to crochet?
My mother taught me how to crochet when I was a child. We made afghans with granny squares. By the time I was 12, I was designing clothes for the babies in the neighborhood -- and selling them. I was an entrepreneur without even realizing it. By the time I was 13, though, I had moved on. I had become a model and I forgot all about crochet until I was pregnant with my daughter. Then I made a few blankets, but only now have I turned my childhood passion into a real business.
Why do you call your line "108 Stitches?"
I have been practicing meditation for more than 20 years. On a meditation necklace, or mala, (like a rosary) there are 108 beads. I decided to approach my crochet as a meditation -- which many crocheters will tell you the experience is like. Many of my pieces are 108 stitches wide, inspired by this core practice in my life.
What inspires your fiber choices and designs?
One of the most fun experiences about developing this line is exploring places that sell yarn. It's a whole new world that I really didn't know. When I walk into a yarn store, it's like walking into heaven on earth. For me it's all about texture. You could walk around and feel the fibers to pick what you love. Silk, cashmere, baby alpaca, Japanese boiled wool. All are yummy.

What is the most out-of-the-ordinary material you've used to crochet?
I love working with unusual fibers, as well as some classic ones that are just so sumptuous I can't resist them. My fiber choices include Japanese boiled wool, suede, stainless steel, silk twine, mercerized cotton, baby alpaca, cashmere (of course), bamboo, linen, and paper.
What are your prices like?
This is a luxe brand--so prices start at $100 and go up to $1500.
And who inspires your personal style?
Good question. My daughter Carrie inspires me. She has great style at 8 years old. I've been taking her with me to the collections since she was born. From the moment she could really pay attention she would point out her choices in a line. She has always been specific. I guess she gets it naturally from my husband George Chinsee, who is a fashion photographer, and me. Personally, I like Asian-inspired design, architectural lines, interesting, tactile fabrics.
Have you noticed any fun ways that people are wearing your designs?
I'll start with the amazing photo shoot we did with Misty Copeland. I did have a stylist on set, Aisha Rae, who started us off -- and then Misty took her larger-than-life ballet moves and twisted and turned the pieces into something spectacular. More in the realm of regular folk, I can tell you that pieces that I thought were for women have been signature for men. I made a kerchief, for example, that I thought a woman would wear on her head, and a man bought it to wear as an ascot.
Speaking of Misty, how did she become part of the project?
I met Misty when I was working with Prince on his Welcome2America tour. She was performing with him. She and I hit it off, and then our relationship expanded when I became her sponsor at American Ballet Theater. She is an amazing talent, and even more a wonderful person. How she came to be my muse is that we had planned to have lunch one day, and she first came by to visit me at my office to see the collection. She fell in love with the pieces and started trying them on. I had already planned to do a shoot, and I had the inspiration in the moment to ask her to participate. She immediately agreed--and you see from the images how magical that experience was. She really brings my pieces to life.
Maybe you'll be able to crochet some costumes for ABT! That would be fabulous, right?
From your mouth...
What are your future dreams and goals for 108 Stitches?
My line is a luxury brand that I hope will be available in luxury boutiques and stores across the country. Every time people touch them and try them on, it makes them happy. It's funny, 108 Stitches HARRIETTE COLE COLLECTION is very much a reflection and culmination of my life's work to-date. I have devoted my life to inspiring people to be confident and clear about who they are and how they can best navigate their lives. I continue to offer presentation and leadership training to support people in fulfilling their life's journey. Through 108 Stitches, I am also documenting people's stories of how they are manifesting their greatness. How? Well, there's a book on the way. Stay tuned.
Here's the info for 108 Stitches' big Fashion's Night Out event and a look at the collection's stunning campaign featuring American Ballet Theatre's Misty Copeland.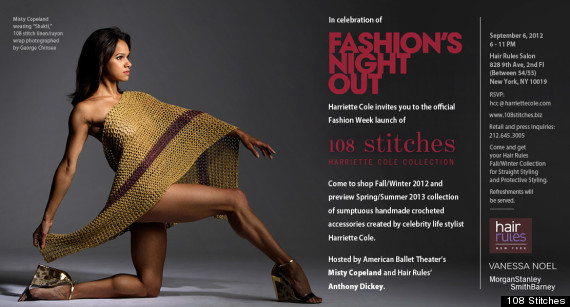 Before You Go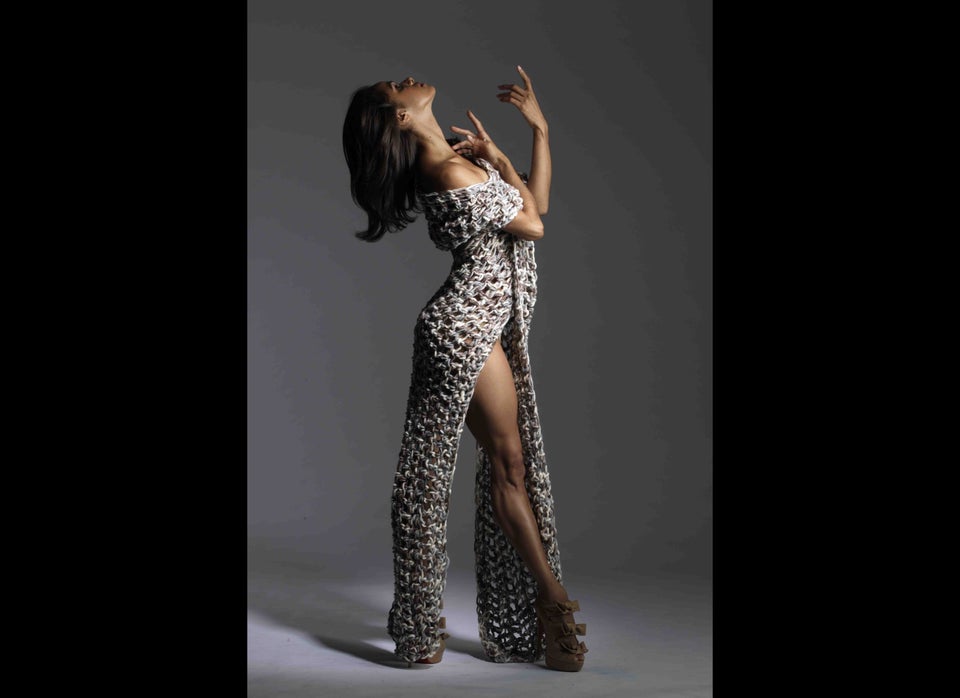 Misty Copeland For 108 Stitches
Popular in the Community