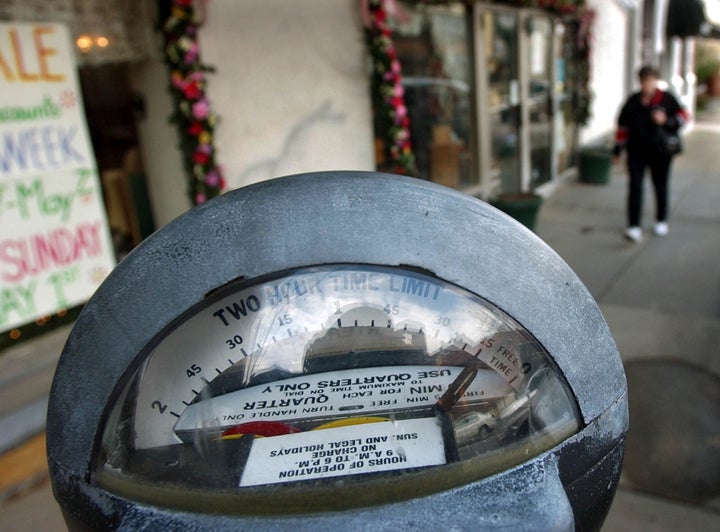 NEW YORK -- The finances of Harrisburg, Pa., are so desperate that local officials are considering a deal they fear will ultimately make the city more miserable.
A state-appointed panel, charged with crafting a financial recovery plan for the city, announced this week that Harrisburg must pursue the sale of public assets to help resolve its fiscal crisis. The nearly-bankrupt state capital, weighed down by debt more than four times the size of its budget, "is not in control of its own destiny," the state team said in a report.
Three years ago, confronted with a similar budget shortfall, the city considered leasing parking garages and meters in exchange for quick infusion of cash, but that deal was never approved. Last month, the offer resurfaced when New York-based developer LambdaStar expressed renewed interest. Some city leaders harbor a growing fear that Harrisburg will be forced into a deal that will bleed its coffers over the course of decades, after it surrenders valuable assets to a profit-driven company with the power to raise rates on a captive base of customers.
But those misgivings may not matter, as a budget crisis chokes Harrisburg into submission.
"This is a situation where Wall Street will get paid, and the little guys on Main Street, taxpayers, are going to get stuck holding the bag," Harrisburg City Council Member Brad Koplinski said.
"There have been jokes that we would have to change the name of the city to Frydman-ville or something like that," Koplinski added, referring to Jacob Frydman, managing partner of LambdaStar. "Yes, it's a joke, but there's a small grain of truth in there as well."
Harrisburg isn't the only city to consider selling assets. Indianapolis approved a deal to privatize parking meters late last year. Memphis, Tenn., and New Haven, Conn., recently shot down similar deals, but some local officials still tout privatization as a lifeline.
Dan Miller, Harrisburg's controller, points to Chicago as a cautionary tale: Parking rates there more than quadrupled after the city leased its meters to a private entity in 2008. That deal, set to last 75 years, low-balled the parking meters' value by about $1 billion, the city's inspector general later determined. Miller calls Chicago's experience "horrific."
Vandals mutilated Chicago parking meters in the months after the deal, gutting them of coin boxes and filling coin slots with super glue.
Financial experts lament the Chicago transaction. "If you're selling something today to cover a budget shortfall, you've made a horrible mistake," said William A. Brandt, chief executive of the Chicago-based consulting firm Development Specialists, at a recent state and municipal finance conference in New York.
"You might as well just throw money in a bonfire," added Brandt, who also serves as chair of the Illinois Finance Authority.
But Harrisburg, a city of 50,000 that grew up on the steel industry, is staring at a similar deal. Its current nightmare began in 2003, when local officials borrowed $125 million to repair a trash incinerator. With the project delayed, and the money used up, officials borrowed tens of millions more.
The city, which guaranteed that debt, is now on the hook for about $310 million, according to the Monday report prepared on behalf of the state under Pennsylvania's Municipal Financial Recovery Act.
The incinerator, finally complete, clears a few million dollars a year. But that's not nearly enough to pay off its debt.
This year, Harrisburg's debt service will be equivalent to more than a fifth of its general fund expenditures, according to the state-appointed group.
City officials agree that something needs to be done. This week, the state handed down a set of initiatives that the city must adhere to, or else risk losing crucial state aid. To the chagrin of some in City Hall, the state-appointed group determined that Harrisburg must immediately pursue a sale of its incinerator and parking system.
"If the city does not accept a transaction which generates capital from its assets in order to pay off its debt, the residents will be forced into a position of much higher property taxes," said Frydman, the partner at LambdaStar. "Businesses will run from the city, homeowners will not be able to sell their homes and the city will be devastated."
In a May letter, LambdaStar proposed a deal to help bring about a "comprehensive solution" to the city's crisis. The company and another firm, acting through a newly formed private entity, would lease the city's parking system and incinerator, an arrangement intended to help the city pay down much of its debt.
LambdaStar proposed a 75-year lease of the parking garages and meters, in exchange for an upfront payment of $215 million, or else a 50-year lease for $195 million. The city would forgo revenue it gets from the parking system, yielding that money to the private entity. Harrisburg in recent years has gotten about $4 million annually from its parking system, more than 6 percent of its budget.
And the city would give the private entity the power to double parking rates twice a year, under the 2008 proposal, which the May letter revived.
"It's a very, very bad deal for the citizens of Harrisburg," said attorney Neil Grover, who served briefly on the board of the authority that operates the incinerator.
While an immediate cash infusion might help the city pay down its debt, it wouldn't be enough to cover the whole burden, Grover said. "The deal wouldn't come close. This is the illusion of it."
"They're treating people like people don't know anything," he added.
Frydman would not comment on the record about the specifics of the proposal.
In addition to the debt the city has guaranteed, the parking system has debt of its own. The Parking Authority's debt service payments increased more than 26 percent between 2006 and 2010 to reach $8.6 million last year, the state-appointed group noted in its Monday report.
Not all city leaders are so wary of privatization. Harrisburg Mayor Linda Thompson has spoken in support of selling city assets and seems amenable to the idea of working with a private company. After the consulting firm Wilbur Smith offered a valuation of the parking system, Thompson's office issued a press release in May saying the mayor was "comfortable" with the figures.
"This is better than anticipated," the mayor said in the release.
In New Haven, the city aldermen recently shot down a proposal to sign away a portion of parking meter revenue to the investment firm Gates Group Capital Partners. Under the proposed deal, the city would have gotten $50 million from Gates Group up front, promising to pay the company $120 million by the end of 25 years.
That's a loan with 140 percent interest. But some local officials say the city needs such a deal.
"The point I was trying to make to people was that if you're in desperate times, you have to make decisions that are not that palatable," said New Haven Alderman Yusuf Shah. "If we don't have some serious projects coming into New Haven, we're going to be looking at that stuff again."
Privatization deals, though, may be inherently fraught with pitfalls. They require governments to enter a playing field where they have little experience, said David Johnson, a partner at the Chicago-based ACM Partners, a boutique financial firm that advises struggling municipalities.
"There's a reason that there's been so much enthusiasm in the finance community for privatization deals. You are dealing with a less savvy partner," Johnson said. "The bigger sucker is always the government."
Related
Popular in the Community