An Arkansas town with a reportedly dark past rooted in racial discrimination is pushing back after an "anti-racist" billboard went up on a major roadway there last month.
Someone in Harrison, Ark., is paying $200 a month for an entire year to display this 12-by-24–foot sign with the message "Anti-Racist is a Code Word for Anti-White":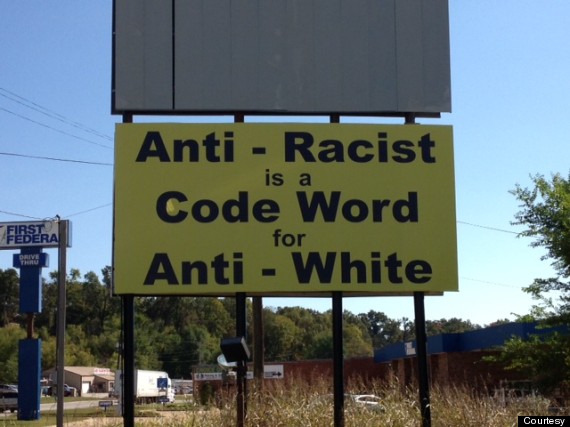 The billboard has been up since Oct. 15 in the north Arkansas town. The Huffington Post first learned of its existence when a reader who spotted the sign on a recent road trip sent in a photo.
"Although we were all horrified by the billboard and really could not understand how this could happen in 2013, I did photograph it as I needed more time to meditate on the people that did this," the tipster wrote.
Harrison has just 34 black residents out of a population of 12,943, according to 2010 census figures cited by KATV. Ten years ago, the town established a race-relations task force in an attempt to adjust it's reputation for racial discrimination and violence.
Many Harrison residents, including the mayor, are not happy about the billboard. To them, it's an unwelcome reminder of the town's past and an inaccurate marker of how far Harrison has come.
"It goes against everything that the Diversity Council, Harrison High School have taught the young that are growing up here in Harrison," resident Dena McGlynn told Arkansas Matters, "and I wish they'd just take it down."
After the sign went up last month, about 30 protestors gathered to speak out against its message. (According to the AP, two men also showed up in support of the sign; one was equipped with a hand-written poster reading, "White People 4 Free Speech.")
"The important thing is that we show the outside world that sign is not Harrison," Mayor Jeff Crockett told the group, according to the Harrison Daily Times.
"While the clients that are responsible for the sign are exercising their freedom of speech, the mayor's office considers the content inflammatory, distasteful and not in line with the truth on how Harrison is a city of welcoming and tolerant citizens. The owners of the signage, who I am unaware of, and the owners of the structure, which I understand is the Harrison Sign Co., should be ashamed to display such antiquated ideology and hatred that adversely affects Harrison as a whole."
"There is a double-standard in this country regarding differences of opinion," he said in a statement. "Those differences of opinion do not make a person racist. The first amendment right to freedom of speech is for everyone. That is the point of the message."
"The word, 'racist' is a loaded term -- loaded against white people," the man said. "It's a public secret. Everyone knows it's the truth, and yet, no one will talk about it."
Claude West, the owner of the Harrison Sign Company, released a statement to the media explaining his decision to keep the sign up. "Regardless of the opinion a person holds, or what I think about that opinion, I believe he or she has a right to express it," he said.
The Huffington Post reached West by phone on Wednesday afternoon. He said the sign is still up and that he has no intention of removing it.
"I have a business and I didn't see it as racial. The person wanted to put it [up]. Simply because he's white, he doesn't need to be called racist. It's the first amendment," West said. "People see the word 'racist' and that's all they see, they don't read the rest of it. My duty is to allow the first amendment no matter what people think."
In response, Harrison's race-relations task force plans to exercise its own first amendment rights and put up a billboard with a "Love Your Neighbor" message and a quote from Martin Luther King, Jr.: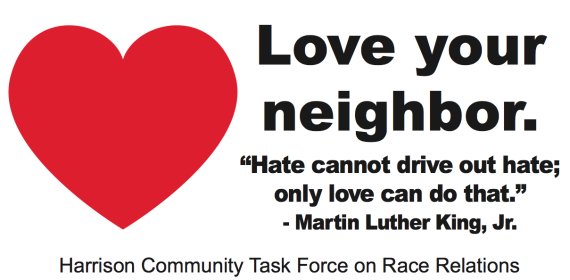 Calling all HuffPost superfans!
Sign up for membership to become a founding member and help shape HuffPost's next chapter
BEFORE YOU GO
PHOTO GALLERY
Racist Moments: 2013 Edition