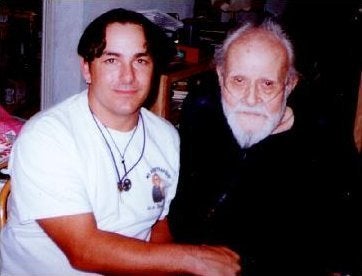 In 1948 homosexuals were considered sick and/or degenerate heterosexuals, and a gay community as we now know it did not yet exist. That year one man had the visionary idea that homosexuals were a "cultural minority" and could organize themselves to create a community and fight for their human dignity and civil rights. Sixty years later that vision has developed into a worldwide civil rights movement and inspired the creation of lesbian, gay, bisexual, and transgender communities on every continent. The man who had that exceptional vision was Harry Hay.
An actor, communist, labor organizer, teacher, musicologist, gay theoretician, and political activist, Harry Hay left a lasting mark that continues well into the 21st century. Hay was active in the avant-garde arts movement of 1930s Los Angeles, where he worked as an actor. He participated in the San Francisco General Strike of 1934 and fought against fascism, racism, and anti-Semitism in the 1940s. In 1948 he conceived of and organized the first sustained gay activist group in America, the Mattachine Society, kicking off the modern American gay freedom movement. Throughout the 1950s he conducted research into areas of anthropology, science, history, and mythology for evidence of what he termed "my people" -- gay people. In the 1970s he worked for and supported Native American struggles and helped to define and bring together the gay men's group the Radical Faeries. Hay continued theorizing and organizing his "people" and supporting social justice for all people, right up to his death in 2002.
In honor of the 100th anniversary of Harry Hay's birth, the Harry Hay Centennial Committee and the Center for Lesbian and Gay Studies at the City University of New York are presenting a four-day conference from Sept. 27 to 30, 2012, in New York City, exploring Hay's life, ideas, and the multiple facets of LGBT life that Harry Hay himself pioneered. The conference is organized around four major themes: arts, political activism, spirituality, and sexual identities. It will feature panels, lectures, films, and live performances from scholars, activists, and artists all exploring the evolution of LGBT life in the 60-plus years since Hay founded the modern American LGBT movement.
The event gets started on Thursday, Sept. 27, at 7 p.m. at CUNY Graduate Center with a keynote address by anthropologist and author Will Roscoe, followed by a staged reading of excerpts from playwright John Maran's award-winning play about Hay, The Tempermentals. Other featured keynote speakers through out the conference include feminist historian Bettina Aptheker, poet Cheryl Clark, and LGBT historian John D'Emilio. Over 100 scholars, artists, and activists will be participating in the conference, including authors Mark Thompson and Perry Brass and historians Jonathan Ned Katz and Susan Stryker. Playwright Tony Kushner has prepared a staged reading of an excerpt from his most recent play, The Intelligent Homosexual's Guide to Capitalism and Socialism with a Key to the Scriptures. Film programming includes Hope Along the Wind: The Life of Harry Hay, presented by director Eric Slade, and a selection of contemporary West Coast queer avant-garde short films. A Saturday evening program at the New York LGBT Community Center features live performances based on aspects of Hay's life, hosted by the New York (dis)Order of the Sisters of Perpetual Indulgence and emceed by Justin Sayre with Agnes de Garron, Reverend Yolanda, and Pistol Pete, as well as fashions by Cody Sai and a host of surprises, followed by a masked Mattachine-style procession to an after party at the historic Stonewall Bar. Sunday will be dedicated to the exploration of Radical Faerie circle process and culture.
For more information on the conference, please click here.
Support HuffPost
Every Voice Matters
Popular in the Community