When it comes to haircare, no one invests less time in the activity than I do. Seriously, I'm as low-maintenance as they come. Which is why it was a huge deal for me to cut bangs in my thick and persistently wavy hair back in 2011; despite the fact that the style requires I devote a a whole five minutes to blowdrying, I've somehow managed to maintain my fringe for the past two and a half years.
So when our beauty editor Dana received the Harry Josh Pro Tools 2000 Pro Dryer in the mail one day, she offered it up for me to review. "This hair dryer costs $300," she told me. "You blow your hair out every day, right?"
Yes, I do blow my hair out every time I wash it. Well, only my bangs, because my hair is very thick and I am very lazy, especially when it comes to my hair. I was perfectly content with my Conair IonShine with its built-in hairbrush, which I purchased for $30 at the Walgreens across the street from my apartment. But I'll try anything once.
The model-approved Pro Dryer earned instant bonus points for its miniature size and cute mint green color. And the dryer's casing isn't the only thing that's green -- the product itself is environmentally friendly, too. Other nifty external features include a refreshing cool blast function (necessary while frying my hair in my sun-drenched, un-airconditioned apartment on a 90-degree day) and a 9-foot cord, since we don't all have electrical outlets located near our mirrors.
Subtract points because the dryer does overheat to a scary degree -- I was a little worried to put it down on my bed when I finished. (Yes, I blow my hair dry while sitting on my bed sometimes. I'm that lazy.)
I'm on my third Conair since cutting my hair two and a half years ago. They burn out relatively quickly. Their hair dryer makes my hair puffier instead of silkier, and doesn't do much in the way of frizz. But the Conair hair dryer fulfills its most basic promise -- it makes my hair not wet -- and I didn't know what I was missing.
I'd heard some of our bloggers swear that expensive tools can make or break your hairdo, and now I believe them. I haven't put product in my hair in years, and I don't plan on starting. Still, Harry Josh's hair dryer makes my strands soft, smooth and shiny all on its own. Sure, the price tag is near sinful. But it has a 2,000-hour motor (I don't even know if I'll live that long), it's small enough to travel with and its green-ness means I'm probably saving on energy costs... maybe.
Today's lesson: You can't put a price tag on how you feel. If you can, invest in quality tools -- especially those you'll use every day. And if you're a minimalist like me, you'll earn the maximum payoff.
Left, using Conair dryer; right, using Harry Josh dryer: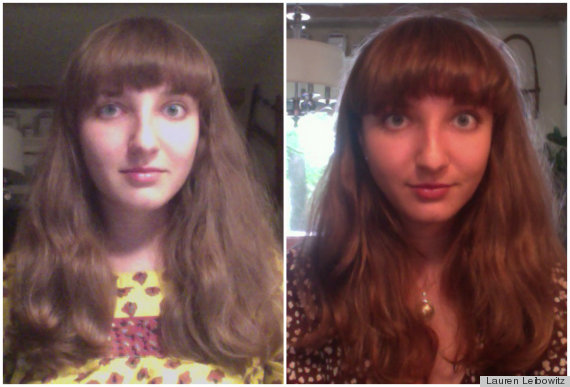 These styles must require a blow dry: