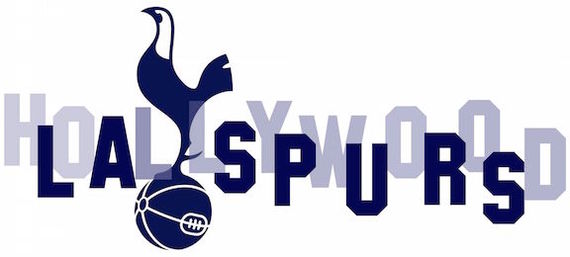 Tottenham Hotspur FC, founded in 1882 with a Shakespearean character Sir Harry Hotspur as a mascot, are back as a force to be reckoned with in English soccer. The Premier League's youngest team earned a league-best goal difference, a club-best Premiership finish (third), and at times we earned the sobriquet of being England's most thrilling footballing side with several awesome wins including, beating ManU 3-0, ManCity 4-1, Stoke 4-0, Sunderland 4-1, West Ham 4-1, Bournemouth 5-1.
It's been the best top division finish in most of our Los Angeles Spurs supporters' lives, finishing above four of the traditional big-5 teams -- City, United, Liverpool and Chelsea for the first time in the Premiership's history. And it was also our club's first title tilt since the glorious and incomparable Tottenham double-winning side of 1960-61 led by captain Danny Blanchflower who said words, in his inimitable Irish lilt, that epitomize Spurs and separate us from teams who put results over entertainment, who park the bus, who forsake possession football for only counterattacking and set play opportunities.
As "Danny Boy" eloquently noted:
The great fallacy is that the game is first and last about winning. It is nothing of the kind. The game is about glory, it is about doing things in style and with a flourish, about going out and beating the other lot, not waiting for them to die of boredom.
We were led by an incarnation of Harry "Hotspur" himself, the Premiership's leading goalscorer Harry Kane (25 league goals) -- and as the song goes, "He's one of our own!" We were also inspired by mercurial freshman Dele Alli (PFA Young Player of the Year and BBC's Goal of the Season), and by new defensive stalwart Toby Alderweireld, and our onfield captain and goalie Hugo Lloris.
Our onfield success was inspired by our virtuoso conductor cum chairman, Daniel Levy and his brilliant second year signing and our inspirational manager, Mauricio Pochettino and his superb training staff.
For all of our 38 PL matches, we LA Spurs fans congregated at our "church," our local pub, The Greyhound Bar -- kudos to co-owners Mateo Glassman, Ryan Julio, James Bygrave and our head barmaid Lindsay English, Krystal and crew. Even though LA Spurs are the largest Premiership supporters club in California, we share our success with our growing, fellow Spurs supporters clubs across America.
The Greyhound's guest visitors during the season included: the Copa America trophy (upcoming tournament June 3-26 in the U.S.); the great English actor Eddie Marsan (Terry in Emmy winning Ray Donovan, Lestrade in Sherlock Holmes movies, and "Manny" Reubens in the delightful soccer-inspired Sixty Six), and lovely Marina Sirtis (TNG's counselor Troi) -- who're both huge Spurs fans. Now we just need another Tottenham girl to turn up to support her hometown team, multiple-Grammy winner and the world's biggest music star -- you're welcome anytime, Adele!
We had singing, joyous crowds of up to 200 at early morning Greyhound games including the North London Derby game and the last two contests against the Mancs.
Congratulations and many thanks to NBC and NBCSN for televising all 380 Premiership games on your platforms -- your blanket coverage is first class, even UK actors like Clive Owen say the coverage here is even better than in England.
One sore spot was the chanting, sometimes ugly Chelsea fans who left their own LA pub to come to our patch in early May to try and rain on our parade when we played to a scintillating 2-2 draw. As LA Spurs chairman Brian Moore notes, "It was an unfortunate situation and not a pleasant experience to have Chelsea fans singing Anti-Semitic, Neo-Nazi hate songs. Grown men shouldn't behave like that." Thing is, you Blues -- Spurs are going to the elite Champions League next season, you're not even playing in Europe. And, jealousy is a loser's game.
Back in North London, in our final home matchday program, THFC's Mr. Levy talked about the "culmination of a truly remarkable season," explaining:
A second season under Mauricio and his coaching staff has seen the team achieve far more than we had anticipated. This was a season that saw us go a Club record 14 Premier League games unbeaten and challenge for the title... With a blend of youth and experience we have seen a squad built for the future... After more than 15 years of land acquisition, nine years in design and planning, we finally have the permissions we need to realise our vision of delivering one of the finest stadiums in the world...the Premier League is the most watched league in the world. It was a thrilling and passionate competition. At times our football has been simply sublime... A standout feature of this season has been the unity between players and you, our supporters.
Additionally, THFC's ladies' team earned a cup double, winning the FAWPL and Ryman Cups. Meanwhile, with the Euro 2016 tournament taking place this summer in France (June 10-July 10), several key Spurs players will be representing England while others will be playing for the Belgium, France and Wales squads. And we LA Spurs will be cheering on our lads.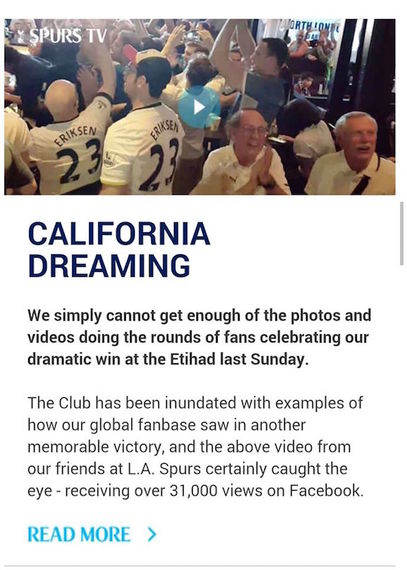 Then before we know it, the new 2016-17 Premiership season will kick off again in August, and our exciting September re-entry into the massive Champions League competition will see us, perhaps playing our home games at Wembley, and once again lining up alongside the titans of Europe -- Real Madrid, Barcelona, Bayern, PSG, and others.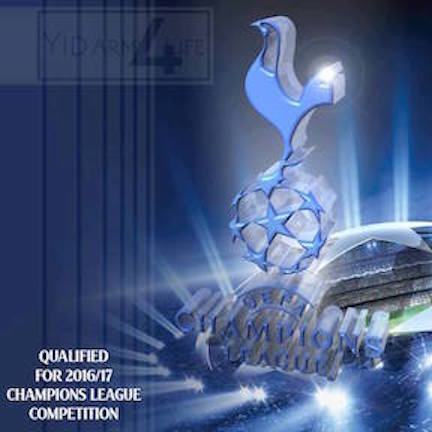 Spurs were England's first Euro giant, the first English team to win a European trophy in 1963, and LA Spurs along with all our other supporters clubs worldwide will be at their local pubs singing during Champions League games: "Oh when the Spurs go marching in, we want to be in that number, oh when the Spurs go marching in..."
Popular in the Community