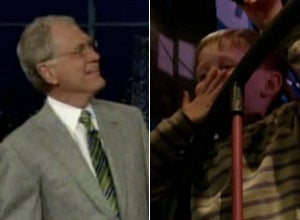 It was just another day at the office when Harry Letterman, five, stopped by "The Late Show with David Letterman" on Wednesday night.
Dave pointed out his waving son in a balcony over the stage saying, "Hi Harry! Ladies and gentleman, it's my son Harry!"
A few minutes later, Harry interrupted his dad, blowing kisses and calling out "bye!" Dave waved back and said, "Thank you sweetheart, thanks for stopping by," and Harry walked out.
Popular in the Community