A new addition to Omid Scobie and Carolyn Durand's bombshell royal biography, "Finding Freedom," gives more insight into Prince Harry and Meghan Markle's new life and their evolving relationship with the royal family. It also sheds light on what ― if anything ― changed after the Sussexes' interview with Oprah Winfrey.
During the couple's two-hour sit down with the media mogul, Meghan said that a member of the royal family raised racist concerns about their son's skin color prior to his birth and revealed that she'd contemplated suicide, among many other astonishing revelations.
According to a quote from the new epilogue of "Finding Freedom," an excerpt of which was shared in People magazine this week, an anonymous "close source" to the couple revealed that Harry and Meghan reportedly feel that the royal family has not taken enough accountability following the interview.
After it aired, Prince William told reporters that the royals were "very much not a racist family." Buckingham Palace shared a statement on behalf of Queen Elizabeth that said the family was "saddened" to hear about Meghan and Harry's experience, adding: "The issues raised, particularly that of race, are concerning. While some recollections may vary, they are taken very seriously and will be addressed by the family privately."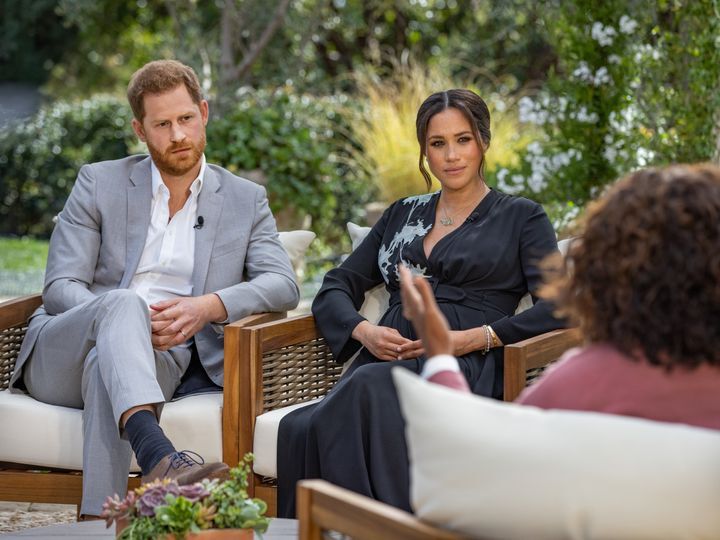 "The Queen's 'recollections may vary' comment 'did not go unnoticed' by the couple, who a close source said were 'not surprised' that full ownership was not taken," reads the excerpt from Scobie and Durand's new text.
It continued: "'Months later and little accountability has been taken,' a pal of Meghan added. 'How can you move forward with that?'"
When asked for comment on Thursday, a spokesperson for Buckingham Palace told HuffPost, "We wouldn't comment on books."
"We didn't comment when this book was first released and won't be commenting now," the spokesperson added.
Harry and Meghan's Archewell foundation team did not have an on-the-record response when reached for comment Thursday.
Earlier that day, The Daily Beast reported that lawyers for the couple told a British outlet that Scobie and Durand's book's claims were "false and inaccurate." An anonymous source said: "The attorneys for Harry and Meghan claim the authors do not speak for them and that the writers have 'written about their take on matters.'"
Prior to the book's publication last year, the Archewell team released a statement about the couple's lack of involvement in the book.
"The Duke and Duchess of Sussex were not interviewed and did not contribute to 'Finding Freedom,'" the statement said. "This book is based on the authors' own experiences as members of the royal press corps and their own independent reporting."
"Back at this rodeo and, predictably, words are being twisted again," the Harper's Bazaar royal editor wrote on Twitter. "The comments made by a SOURCE (a detail some outlets have purposefully ignored) were about a lack of ownership from the royal institution as a whole. There is no 'attack' against the Queen anywhere in the book."
In an interview published in People alongside the excerpt, Scobie talked about the couple's new life since their step back from the royal family last year.
"They seem to be existing in a different place, and that place is much healthier," the reporter said. "Meghan famously spoke about that it was not enough to survive — we are now in the thrive chapter."
The new edition of "Finding Freedom" arrives on Aug. 31.