Scholastic, the nation's largest purveyor of school-based book clubs and book fairs, bills itself as the "most trusted name in learning."
But lately the company has come under fire for its "InSchool Marketing" division -- a program that cashes-in on this trusted name by allowing corporations to create teaching materials designed to further "client interests," and create "brand awareness" and "consumer loyalty." The program has been used to promote everything in classrooms from ice cream to television programming to sugary beverages to the world's dirtiest form of energy.
Esteemed opinion-makers including the New York Times and Los Angeles Times editorial boards recently slammed Scholastic for selling out, spurred by the company's now-defunct partnership with The American Coal Foundation.
But the most succinct statement of outrage comes, of course, from the Twitterverse.
Last week, @Scholastic4Sale -- with its proclaimed mission to help "underserved corporations reach children's classrooms" -- began a satiric skewering of Scholastic with series of mashups of classic Scholastic book covers combined with real InSchool Marketing partners (see slideshow below).
Titles included Harry Potter and the Chamber of Commerce, The Polar Express, Powered by The American Coal Foundation, and Green Eggs and SunnyD. As one account follower put it: "Sometimes a joke is worth a thousand-word editorial."
The mashups and account are the brainchild of a supporter of our campaign. On Thursday, Twitter suspended her account after someone (I wonder who?!) complained that it violated the site's trademark policy, which states that a company or business name cannot be used "in a manner that may mislead or confuse others." She later added a disclaimer, and now the account is back up and running.
So if the trademark police are watching, let me be clear that the images you're about to see are parodies. Unfortunately, however, Scholastic's InSchool Marketing division is no joke.
After a PR nightmare in May around The American Coal Foundation partnership, Scholastic vowed to review its policies and procedures on all sponsored classroom materials. More than 50,000 people have now signed the Campaign for a Commercial-Free Childhood's petition on Change.org urging the publisher to shelve the InSchool Marketing program entirely.
Check out the slideshow of @Scholastic4Sale's handiwork below, and then tell Scholastic to stop using its privileged position to serve as Trojan horse for inappropriate marketing.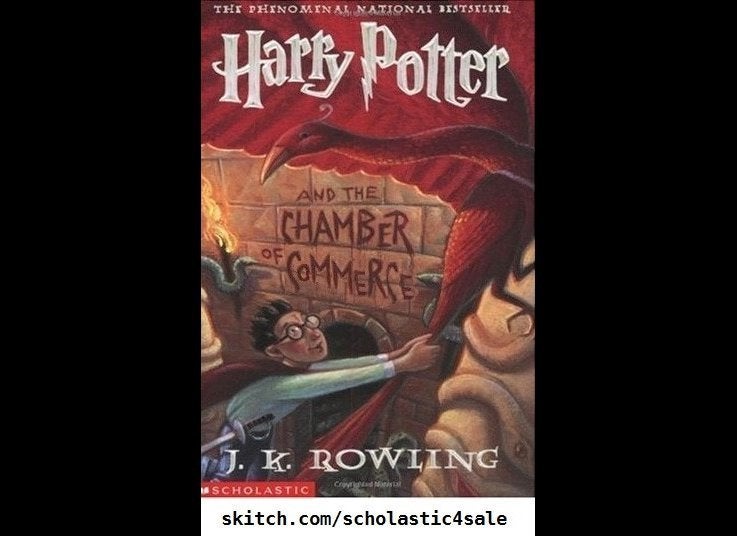 Scholastic's Unlikely Bedfellows, Brought to You by @Scholastic4Sale
Related
Popular in the Community