According to Thierry Coup, the senior vice president of Universal Creative (i.e., the arm of Universal Parks & Resorts that designs all of the rides, shows and attraction for the Universal theme park), the cast from the Harry Potter movies all really enjoyed returning to the Wizarding World and getting the chance to reprise the roles that they'd played over the course of this eight-part film series.
"I actually got to direct those scenes for this new Universal Orlando attraction in December of 2012. And it was obvious that the cast members who came back to be part of the Gringotts shoot really enjoyed the opportunity to revisit these characters," Coup said during a phone interview yesterday. "I mean, these performers had spent so many years working together on that acclaimed series of films. So it was clear that they really appreciated this opportunity to revisit the world of Harry Potter. Getting the chance to portray these iconic characters one more time."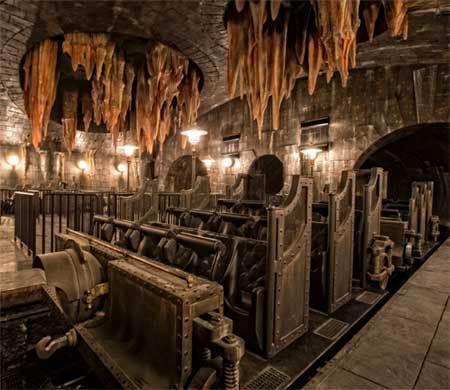 Mind you, the adventure that Universal Orlando guests will experience after they climb aboard this multidimensional, multisensory attraction and then journey deep down into the caverns under Gringotts Wizarding Bank won't exactly duplicate what Harry, Ron and Hermione went through in the final Potter book and/or the 2011 film that capped off this series.
"J.K. Rowling actually gave us a lot of creative leeway when it came to Escape from Gringotts. You see, the story that we wanted to tell with this Universal Orlando attraction kind of ran concurrently with the events which occurred during Deathly Hallows, " Coup explained. "You see, our guests just happen to be at Gringotts Wizarding Bank opening a new account on the exact same day that Harry, Ron and Hermione are trying to break into Bellatrix Lestrange's vault to retrieve a horcrux."
Mind you, it isn't 'til their 20-passenger mine car is actually making its way through that vast complex of caverns directly under Gringotts (so that Universal Orlando visitors can then supposedly go inspect their newly-purchased vault) that these people finally cross paths with Harry, Ron and Hermione. Their mine car is on a track which parallels the path of Potter's just as Harry, Ron, Hermione and Griphook the goblin pass through Thief's Downfall, which is this enchanted waterfall that Gringotts put in place to wash away any concealment spells and enchantment charms that would-be thieves might use in their attempt to break into one of the bank's vaults.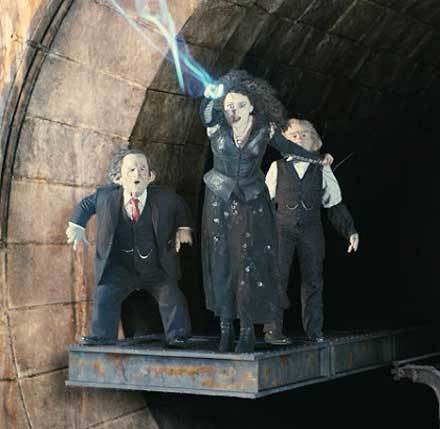 And once that happens, Gringotts immediately goes on high alert. Thinking that they might be the would-be vault robbers, the Bank's brutish security trolls will then menace these Universal Orlando visitors. But that's nothing compared to what happens when Bellatrix Lestrange and He Who Must Not Be Named, Lord Voldemort arrive on the scene and are determined to do whatever they have to in order to protect that horcrux.
"Which I know is a departure from The Deathly Hallows - Part 2 movie. J.K. Rowling certainly didn't mention Bellatrix and Voldemort being on scene this early as part of the Deathly Hallows book. But given that this action is happening away from where Harry, Ron & Hermione are ... Well, J.K. actually gave us permission to include these scenes as part of our attraction because they could have possibly been going on while Harry, Ron and Hermione were in the Lestrange vault retrieving that horcux," Thierry said.
What's genuinely intriguing about Harry Potter and the Escape from Gringotts is Universal Creative used feedback that it got on Islands of Adventure's Forbidden Journey to help tweak their storytelling on Diagon Alley's centerpiece attraction.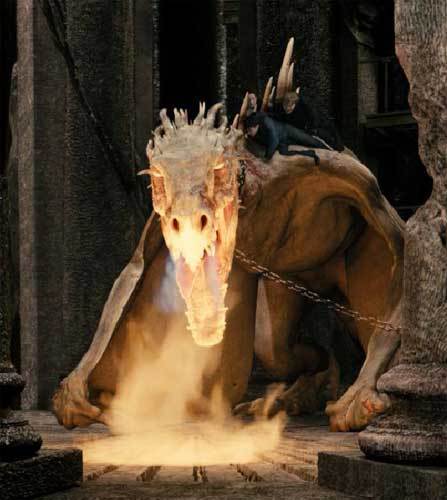 "Don't get me wrong. Harry Potter fans really seem to love Forbidden Journey. But the one complaint which we kept getting from our guests about that Wizarding World attraction was that they weren't getting enough time with their favorite characters. That -- because Forbidden Journey is really kind of a Harry Potter highlight reel -- we kept moving quickly from character to character, from place to place," Coup continued. "Which is why -- with Escape from Gringotts -- we decided to confine this attraction to one specific place. Give our Guests lots of face time with some of the most famous characters from the Harry Potter world. Not to mention placing them right in the middle of one of the more exciting moments from both the books and the film series."
That means facing down the 60-foot-long, fire-breathing Ukrainian Ironbelly dragon that bars the way to the Lestrange family vault. Which Hermione then sets free in a last-ditch effort to escape from all the goblins and Death Eaters who are hurling curses at them (and Universal Orlando theme park guests) in the caverns far below those polished marble floors high above in the lobby in Gringotts Wizarding Bank.
And speaking of Gringotts' lobby ... During the 35 minutes that Universal Orlando visitors will spend wandering through the highly themed queue of this new state-of-the-art thrill ride, they'll eventually come face-to-face with a set of animatronic goblins.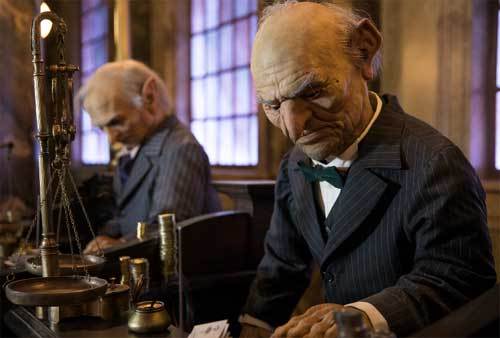 "Every lesson that we've ever learned from building other attractions here at the Universal Orlando Resort -- our award-winning The Amazing Adventures of Spider-Man, Transformers: The Ride - 3D, even Forbidden Journey -- has been applied to Escape from Gringotts. There's never ever been a theme park attraction like this before. One that uses so much cutting-edge technology in the service of telling this one really great story," Thierry concluded. "Which is why I can't wait 'til late this summer when Universal Orlando guests get the chance to enter Gringotts Wizarding Bank. Which is when they'll get the chance to join Harry, Ron and Hermione on the ultimate Harry Potter adventure."
Support HuffPost
The Stakes Have Never Been Higher
Popular in the Community