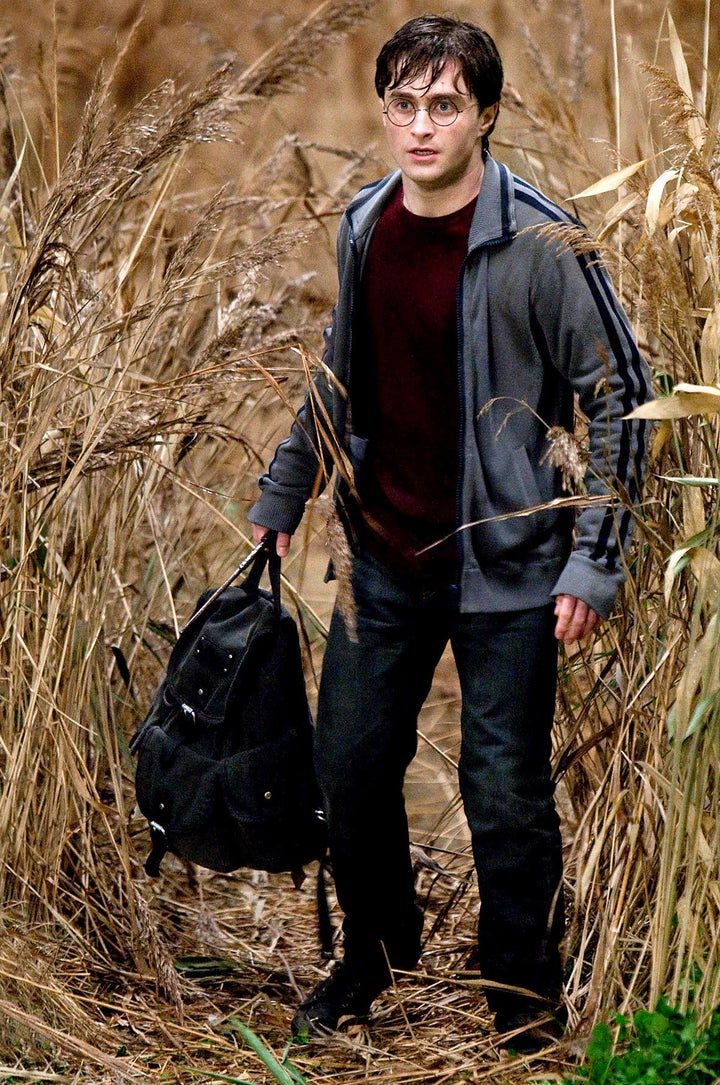 Are you one of those unfortunate moviegoers who's suffering from PPD (i.e. Post Potter Depression)? Have you been moping around the house ever since you saw Deathly Hallows -- Part 2 because -- unless J.K. Rowling decides to write another book about Harry, Ron & Hermoine's adventures -- there'll be no more trips to Hogwarts?
Well, if that's really the case, then the Universal Orlando Resort completely sympathizes with your situation. And to help ease Potter fans through this very difficult time, they've teamed with the folks at Warner Bros. to create this three-day-long event which will then celebrate the Harry Potter films.
"We've actually had this project in the works since The Wizarding World of Harry Potter first opened back in June of 2010," explained Alyson Lundell, senior manager of Public Relations for the Universal Orlando Resort. "We knew that Deathly Hallows -- Part 2 would be released to theaters in July of 2011 and that the DVD & Blu-ray version of the last Harry Potter movie would be hitting store shelves in November of this year. So we wanted to do something significant to commemorate this event. Cap off this film series in a very special way for Harry Potter fans."
And the concept that Universal & Warner Bros. came up with is kind of a dream-come-true for fans of this film series. In that -- over the course of this three-day-long event -- they'll actually get the chance to meet and talk with members of the cast & crew of the Harry Potter movies. What's more, event attendees will also get to see all eight of these Warner Bros. releases up on the big screen again for one last time.
There'll also going to be a spectacular evening gala held inside of The Wizarding World of Harry Potter. And those who purchase Celebrate Vacation & Premiere Vacation packages for this event will also be given early morning access to Universal's Islands of Adventure. Which means that they can start exploring this theme-park-within-a-theme-park starting as early as 6 a.m.
"We're also going to make the people who designed The Wizarding World of Harry Potter available to meet with event attendees," Lundell continued. "That - plus the reservation systems that we'll be putting in place, which will then guarantee our guests seats at Q & A sessions and places in line for our autograph opportunities, plus that complete set of the Harry Potter Blu-rays and commemorative pin that we'll be giving to each attendee -- will make this 'Celebration of the Harry Potter Films' the sort of event that fans of these movies will be talking about for years afterwards."
As to which stars actually will be taking part in "A Celebration of the Harry Potter Films"... Alyson explained that that part of this program is still pending.
"Warner Bros. is actually handling that end of the event. They're the ones who'll be making travel arrangements for all of the performers and filmmakers who'll taking part in 'A Celebration of the Harry Potter Films,'" Lundell said. "On the Universal Orlando Resort side of things, our job is to make sure that this event runs smoothly as possible and that we then deliver on fans' expectations."
And given that the Universal Orlando Resort now has a history of over-delivering, at least when it comes to Harry Potter fans (witness what happened back on July 15th when UOR officials granted everyone who attended the midnight show of "Deathly Hallows -- Part 2" free, after-hours access to The Wizarding World) ... the bar has already been set pretty high for this "Celebration of the Harry Potter Films" event.
"We're just pleased that we're going to get to hold this event at the Universal Orlando Resort, the place where the Harry Potter characters will live on now that this film series is wrapped," Alyson concluded. "We're just hoping that we'll be able to accommodate all of the Harry Potter fans who'll want to take part of this once-in-a-lifetime event."
So if you're looking for a cure to your Post Potter Depression... Vacation packages for Universal Orlando's "A Celebration of the Harry Potter Films" will be going on sale this coming Sunday, July 31st. And given that only a limited number of guests will be allowed to take part in this three-day-long event (which will be held at UOR from Friday, November 11 through Sunday, November 13) ... If you're a Harry Potter fan, it would probably be wise to be among the first to book your Celebration Vacation or Premier Vacation package.
FYI: Depending on guest demand, there may be ways that Central Florida residents and/or people who are visiting the Universal Orlando Resort while "A Celebration of the Harry Potter Films" is going on to take part in various aspects of this event. Stay tuned for more details.

Jim Hill is an award-winning entertainment writer who lives in New Boston, NH. Over the past 30 years, he has interviewed hundreds of veterans of the animation & themed entertainment industry and written extensively about The Walt Disney Company.
For his more immediate musings on movies, TV shows, books and theme parks, please check out his blog, jimhillmedia.com.
Calling all HuffPost superfans!
Sign up for membership to become a founding member and help shape HuffPost's next chapter