"Lost in London Live," Woody Harrelson's first directorial effort, successfully captured an hour-and-a-half or so of scripted comedy in one take that was streamed onto theater screens across the U.S. on Thursday.
It was a marvel of technology and coordination that required 14 filming locations around London and hundreds of crew members to pull off production during the wee hours of Friday morning, local time. Narratively, it was bizarre, culminating with everyone clamoring to meet "Harry Potter" star Daniel Radcliffe. (As you would.)
The film presents a late-night misadventure based on what Harrelson claims are the mostly true events from 2002. When news of an alleged marital indiscretion by the actor hits tabloids, Harrelson is compelled to prevent his wife from seeing it and, unsurprisingly, fails. His wife becomes quite naturally upset, inspiring the actor to join some friends (including a prince whose Arabic name he never seems to remember) for a drink instead of patching things up.
When trouble starts finding Harrelson, he remembers a commitment he made to his family: At 7:30 a.m. sharp, they were meant to visit the set of "Harry Potter" and meet star Daniel Radcliffe. The kids really want to meet Harry Potter. (As you would.)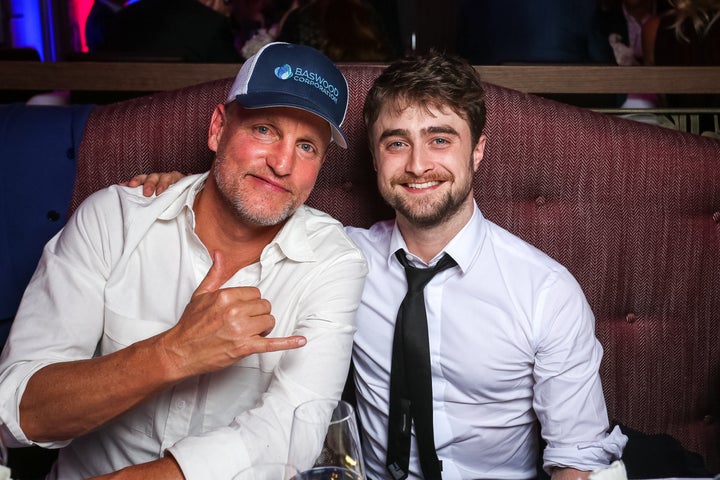 Eventually, after running into Owen Wilson, puking into a stranger's mouth, breaking an ashtray in a cab and fleeing from police, Harrelson ends up in a jail cell. Desperate to break out in time to keep his word, the actor plays his strongest card ― he's a celebrity who knows other celebrities. Would the officer arresting him like to speak to Bono? Would he like to take his disabled son to see Harry Potter and "Bumbledore"? (Answer: Yes. As you would.)
After soliciting some genuine laughs from the theater, the actor's live experiment culminates in what is clearly meant to be a moving declaration of love for his wife, but strays into territory of rom-com clichés.
"I want you to go in that van and leave me here," says Harrelson. "I think if I'm going to be really selfless about this, I don't want to see you saddled with me."
"I don't want to see the person I love with the person I hate."
One clunky man-lets-woman-walk-away-before-dramatically-chasing-after-her-and-heroically-winning-her-back sequence later, everyone is headed to "Harry Potter."
"Whenever famous people came out to the set, it was very exciting," Radcliffe recalled in a pre-taped segment after the film's conclusion. The actor was "about 12 or 13" at the time, and remembered the occasion as a "lovely" one, until news of Harrelson's eventful night reached the set.
"The genuine reaction around the set was, 'Did Woody Harrelson just come and use the 'Harry Potter' set for a safe house for a day, and was he just coming here to hide out?' Which, it turns out, wasn't the case, but if it had been, a pretty cool thing to do," Radcliffe said, amused. "So yeah, that was the first time I met Woody."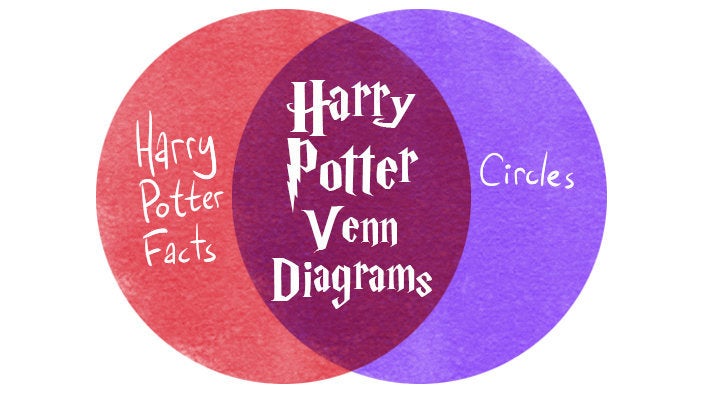 'Harry Potter' Venn Diagrams