Hogwarts students had Quidditch to keep them in shape ― not to mention all the calories burned running away from the Dark Lord. But we Muggles have always had to settle for ordinary exercise...until now.
Yoga teacher Isabel Beltran and her sister Ximena Larkin transfigured an ordinary Halloween yoga class in Texas into a magical Harry Potter-themed workout. And now that Harry Potter yoga is here, we don't know if we can ever go back to regular old downward dog again.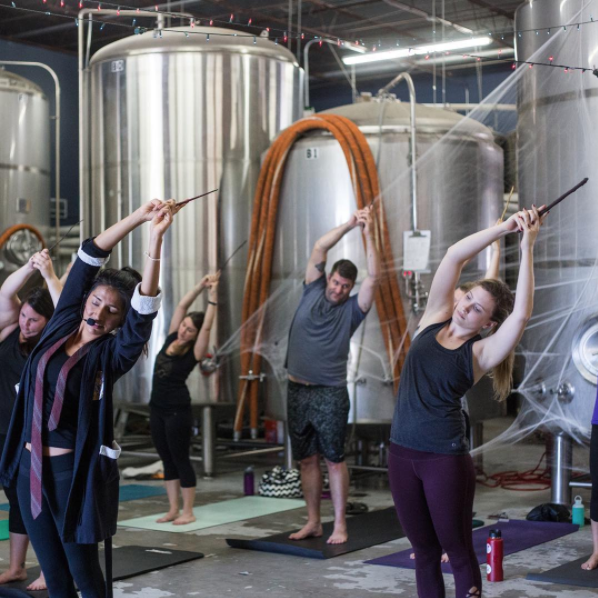 "At the end of September, Isabel and I were talking about a way to make the class more fun and interactive and boost attendance," Larkin told The Huffington Post. "I was reflecting on Harry Potter because Halloween night is the night his parents died and I thought it would be interesting to do something around Harry Potter, Halloween and death. We're Mexican and celebrate the Day of The Dead. It's not morbid, but rather a celebration of life."
The sold-out Potter-inspired class took place on October 30th at Circle Brewing Co. in Austin, Texas. Harry Potter-loving Muggles gathered to attempt poses like the Downward Fluffy, Whomping Willow (or Tree Pose) and Slytherin Cobra. Naturally, Beltran and Larkin provided all the students with wands to cast Patronus charms.
At the end of the class, Beltran read passages from Harry Potter and the Deathly Hallows while students lay under "invisibility cloaks" (aka yoga blankets) for a five-minute savasana. Grab us a Portkey, because we've been transported to heaven.
If your Floo Powder malfunctioned and you missed Harry Potter yoga, never fear: Beltran will be hosting more themed classes in the future, and we're guessing this idea may pop up elsewhere.
"If themed yoga classes get more people moving and open to trying yoga, then it's worth pursuing to share the magic of its health benefits," Beltran said.
Beltran is already planning a Fantastic Beasts and Where to Find Them-themed class in Austin on November 20th. You can buy your tickets here.
We can't wait to see what workouts these exercise wizards conjure up next.