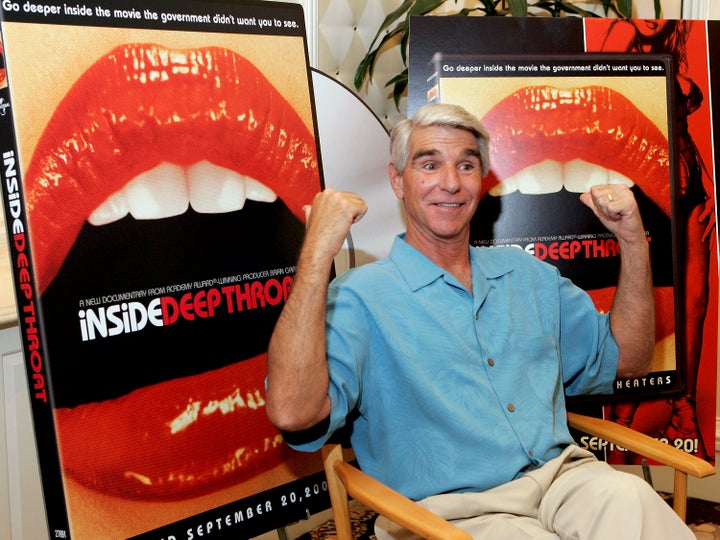 I recently read that Harry Reems, a New York actor now basically remembered as the star of Deep Throat, certainly a seminal piece of art from 1972, died on March 19 at the age of 65. Reems was born Herbert Streicher in Brooklyn on Aug. 27, 1947 (about month before I was) into a Jewish family. He described himself as a kid as being shy, pimply and uncoordinated. His salvation was joining the Marine Corp which changed his body and attitude. He left the Marines in the late 1960s after his father died, moved to the East Village and, like lot of good-looking youngsters in this free-wheeling period, tried to become an actor. After getting several roles Off-Off-Broadway, to put food on the table he started doing porno gigs -- usually "loops," or basic fucking scenes that utilized very little of his talents, but did showcase what I used to describe as his "healthy sexy Jewish" looks -- Reems had that kind of quality you don't see anymore in celebrities, a basic hairy earthiness. He was also able to capitalize on Mark Spitz's celebrity. Spitz, the Jewish diver who captured the 1972 Olympic Games in Munich, winning 7 gold medals, shared with Reems an ink-black mustache and the young, dimpled face and porcelain-white teeth to go with it.
Therefore Deep Throat and Spitz's instant celebrity both popped at the same time, although Harry never had Mark Spitz's intense, easily hatable arrogance. He was a wonderfully soft-spoken, self-deprecating person; I know this because of an issue that brought us briefly together.
In 1974, Reems was arrested by federal agents, and dragged to Memphis, TN to stand trial (along with several known underworld figures) on charges of conspiracy to transport obscene material across state lines. (Deep Throat, according to the New York Times, was widely reported to have been financed by associates of the Colombo crime family -- who had their fingers in so many pots that half of New York could have shared a similar fate.) The case basically said that anyone involved with producing a product that went against community standards, anyplace, could be indicted in that place and brought to trial there. I know, the implications of this would terrify anyone other than members of the Westboro Baptist Church. Reems was found guilty in 1976 and would have gone to prison in Tennessee had not Alan Dershowitz brought a successful appeal in 1976 that finally set Harry free.
Where I came in was that in this period I was writing for a small, now forgotten gay paper called New York Gaysweek (take off on Newsweek), and my editor, Alan Bell, called me to ask if I wanted to do an interview with Reems. It seems that Reems' defense team realized he had very natural allies in the gay community, and this was actually going to be his first interview before the trial. I was kind of stunned by it -- what an amazing opportunity -- and jumped for it.
The interview was set up in an apartment in the West Village, and it went on for about an hour. What impressed me about Reems was how incredibly natural, sweet, and scared shitless he was: the whole thing was so sickening and I knew it. No matter what you thought of "Deep Throat," whether it was "art" or not art (and often in our culture the difference is basically how much money is invested into something: dig that, James Cameron), anyone who became involved in a "questionable" media project could now be dragged from the place where the project was produced, and in New York with our own "community standards," a lot was up for grabs here -- and brought to someplace like Scraggy-Butt, North-Way-Out-There-Arkolina, for trial.
In other words, who had any idea who might be seriously offended by what you're doing, and where you might be indicted? To me, as a 20-something writer, this seemed like the Inquisition incarnate, and since I was a refugee from Georgia redneckiness myself, living in decadent 1970s Manhattan, it was especially threatening.
I remember asking Harry what could others do for him, and he said bluntly: "I really need money to fight this and put up a defense. I know this is not crippled children, but this case affects so many people and I hope they realize how much is at stake here."
It did affect a lot of people, and a lot of Hollywood came to his aid, including Warren Beatty who was reported to have said, "This year it's Harry Reems, tomorrow it could be Helen Hayes."
Or Perry Brass. Since then I've written things that have pissed the hell out of multitudes of readers, and warmed the hearts of others. Basically, I have always believed that a writer is charged to tell the truth, even in fiction, and to go against "community standards" when the standards are patently hypocritical (which they often are). When I put out my first book of poetry (of all things) I was told that many printers would not even print it -- it was called Sex-charge -- because it was so overtly, unapologetically queer. Due to a snag at the book's printers, I actually had to have the loose pages sent off to a second-party binder. There I was asked, "Is this book pornographic."
"No," I said. "How can it be? It's poetry."
I was lucky. This was in 1991. By then things had come a long way. But poor Harry. He never really recovered from that sword hanging over his head; during the 3 years that his case was being regurged by the feds, the state of Tennessee (site of the famous Scopes "monkey" trial), the media, etc., he started drinking heavily, and ended up homeless, begging for spare change. Finally, he turned his life around, converted to Christianity, married, and died in Salt Lake City, UT, where, fairly unknown, he sold real estate. By my standards, he died too young. He was a gallant, sweet man, and I hope that those flights of angels who attend actors finally lead him to his rest.
Perry Brass is the author of the Ippy Gold-Medal Award winning guide, The Manly Art of Seduction, How to Meet, Talk to, and Become Intimate with Anyone. His newest book, King of Angels, a gay, Southern Jewish coming-of-age novel set in Savannah, GA, in 1963, the year John F. Kennedy was assassinated, is a finalist for a Ferr-Grumley Award for Gay and Lesbian Fiction.
Calling all HuffPost superfans!
Sign up for membership to become a founding member and help shape HuffPost's next chapter