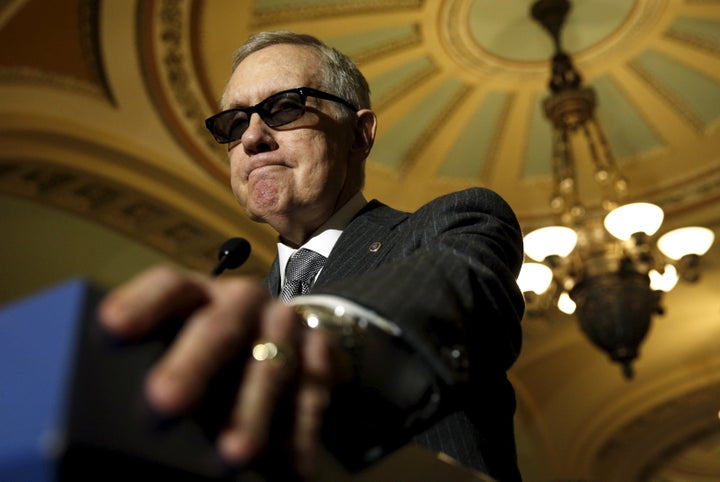 A meeting hosted by the Congressional Progressive Caucus devolved into a bitter, uncomfortable airing of grievances after Rep. Alan Grayson (D-Fla.) confronted Sen. Harry Reid (D-Nev.) over Reid's calls for Grayson to drop out of the Florida Senate race.
Reid had ventured over to the House side of the Capitol at the invitation of the CPC to discuss areas of common concern. But it was clear from the moment the session began that this would not be a collegial discussion of Donald Trump and criminal justice reform. An aide to Reid said that at the outset of the meeting, CPC co-chair Rep. Keith Ellison (D-Minn.) thanked Reid for his leadership over the years -- a nod of appreciation to the retiring senator.
The roughly 10 lawmakers and 30 to 40 staffers in the room gave Reid a standing ovation, except for Grayson, who, according to the aide, stayed seated.
Once the meeting began, members took turns asking Reid questions and making individual statements. Four or five lawmakers went before it was Grayson's turn to speak. And then, the atmosphere went from tense to awkward. Here is how the aide, who spoke on condition of anonymity, described the exchange:
Grayson says, 'Do you know who I am?'

Reid says, 'Yeah, I do.'

He says, 'Say my name. I want you to say my name.'

Keith [Ellison] interjects at this point and asks what he [Grayson] is doing. 'If you have a real question ask it?'

Grayson says, 'I haven't heard Reid say my name. Say it.'

Other members interject and say, 'If you don't have a point move on.'

Grayson takes out a piece of paper, says 'I want to read the things he has said about me.' He goes through this list about the Cayman Islands and hedge funds and says, 'These are false, and I want to know why you said it.'

Reid says, 'It is true and I want you to lose.'
At this point, it's worth explaining the backstory of the tiff. Grayson is running in the Democratic primary for the Senate seat in Florida. He has been dogged by scandal after it was revealed that he has been managing hedge funds with use of his name in the title, two of which are based in the Cayman Islands. The congressman's attorneys have argued that he is exempt from ethics rules that prohibit members from using their names for financial entities. But ethics officials have stressed otherwise. All of which has contributed to many members of the Democratic establishment backing Grayson's opponent in the primary, Rep. Patrick Murphy (D-Fla.).
The animus that burst out into the open at Wednesday's CPC meeting, in short, had been brewing for some time.
In an interview with The Huffington Post, Grayson was astonished that Reid couldn't actually say his name in public. 
Grayson said that he asked Reid to identify him to see if he could. "He didn't even know who I was," Grayson said. "Here's a guy who puts a smear out there about me which is completely false, and I asked him several times if he knew my name and he never could answer."
Reid did insist the allegations were true, Grayson said, but when asked for evidence to support the charge, he never offered any. "He said he said it because he wants me to lose," Grayson recalled. "It didn't seem to matter at all to him that it was false, which is rather unnerving. .... He couldn't come up with anything at all to justify what he had said about me."
Grayson compared it to Reid's famous 2012 charge that Romney had paid no taxes in 10 years, which Reid, incidentally, made in an interview with HuffPost. It later emerged that Romney had paid some taxes, if only a minimal amount. "Reid was just lying. He was asked, 'Do you regret lying about it?' And he said, 'No, because he lost,'" Grayson said.
The Reid aide, however, insisted that the senator knew Grayson's name and was perplexed as to why the congressman demanded he say it. The aide said he specifically prepared Reid in the days leading up to the event for the possibility that Grayson would be there and act confrontational.
"Alan Grayson decided to be disruptive, to the embarrassment of his fellow colleagues," a statement from Reid's office read. "Senator Reid took the opportunity to express his low opinion of Congressman Grayson to his face and remind him that the reason Senator Reid has said that Grayson is under investigation and appears to be running a Cayman Island hedge fund from his Congressional office in order to line his own pockets is because these things are true."
After Reid told Grayson he wanted him to lose, other CPC members chimed in, encouraging Grayson to drop it and move on. Scott Wong of The Hill, who first reported this story, wrote that "all the members were appalled."
Ellison went to another lawmaker for a question (this one on immigration reform), while Reid remained seated. About five to 10 minutes followed before the session ended. Ellison presented Reid with an award from the CPC thanking him for his years of fighting for progressive causes. Reid offered his appreciation and then got up and left. A Reid staffer actually retrieved the senator's security detail from outside the meeting when Grayson's confrontation began. When Reid left, he took the long way out to avoid walking past Grayson.
The congressman didn't say another word.
UPDATE: 10:05 p.m. -- An aide who was in the meeting sent an email to confirm the accuracy of the story. "I'll just add that all the members were totally mortified by [Grayson's] behavior," the aide added.
As for Grayson's explanation after the fact (contained in the audio above), the aide called it inaccurate. "At no point did Reid talk about pushing Bernie to drop out," the aide emailed. "What Reid actually said in the meeting is that he talked to Bernie a few weeks ago about ways he could be helpful to Senators who were running in 2016. Reid clearly knew who Grayson was. I know for a fact that Reid's folks talked about how to handle Grayson's antics with Reid before the meeting."  
Matt Fuller and Laura Barron-Lopez contributed reporting. 
REAL LIFE. REAL NEWS. REAL VOICES.
Help us tell more of the stories that matter from voices that too often remain unheard.