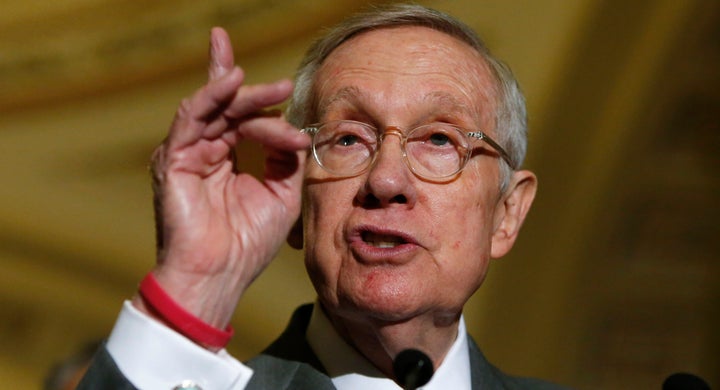 Senate Minority Leader Harry Reid (D-Nev.) was unusually candid about his feelings toward Rep. Alan Grayson (D-Fla.) in a fundraising appeal for Grayson's Senate opponent. 
"I will be blunt. I want Alan Grayson to lose," Reid wrote in an email sent out Monday. 
In case anyone isn't clear about where Reid stands, the subject line of the email reads: "I want Grayson to lose."
Grayson is competing for Florida's Democratic Senate nomination against Rep. Patrick Murphy, who is supported by the Democratic Senatorial Campaign Committee and much of the party establishment. The Senate seat is currently held by Marco Rubio (R-Fla.), who has said he won't run for re-election.
Grayson has been hounded by revelations that he manages hedge funds that use his name in the title, which many legal experts say violate congressional ethics rules designed to prevent lawmakers from profiting off their post. Two of those funds are based in the Cayman Islands. Grayson has changed the name of the hedge funds and said he isn't in violation of the rules because he has no "fiduciary duty" over the funds. 
Grayson says, 'Do you know who I am?'

Reid says, 'Yeah, I do.'

He says, 'Say my name. I want you to say my name.'

Keith [Ellison] interjects at this point and asks what he [Grayson] is doing. 'If you have a real question ask it?'

Grayson says, 'I haven't heard Reid say my name. Say it.'

Other members interject and say, 'If you don't have a point, move on.'

Grayson takes out a piece of paper, says, 'I want to read the things he has said about me.' He goes through this list about the Cayman Islands and hedge funds and says, 'These are false, and I want to know why you said it.'

Reid says, 'It is true and I want you to lose.'
Grayson said he decided to stand up and challenge Reid last week -- much to the chagrin of some of his fellow CPC members -- because he wanted to know why Reid had put out a statement calling on him to drop out of the race and accusing him of unethically using his position to promote a hedge fund. He also wasn't sure Reid actually knew who he was. 
"One question on my mind was, 'Did Harry Reid actually say this, or was this something that was manufactured by his staff?'" Grayson said. 
Grayson added that he gave Reid several chances to put forward evidence to support his charge, but Reid simply told him he wanted him to lose. 
Reid's office responded that Reid took the opportunity "to express his low opinion of Congressman Grayson to his face" and said the reason he was accusing Grayson of "running a Cayman Island hedge fund from his Congressional office in order to line his own pockets is because these things are true."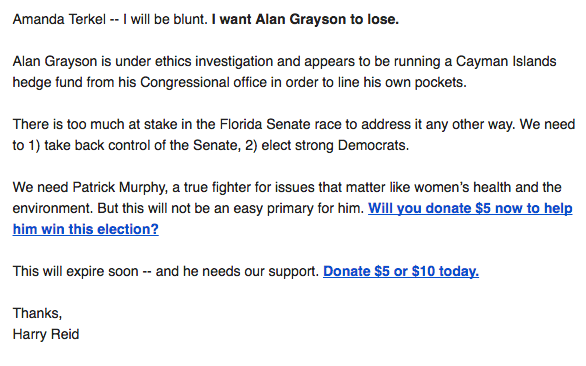 This piece has been updated with comment from Grayson. 
Calling all HuffPost superfans!
Sign up for membership to become a founding member and help shape HuffPost's next chapter
BEFORE YOU GO