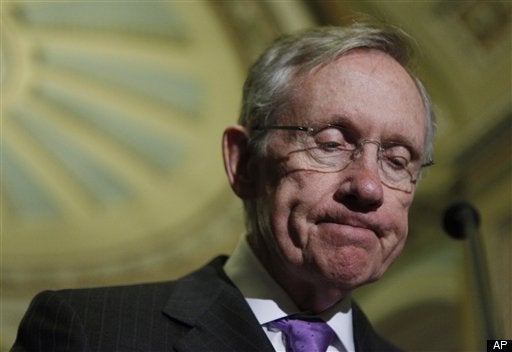 Fresh off their victory on health care, Democrats are pushing ahead with Wall Street reform despite Republican objections, Senate Majority Leader Harry Reid (D-Nev.) said on Thursday.
"We have talked about this enough. We have negotiated this enough," said an assertive Reid during a leadership press briefing. The bill, he said, could come to the floor as early as next week.
He dismissed GOP objections that the bill amounts to a permanent bailout of large banks.
"This is as Orwellian as it gets," Reid said.
Sen. Bob Corker (R-Tenn.), a lead GOP negotiator, insisted that Banking Committee Chairman Chris Dodd (D-Conn.) had given Republicans a commitment prior to a committee vote that changes could be made before it went to the floor.
"There was a commitment made that Sunday night," Corker said. Dodd, however, referred questions about the bill to Reid. And Reid's moving forward.
The strategic question facing Democrats is whether to push forward for a tough bill alone or weaken it to work with Republicans. The White House has become involved in the last several days, urging Democrats not to give in to GOP demands.
Sen. Blanche Lincoln (D-Ark.) is moving forward with tough derivatives reform after public and private pressure applied by the administration. (Asked by HuffPost if the White House had pressured her, she said firmly: "No.")
Corker, meanwhile, said he doesn't think that Democrats will move as fast as they're saying they will. "They won't come to the floor next week," he predicted.
UPDATE: The Hill is reporting that Senate Minority Leader Mitch McConnell (R-Ky.) does not have the votes to block Reid from going to the floor next week, because Sen. Susan Collins (R-Maine) is refusing to sign a letter committing to block any bill the leader puts forward.
On the Senate floor Thursday, Banking Committee Chairman Chris Dodd (D-Conn.) ripped Republicans who did sign the letter, saying they did so for purely political reasons without having read it.
Related
Popular in the Community