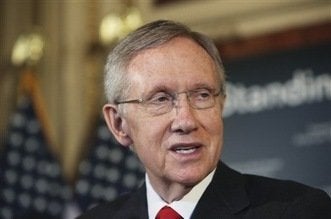 Senate Majority Leader Harry Reid critiqued President Obama's "peacemaker" approach to policy-making and suggested he embrace a tougher posture toward Republicans in an exclusive interview with Nevada political reporter Jon Ralston during the congressional recess.
"On a few occasions, I think he should have been more firm with those on the other side of the aisle," Reid explained. "He is a person who doesn't like confrontation. He's a peacemaker. And sometimes I think you have to be a little more forceful. And sometimes I don't think he is enough with the Republicans."
Reid used the long road to health care reform as a case-in-point.
"I think much of that early on scrimmaging was done in the Senate itself," Reid said. "And the White House didn't come in until later. Now, we came up with a great product, and I'm sure he can look back and say I was right, but boy for me down in the trenches, I know it was a time when I wanted a few folks in the White House behind me."
Despite the criticism, Reid also characterized Obama as "a very strong man" and as someone who's "calm," "cool," and "deliberate."
The one-on-one with Reid comes on the heels of the president's two-day trip to Nevada to campaign for the Senate leader, who is currently embroiled in an intense fight for re-election against Republican challenger Sharron Angle. Obama said the race was a top priority for the White House in 2010.
When White House Press Secretary Robert Gibbs was asked about Reid's remarks on Monday, the Obama administration official declined to comment. "I don't have anything to say," he said.
WATCH: Harry Reid Critiques Obama, Discusses Wide Range Of Issues
Popular in the Community