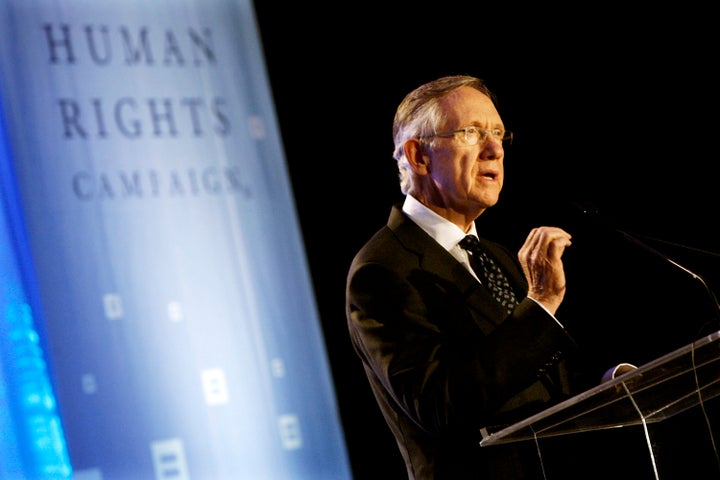 Speaking on the Senate floor early Saturday evening, Senate Majority Leader Harry Reid dismissed a suggestion made just hours earlier by Senate Minority Leader Mitch McConnell that Democrats and Republicans were inching closer to striking a deal to raise the deficit limit.
"It's fair to say that the engagement there is not in any meaningful way," Reid said. "Republican leaders still refuse to negotiate in good faith."
Reid said the notion both sides are making progress toward reaching an agreement is "not true."
"The Republican Leader says he's engaged," Reid said. "Fortunately, members of his caucus, at least as far as I'm concerned, are more engaged than he is. There are meaningful talks going on with some of his members with my senators."
Reid continued, "While the Republican leader is holding meaningless press conferences, his members are reaching out to me and other members, as I've just indicated. They're coming forward with thoughtful ideas to try to move the process forward. I welcome their ideas and ask all members to continue these discussions."
He suggested that delaying tactics being exercised by his Republican colleagues are preventing a measure from advancing in the upper congressional chamber to raise the debt ceiling. The Democratic leader spelled out the word f-i-l-i-b-u-s-t-e-r to make his case.
"You can put lipstick on it, a nice suit, even a skirt on it sometimes, it's still a filibuster," Reid said in comments directed at McConnell. The Nevada Democrat suggested that it'd be "unconscionable" for Republicans to use the maneuver to prevent a bill from passing to avert default.
McConnell signaled he's more optimistic about the prospect lawmakers in Washington will reach an agreement while speaking on the Senate floor. He said, however, that "the only way that can be done" is through talks with President Barack Obama.
Below, video of Reid's remarks on the Senate floor. Click here for more on the latest developments to unfold in the debt ceiling debate.
Popular in the Community