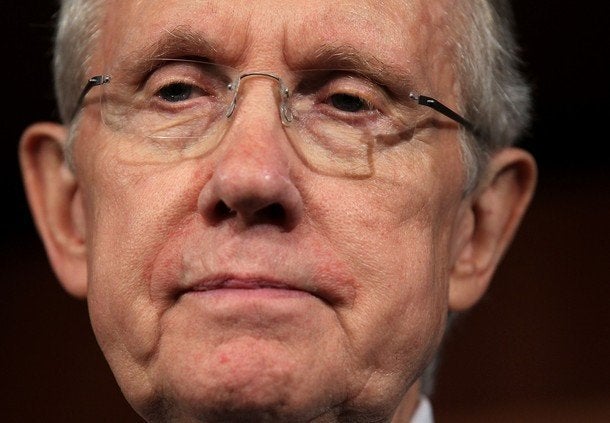 WASHINGTON -- Senate Majority Leader Harry Reid (D-Nev.) has promised that the National Defense Authorization Act for FY 2012 will not come up for a vote until the Senate Armed Services Committee (SASC) changes provisions dictating treatment of detainees, including one that mandate military custody of terrorism suspects.
Reid first raised his concerns on the Senate floor on Monday, and on Tuesday, he followed up in a letter sent to SASC Chair Carl Levin (D-Mich.) and Ranking Member John McCain (R-Ariz.).
"I do not intend to bring this bill to the floor until concerns regarding the bill's detainee provisions are resolved," he wrote.
"The Obama Administration and several of our Senate colleagues have expressed serious concerns about the implications of the detainee provisions included in the legislation, particularly the authorization of indefinite detention in Section 1031, the requirement for mandatory military custody of terrorism suspects in Section 1032, and the stringent restrictions on transfer of detainees in 1033."
Deputy National Security Advisor John Brennan also raised concerns about the Senate legislation in a speech on Sept. 16, saying the provisions would mean the United States "would never be able to turn the page on Guantanamo."
"Our counterterrorism professionals would be compelled to hold all captured terrorists in military custody, casting aside our most effective and time-tested tool for bringing suspected terrorists to justice -- our federal courts," he said in his remarks at Harvard Law School.
"Miranda warnings would be prohibited, even though they are at times essential to our ability to convict a terrorist and ensure that individual remains behind bars. In sum, this approach would impose unprecedented restrictions on the ability of experienced professionals to combat terrorism, injecting legal and operational uncertainty into what is already enormously complicated work."
Levin's spokesman declined to give a comment to Reid's letter, and McCain's office did not reespond. But on the Senate floor on Monday, McCain said he hopes the bill will come to the floor.
"I would hope that we would be able to debate and amend -- which is the usual way we address issues in this body -- rather than refusing to bring legislation to the floor because there is a particular objection to it," he said.
Senate Minority Leader Mitch McConnell (R-Ky.) reiterated this request on Wednesday, saying on the floor, "If there are members on the other side who support the White House effort to bring unlawful enemy combatants into the United States for purposes of detention and civilian trial, the Senate can debate that matter during consideration of the bill. I know that many members on my side would very much appreciate a debate on the importance of keeping detainees currently held at Guantanamo from returning to the battlefield, especially in places like Yemen."
At that time, the White House threatened to veto the measure over provisions that, according to its statement, "limit the use of authorized funds to transfer detainees and otherwise restrict detainee transfers."
This story was updated with McConnell's comments and Levin's spokesman's response.
Popular in the Community