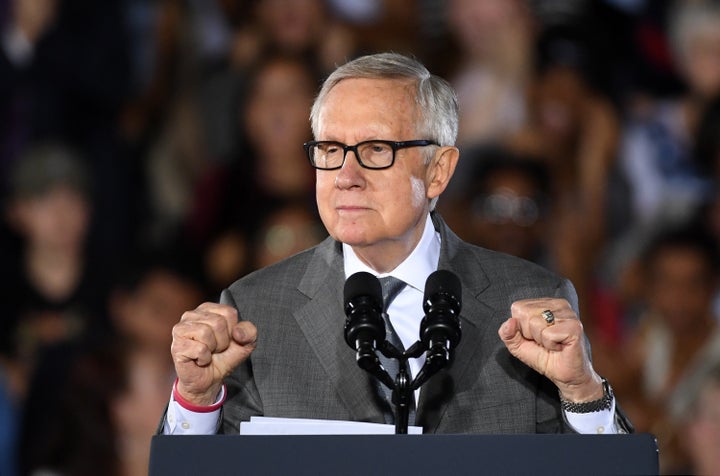 Reid wrote in a New York Times column on Thursday that the rule change created a "fairer, more open and more productive Senate."
The rule change, which Senate Democrats passed while they still held a majority, allowed President Barack Obama to seat many federal judges and nominees for key agencies like the National Labor Relations Board with a simple majority rather than the 60 votes needed to overcome a filibuster. Prior to that, Senate Republicans had filibustered a historically high number of Obama's federal nominees.
Democrats lost their Senate majority in 2014. But the diminished power of the Senate minority will become more relevant in 2017, when President-elect Donald Trump will need only a simple majority to seat his nominees. The modification does not apply to Supreme Court nominees, which can still be filibustered.
Reid acknowledged that the new rules would make things more challenging for Democrats, but insisted that it was still the right thing to do.
"I doubt any of us envisioned Donald J. Trump's becoming the first president to take office under the new rules. But what was fair for President Obama is fair for President Trump," Reid wrote.
"To be sure, persuading a majority of the Senate to your side is harder than blocking a confirmation on a procedural vote. But it is also fairer," he added.
Reid also counseled his Senate peers to use the filibuster more sparingly on legislation in his farewell speech on Thursday morning. Senate rules continue to allow senators to use the filibuster to block legislation, rather than a president's nominees.
"I do hope my colleagues are able to temper their use of the filibuster," Reid said.
Barring that, Reid predicted, the filibuster "will be gone. It will be gone first on nominations, then it will be gone on legislation."
"This is something you have to work on together," he concluded. "Because if you continue to use it the way it's been used recently, it's going to really affect this institution a lot."
BEFORE YOU GO