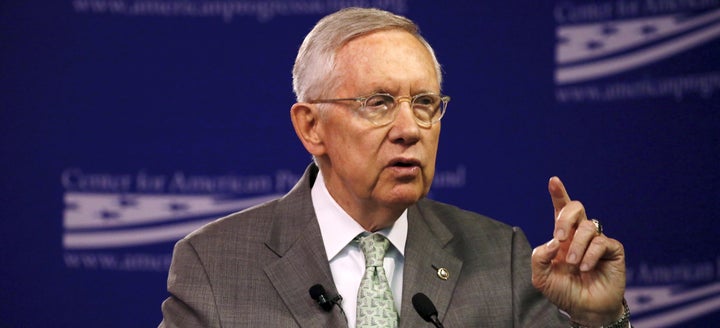 In a foreign policy speech Monday, Trump said people should take a test before being allowed to immigrate to the United States.
"In the Cold War, we had an ideological screening test," Trump said to a crowd in Youngstown, Ohio. "The time is overdue to develop a new screening test for the threats we face today. I call it extreme vetting."
In a statement Monday morning, Reid called on Trump to take "the one test every immigrant has to pass to become a United States citizen."
"He would almost certainly fail, given his general ignorance and weak grasp of basic facts about American history, principles and functioning of our government," Reid said. "The fact is, Donald Trump is nothing more than a spoiled, unpatriotic drain on society who has earned nothing and helped no one." 
In the statement, Reid talked about his experiences attending naturalization ceremonies with immigrants who "work hard to learn American history and civics, while Trump appears ignorant of basic facts about this country."
"Indeed, the naturalization test is just one part of the process immigrants undergo to become citizens, but Trump would almost certainly fail that test," Reid said. "Immigrants make America great. Trump makes America small, petty and mean." 
This story has been updated to reflect Trump gave his speech on Monday.
REAL LIFE. REAL NEWS. REAL VOICES.
Help us tell more of the stories that matter from voices that too often remain unheard.
BEFORE YOU GO
PHOTO GALLERY
9 Other Absurd Things Donald Trump Has Said About Latinos