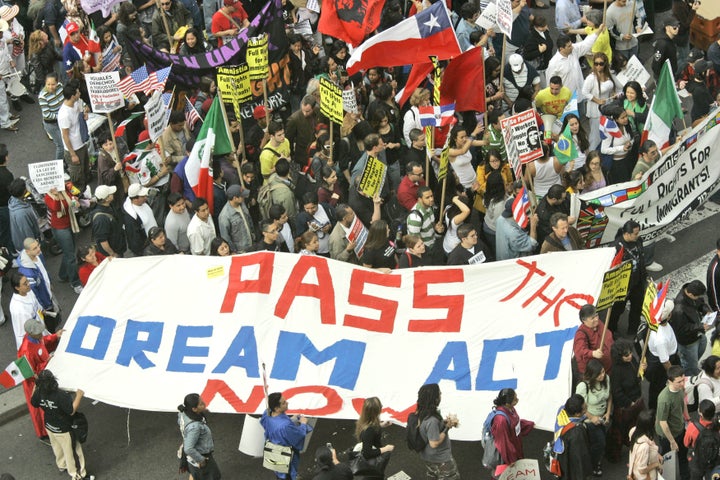 WASHINGTON -- Senate Majority Leader Harry Reid (D-Nev.) has promised to bring the DREAM Act, an important piece of legislation for the Latino community, to a vote in the Senate after the November elections -- whether or not Democrats retain their majority.
Reid's remarks will air Sunday on Univision in an interview with host Jorge Ramos. On Twitter, Ramos wrote, "Harry Reid told me that, win or lose, he will present again the Dream Act in the Senate after the elections."
The Huffington Post confirmed Reid's remark with a Democratic source, who said that the exact timeline hasn't yet been worked out. The source noted that because the federal government is operating under a continuing resolution, the first order of business will likely be approving new funding, as well as approving a large number of Obama nominees who have been blocked by Republicans. But the source confirmed that Reid's answer to Ramos on whether he will bring up the DREAM Act was an "unequivocal yes."
Immigration advocates praised the news that the DREAM Act will receive a chance for passage in the lame-duck session of Congress.
"The DREAM Act would give a group of young immigrants here without immigration status through no fault of their own the chance to attend college, serve in the military and earn citizenship," said Frank Sharry, executive director of America's Voice. "These valedictorians, future scientists and future soldiers are Americans in all but paperwork, and we are thrilled that Senator Reid is committed to moving this common-sense measure before the end of the year."
"We support and will be looking for viable efforts to pass the DREAM Act after the election," said Center for American Progress Vice President for Immigration Policy Advocacy Angela Kelley. "In order for that to happen however, like-minded Republicans will have to step forward and show their support for this modest measure to provide relief to young people. There hasn't been a lot to suggest that bipartisan constructive conversation on immigration is possible, but I'd love to be proven wrong."
In September, Democrats added the DREAM Act and a repeal of Don't Ask, Don't Tell to the 2011 National Defense Authorization Act. Democrats were unable to overcome a filibuster threat by Republicans, who objected to the inclusion of the other two measures.
When explaining why he attached the DREAM Act to the defense authorization bill, Reid explained, "[K]ids who grew up as Americans should be able to get their green cards after they go to college or serve in the military." The Democratic source who talked to The Huffington Post said that a decision has not been made whether the legislation would come up with the defense bill again after the elections.
Reid publicly announcing just a few days before the election that he will push the DREAM Act is quite bold and politically risky. In his tight re-election contest, Republican Sharron Angle has repeatedly gone after Reid for his support of comprehensive immigration reform, with a series of controversial ads including the new "Harry Reid's Amnesty Game".
*************************
What's happening in your district? The Huffington Post wants to know about all the campaign ads, debates, town halls, mailings, shenanigans, and other interesting campaign news happening by you. E-mail us any tips, videos, audio files, and photos to election@huffingtonpost.com.
Popular in the Community